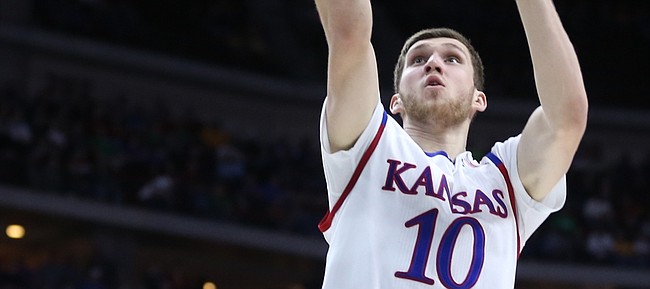 Kansas University junior guard Sviatoslav Mykhailiuk's Ukrainian national team will meet Germany in the quarterfinals of the FIBA Under 20 world championships today in Finland.
Winner will meet either Spain or Latvia on Saturday.
The 6-foot-8 Mykhailiuk has averaged 12.8 points (off 33.9 percent shooting, 19 percent from three) 6.5 rebounds and 2.8 assists while averaging 29.9 minutes a game for Ukraine (3-1).
"I want to help make my teammates better, represent my country and try to win every game," said Mykhailiuk, who had 17 points, six in overtime, in a 72-70 win over Latvia. He had 14 points and 11 rebounds in a loss to Slovenia and 12 points in a win over Serbia.
"I am trying to do what is best for my team, not for myself. I'm a leader on this team. I have to help my team win. It doesn't matter how — score, make assists, play defense, sit on the bench," he added to FIBA.com.
Coach of the Ukrainian team is Maksym Mikhelson, who traveled to Lawrence last year to work with Mykhailiuk when his Jayhawk teammates traveled to the World University Games in South Korea.
He was ineligible to play since he's not a U.S. citizen.
"He has been my coach all my life. He trusts me and I trust him," Mykhailiuk told FIBA.com.
Robinson to attend Late Night: Jeremiah Robinson, a 6-foot-7 sophomore power forward from Roeland Park Bishop Miege High, will attend KU's Late Night in the Phog on an unofficial campus visit, Robinson told Jayhawkslant.com on Thursday.
Robinson, the son of former KU forward Lester Earl, is playing for KC Run GMC in the Jayhawk Summer Finale AAU tournament at the Drive5 Sports Complex in Overland Park.
Robinson said he is considering KU, Washington, Wake Forest, Creighton, Notre Dame, Virginia, Memphis, Stanford, North Carolina and others.
"It's crazy. He had a 40-inch vertical. He's more of a power dunker, rebounder, shot blocker. I think I can shoot better than him, pass a little better than him," Robinson told Jayhawkslant.com, referring to his dad. "His athleticism is a whole lot better than me. He's helping me work on that."
Brown to cut list: Troy Brown, Jr., a 6-foot-6 senior shooting guard from Centennial High in Las Vegas, tells Zagsblog.com he's looking to cut his list of schools soon.
Brown, who is playing in the NY2LA Summer Showdown in his hometown of Vegas, has a list of KU, Duke, Cal, Arizona, Oregon, Stanford, UNLV, UCLA and others.
"I feel like I need to take my visits and figure out where I'm going to go and just get on campus and talk to the coaches about what position I'm going to play and what they see for my future," Brown told Zagsblog.com.
"I would say building a one-on-one connection with the coach (is most important)," he added "That's huge for me, especially if I am going to play that point-guard position. I need to know how he feels about everything and what he wants me to do."
FOE eliminated: Former KU guard Tyshawn Taylor scored 13 points off 3-of-6 shooting (6-of-10 from line) with four rebounds and one assist in Team FOE's 99-83 loss to City of Gods in the third round of The Basketball Tournament on Thursday in Philadelphia. The loss eliminates FOE from the $2 million winner-take-all tourney. Former KU guard Elijah Johnson had two points, four boards and two assists. Marcus and Markieff Morris served as general managers of the team.