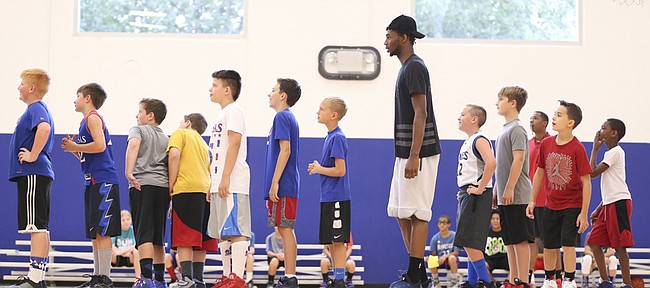 Andrew Wiggins, who spent just one year in college, figures to be a walking, talking advertisement for Kansas University's basketball program for some time to come.
"College will always be my favorite time, my best time in my life," the 21-year-old Wiggins, who has completed two seasons with the NBA's Minnesota Timberwolves, said Thursday in his first appearance in the area since August 2014 when he co-hosted a camp with KU coach Bill Self at Shawnee Mission West High School.
This time, he's co-hosting camp at Sports Pavilion Lawrence with former KU standout Ben McLemore of the Sacramento Kings.
"Just being on the campus, hanging out with my friends and everybody else, the games, the fieldhouse, everything ... it was amazing. (I don't know if there's) anything that compares to it. Nothing beats it; it can only tie," Wiggins added.
Photo Gallery
Andrew Wiggins at Kansas All Star Basketball Camp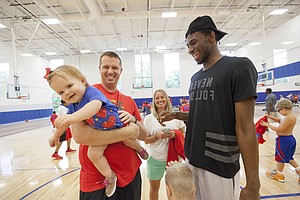 View a gallery of images from Andrew Wiggins' and Ben McLemore's Kansas All-Star Basketball Camp on Thursday at Sport Pavilion Lawrence.
The 6-foot-8, 200-pounder said he gained a lot of knowledge in 2013-14, when he averaged a team-leading 17.1 points a game for the (25-10) Jayhawks.
"College teaches fundamentals and the basics of the game. Coach (Bill) Self taught me a lot, whether it was help-side on defense, cutting without the basketball. There's a lot of different things. Even getting at it defensively. He always challenged me to do better and be better," stated Wiggins, who said he talks often with Self and KU assistant Kurtis Townsend as well as some of his former teammates.
"We always stay in touch," Wiggins said.
He earned NBA rookie of the year honors in 2015 after averaging 16.9 points per game (off 43.7 percent shooting; 31 percent from three) then improved to 20.7 ppg (off 45.9 percent shooting; 30 from three) in his second year as a pro.
Looking back, Wiggins said he wishes he'd fared better during his one-and-done season in which KU won the Big 12 regular-season title, then lost in the second round of the Big 12 tournament and second round of the NCAAs.
"I feel I could have done a lot more things on the floor. I think I depended on a lot of different stuff in college, whereas in the NBA it's a lot different," Wiggins said.
The No. 1 overall pick in the 2014 NBA Draft says he's looking forward to seeing his former KU teammate, Joel Embiid, make his NBA debut during the upcoming 2016-17 season. Embiid, who was selected third in the 2014 draft, is expected to finally be healthy and play in games.
"I think he can come in and impact the game instantly," Wiggins said. "He could have done that the first year, but unfortunately he wasn't healthy (foot surgery). He's getting back to it. Hopefully he can play this year, and when he comes in he'll take the league by storm."
There are high hopes for the Timberwolves, following the hiring of former Chicago Bulls coach Tom Thibodeau. Karl-Anthony Towns, like Wiggins, is a rookie of the year winner, with the likes of Ricky Rubio, Zach LaVine, Gorgui Dieng, Shabazz Muhammad and current first-round pick Kris Dunn also on the roster.
"The main thing for me is making the playoffs with my team," Wiggins said. "We've got a nice young core, new additions. We're looking forward to a bright future."
The Wolves have also added former KU players Cole Aldrich and Brandon Rush in free agency.
"It's wonderful," Wiggins said. "I've got more than one Jayhawk on the team now. The best thing about it is now we get to play in Sprint Center, preseason (Oct. 8 vs. Miami). We get to play in front of the home crowd. I'm looking forward to it. I'm excited. I know they (Rush, Aldrich) are excited, too."
Members of KU's current team figure to be in the stands for that one, including top-rated prospect Josh Jackson, a 6-8, 207-pound wing who has been compared to Wiggins.
"He's an energized guy. He can play," said Wiggins, who once worked with Jackson at a camp in California. "He can score the ball. He's long. He can defend. He's big. He has the type of game that translates well to the NBA."
Summer league: Former KU guard Brannen Greene had no points with two turnovers in four minutes in Memphis' 89-85 loss to Minnesota on Thursday in NBA summer-league action in Las Vegas. … Kelly Oubre scored 22 points off 8-of-18 shooting (3-of-6 from three) in Washington's 71-60 win over Atlanta. … Perry Ellis had two points off 1-of-7 shooting with one rebound in 10 minutes in an 86-73 loss to Chicago.