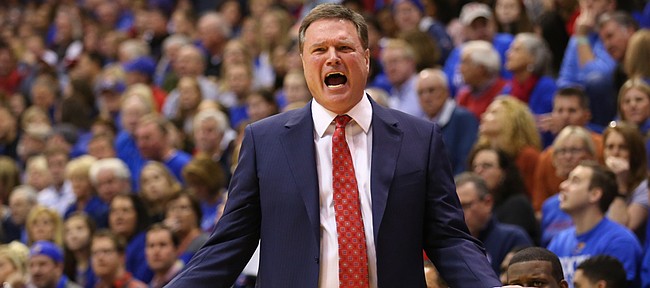 Kansas University basketball coach Bill Self has said that, in a perfect world, the one-day Big 12/SEC Challenge would be held in December, prior to the start of conference play rather than on Jan. 30.
However, considering the way this league season has materialized — KU is 5-3 with three straight road losses — something a little out of the ordinary might be a good thing.
"I think it's exactly what our team needs," Self said of Saturday's 6 p.m. tipoff against Kentucky in Allen Fieldhouse. "We need some energy. We need to play in a game (so big it brings ESPN's GameDay to town). I hate saying this, in the big scheme of things it doesn't mean as much as a conference game, but could be a résumé builder (for NCAA Tournament). Hey, I like the fact we are having something that's a little bit different, (that) gets us out of the routine."
Other Big 12/SEC Challenge games Saturday: Vanderbilt at Texas, West Virginia at Florida, Iowa State at Texas A&M;, Mississippi at Kansas State, Tennessee at TCU, Texas Tech at Arkansas, Oklahoma at LSU, Georgia at Baylor and Oklahoma State at Auburn.
On Monday morning's Big 12 teleconference, before KU's loss at Iowa State, Self said: "I don't like the disruption of league play. I think the majority of coaches would probably agree with that, but for our league I think it will be great exposure. Teams will get a major exposure on ESPN throughout the entire day, which I think is very good for our league, but I think every coach would agree if time slots were available in December, it would be better for us. This is what we agreed to do. I think the advantages probably outweigh the negatives, even though I know nobody wants to step out of conference this late in conference season especially in a conference like ours and the SEC."
Azubuike to announce today on ESPNU: KU today hopes to secure an oral commitment from Udoka Azubuike, a 6-foot-11, 260-pound senior center from Potter's House Christian in Jacksonville, Fla., who will announce his college choice on ESPNU's Recruiting Nation Show (5 p.m. Central time).
Azubuike — he is ranked No. 27 nationally by Rivals.com — has a final list of KU, North Carolina and Florida State, though some analysts believe FSU is now out of the picture. Azubuike, who played last summer for the Georgia Stars and in the past for Nike Team Florida, is originally from Lagos, Nigeria, but was raised in Delta State, Nigeria.
He's been in the United States for three years, heading here to play after being discovered at a Basketball Without Borders clinic. A former soccer standout, he averaged 17.2 points and 9.6 rebounds per game last season. He's averaging 19 points and 10 boards so far this year.
"I'm just so happy to be in this position," Azubuike, who recently was chosen to play in the McDonald's All-America game, told USA Today. "Just to have schools like North Carolina, Florida State and Kansas wanting me to come there and play for them is a blessing for me. But I definitely feel stress sometimes because I have to pick one. It's fun when I can take my mind off of that sometimes."
Azubuike's summer dominance led to his peers voting him "Toughest Defensive Assignment" in the USA Today High School Sports AAU Awards and Superlatives.
Here is ESPN.com's current assessment of Azubuike: "Azubuike has great size, length, athletic ability, mobility and coordination. He runs the floor extremely well. He is an above the rim finisher with power when he receives drop off passes created by dribble penetration. He also can get to the basket with one or two dribble clear paths. He area rebounds at rim level, blocks shots and simply makes opponents think twice about challenging him in the lane.
"Azubuike must continue to learn the game and skill-wise work on his hands, foot work and develop a move and counter move with his back to the basket."