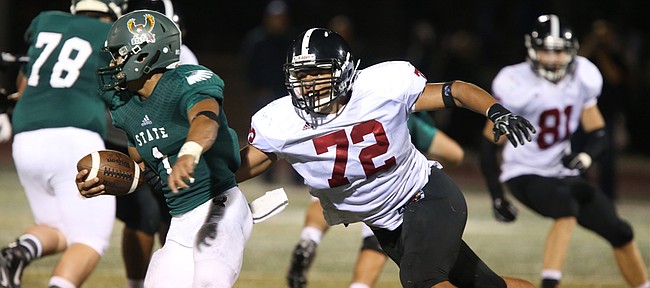 Once the high school football season ended, Lawrence High senior Amani Bledsoe spent most of his time focusing on his college recruitment.
It was a process that stressed him out, dealing with all of the phone calls and text messages and in-home visits from coaches around the country.
Finally on Thursday, Bledsoe made his decision to play for Oklahoma, choosing the Sooners over Kansas University. He met with Oklahoma defensive-line coach Diron Reynolds at LHS with his three brothers and one of his brothers' girlfriend and announced his decision.
"He's like, 'What's it going to take for you to come here?'" Bledsoe said of his meeting with Reynolds. "I was like, 'I think I'm ready for you to be my coach for the next four to five years. I'm ready to commit and be a Sooner.' He banged the table and smiled at me and gave me a big hug. Then we called (head coach Bob) Stoops together, and he was all excited."
Bledsoe, a 6-foot-5, 272-pound defensive end, is the top recruit in Kansas and ranked No. 122 in the nation in the Class of 2016 by Rivals.com. He also considered Baylor, North Carolina State and Oregon.
His decision to play for the Sooners came down to his relationships with the coaches and his comfort level with the school. He went on an official visit to Norman on Oct. 23-24, traveling to Oklahoma with his mother, brother and grandfather.
"They just stood out from any other school a lot," Bledsoe said Friday, cheering on the LHS boys basketball team. "You have that feeling when you know you have the right school. I just really got that feeling. Like, I got there and, 'This is the right place. This is home.' Everything about them seems so right."
Bledsoe, who named Oklahoma and Kansas as his two finalists on Jan. 12, said it was a tough decision between the two schools in the final weeks.
"It was hard because I'm close to all of those guys," Bledsoe said. "I know (head coach David) Beaty is kind of new, I just met him, but I still got really close to him throughout the year. (Defensive coordinator) Clint Bowen, I can really relate to him because of he's a Lawrence High alum. He's a great guy. Everywhere you go, people talk highly of him."
Despite the intrigue of possibly playing immediately at KU, Bledsoe said that wasn't his biggest concern.
"That's something to look at to get your stats down and stuff. But it's not the main factor," Bledsoe said. "You can't go to a school just because of that. You have to be happy at the end of the day."
Bledsoe felt at home with the Sooners and their coaching staff. He said they were always one of the top schools in his mind, even after former defensive-line coach Jerry Montgomery, who led Bledsoe's recruitment, left the Sooners in February 2015 to become the defensive-front assistant for the Green Bay Packers.
"It set them back at first because that was a huge loss," Bledsoe said. "But they got another coach, coach Reynolds. He's another great guy. … The moment I met (Stoops), a great down-to-earth coach. He's not one of those super-strict coaches. He knows how to take care of business but have a good time with you at the same time. Really genuine, too."
Now that he's finally made his decision, Bledsoe said he's happy to relax, focus on his school work and hang out with friends.
"At the end of the day," Bledsoe said, "you just have to go with what feels right for you and where you can see yourself playing football for the next four to five years."