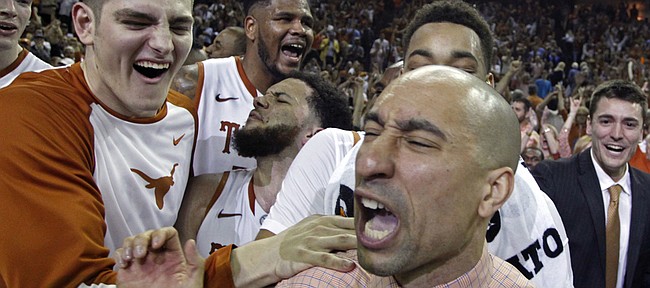 Today is one of those game days in Allen Fieldhouse in which eyes will be focused on the court and in the stands — right behind Kansas University's basketball bench.
No. 3-ranked KU (15-3, 4-2) plays host to Texas (12-6, 4-2) in a 1 p.m. tipoff between two of the four teams tied for second place in the Big 12 Conference standings.
Watching the important league game will be two of the top high school basketball players in the country — Josh Jackson, a 6-foot-7 senior wing from Prolific Prep in Napa, Calif., who is the No. 1-ranked player in the recruiting Class of 2016 (by Rivals.com), as well as DeAndre Ayton, a 6-11 junior forward from Hillcrest Academy in Phoenix, who is the No. 4-rated player in the Class of 2017.
Ayton's Hillcrest team will be playing Sunrise Christian Academy at 7 tonight at Lawrence's Free State High, tickets for sale at the door.
As if all that was not enough ... KU football legend John Hadl will be recognized at halftime of the KU-Texas game — a game that, if KU wins, would mark the 200th victory (against just nine losses) in Allen during the Bill Self era.
That's a lot of stuff going on — the game, as usual, taking top billing.
"They (Longhorns) are athletic, and they are aggressive, and they have a rim protector," Self said of 6-11 senior Prince Ibeh, fourth in the Big 12 at 1.5 blocks a game.
"I think they have the pieces to really make a serious dent in this thing. But I think every coach in our league thought that before the season started, too. No question that they have got great pieces."
Texas has won three straight games, including wins over No. 6 West Virginia and No. 19 Iowa State as well as Oklahoma State, a team that beat KU by 19 points on Tuesday.
"We talk about teams that are athletic ... they may have the best athlete in college basketball in Roach," Self said of 6-4 freshman guard Kerwin Roach, who averages 5.6 points a game. "He may be as good an athlete as there is in college basketball for his size. Taylor (Isaiah, 16.4 ppg, 4.7 apg) is a jet. I think Felix (Javan, 11.1 ppg) has had a great year, too. He's making shots and has been a calming influence for them."
First-year UT coach Shaka Smart was coach of the VCU team that clipped KU, 71-61, in the 2011 NCAA Tournament Elite Eight in San Antonio. Smart also is the coach, who when asked last April how his style fits the Big 12, said: "It translated pretty well a few years ago in San Antonio."
Smart took over for longtime Longhorn coach Rick Barnes, whose first Tennessee team is 9-9 overall and 2-4 in the SEC.
"I think they play very, very hard," Self said. "I think the one thing that they have done a ton of that's a little different than Rick is switch defenses. They do a good job of keeping you off balance and are pressuring more now in the fullcourt."
Back to the recruiting aspect of today's game ... Jackson, who is originally from Detroit, is on his official KU campus visit. He's also considering Michigan State, Arizona, Maryland, UCLA and UNLV.
ESPN's scouting report on Jackson describes him as "the ultimate finisher." Also ... "a tough and athletic forward that is a fearless competitor ... a tenacious rebounder who plays with a never ending motor. ... explosive ... utilizes his physical tools to protect the rim with his shot-blocking prowess and is a high steal guy anticipating passing lanes."
Jackson's mom, Apples Jones, played college ball at Allen County Community College in Iola.
To watch video of Jackson's recent last-second three-pointer in a 64-63 victory over against Huntington Prep, go to http://bit.ly/1neVgGv
Bahamas native Ayton, meanwhile, who is on an unofficial visit, is considering KU, California, Duke, Kentucky, Michigan, North Carolina, San Diego State, UCLA and others.
"He is playing hard every game, and he's got his body in the best condition it has ever been in," Rivals.com's Eric Bossi told jayhawkslant.com. "There is a really good chance that he is going to make his way back to No. 1 when we update the rankings. He's attacked the glass, worked from rim to rim in transition and has really made himself a beast around the basket. DeAndre can also step out and shoot — I mean, he can really shoot for a big guy," Bossi added. "You talk about his size, his athleticism, his ability to protect the rim, his ability to finish at the rim and now he's a 7-foot guy that can trail in transition, take a pass and hit a 22-footer. How on earth do you defend that?"
Fans will find out at 7 tonight at Free State High.
"We are very excited about the game on Saturday," Ayton's mentor, Larnelle Johnson told jayhawkslant.com. "I can tell you that the kids (on team who all will attend KU-UT game) are very excited. Being able to watch Kansas play is a big thing for the kids."
Probable Starters
TEXAS (12-6, 4-2)
C — Prince Ibeh (6-11, Sr.)
F — Connor Lammert (6-10, Sr.)
G — Isaiah Taylor (6-3, Jr.)
G — Kendal Yancy (6-3, Jr.)
G — Javan Felix (5-11, Sr.)
KANSAS (15-3, 4-2)
F — Perry Ellis (6-8, Sr.)
F — Cheick Diallo (6-9, Fr.)
G — Frank Mason III (5-11, Jr.)
G — Wayne Selden Jr. (6-5, Jr.)
G — Devonté Graham (6-2, Soph.)
Tipoff: 1 p.m. today, Allen Fieldhouse.
TV: ESPN (WOW! channels 33, 233).
Rosters
TEXAS
0 — Tevin Mack 6-6, Fr., G/F, Columbia, S.C.
1 — Isaiah Taylor, 6-3, 185, Jr., G, South Hayward, Calif.
2 — Demarcus Holland, 6-3, 190, Sr., G, Garland, Texas.
3 — Javan Felix, 5-11, 205, Sr., G, New Orleans.
4 — Danny Newsome, 6-10, 190, Jr., F, Houston.
5 — Kendal Yancy, 6-3, 210, Jr., G, Richardson, Texas.
10 — Eric Davis, Jr., 6-2, 185, Fr., G, Saginaw, Mich.
12 — Kerwin Roach, 6-4, 170, Fr., G, Houston.
21 — Connor Lammert, 6-10, 235, Sr., F, San Antonio.
25 — Joe Schwartz, 6-2, 180, Soph., G, Waco, Texas.
30 — Ryan McClurg, 6-6, 230, Jr., F, Katy, Texas.
32 — Shaquille Cleare, 6-8, 285, Jr., F, Andros Bahamas.
44 — Prince Ibeh, 6-11, 265, Sr., C, Garland, Texas.
55 — Cameron Ridley, 6-10, 290, Sr., C, Houston.
Head coach: Shaka Smart. Assistants: David Cason, Darrin Horn, Mike Morrell.
KANSAS
0 — Frank Mason III, 5-11, 185, Jr., G, Petersburg, Virginia.
1 — Wayne Selden, Jr., 6-5, 230, Jr., G, Roxbury, Massachusetts.
2 — Lagerald Vick, 6-5, 175, Fr., G, Memphis.
4 — Devonté Graham, 6-2, 175, Soph., G, Raleigh, North Carolina.
5 — Evan Manning, 6-3, 170, Sr., G, Lawrence.
10 — Sviatoslav Mykhailiuk, 6-8, 195, Soph., G, Cherkasy, Ukraine.
11 — Tyler Self, 6-2, 165, Jr., G, Lawrence.
13 — Cheick Diallo, 6-9, 220, Fr., F, Kayes, Mali, Africa.
14 — Brannen Greene, 6-7, 215, Jr., G, Juliette, Georgia.
15 — Carlton Bragg, Jr., 6-9, 220, Fr., F, Cleveland.
21 — Clay Young, 6-5, 205, Soph., F, Lansing.
22 — Dwight Coleby, 6-9, 240, Jr., F, Nassau, Bahamas.
31 — Jamari Traylor, 6-8, 220, Sr., F, Chicago.
33 — Landen Lucas, 6-10, 240, Jr., F, Portland, Oregon.
34 — Perry Ellis, 6-8, 225, Sr., F, Wichita.
42 — Hunter Mickelson, 6-10, 245, Sr., F, Jonesboro, Arkansas.
Head coach: Bill Self. Assistants: Kurtis Townsend, Norm Roberts, Jerrance Howard.