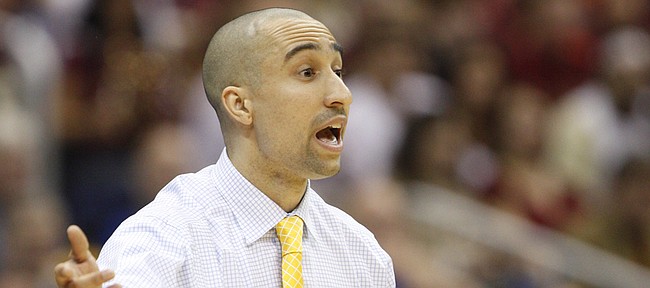 To appreciate the enormity of Kansas University coach Bill Self's 11 consecutive Big 12 regular-season titles, consider the background of his opposite number in today's 1 p.m. tipoff.
First-year Texas coach Shaka Smart has ranked at or near the top of just about every coaching search wish list after he became a household name when his 11th-seeded VCU team knocked off Kansas, 71-61, in a 2011 Elite Eight NCAA Tournament game. Smart's Rams had defeated USC, Georgetown, Purdue and Florida State to advance to the game vs. Kansas.
Smart's reputation grew the next year when in the NCAA Tournament the 12th-seeded Rams upset No. 5 Wichita State and lost by two points to No. 4 Indiana.
The offers started pouring in and never stopped.
Smart turned down Illinois in 2012, Minnesota and UCLA in 2013 and Marquette in 2014.
"Certainly, Shaka is one of the more gifted guys we have in our profession," Self said Thursday.
Few would disagree. And nobody could disagree that Smart's career serves as the best illustration of the difficulty of winning a conference title in basketball.
Smart coached six seasons at VCU after taking over for Anthony Grant, who left to head Alabama's program. VCU played in the Colonial Athletic Association in Smart's first three seasons, the Atlantic 10 in his final three.
His finishes in the regular-season conference standings: tied for fifth, fourth, second, second, second, tied for fourth. That's right, Smart's next celebration of a regular-season title will be his first. His 2012 team won the Colonial Conference tournament title, and the Rams won the A-10 tourney title last season.
At one point, Smart had a 7-2 NCAA Tournament record and now is 7-5.
Self sounded genuinely impressed with the job Smart has done so far with the Longhorns, who are in a four-way tie for second in the Big 12 with a 4-2 record, joining Kansas, Oklahoma and West Virginia, one game behind Baylor.
"I'm not there every day, but I would say from my vantage point, they enjoy playing for him," Self said. "To me, putting your handprint on it is more from a personality standpoint and a recruiting standpoint. And from what everybody tells me, he's well liked in the state, and the staff works hard, and it's definitely a very positive feel."
Smart's reputation for developing relationships with players, coupled with the abundance of talent in Texas, could make the Longhorns a perennial contender for what would be Smart's first regular-season conference title.