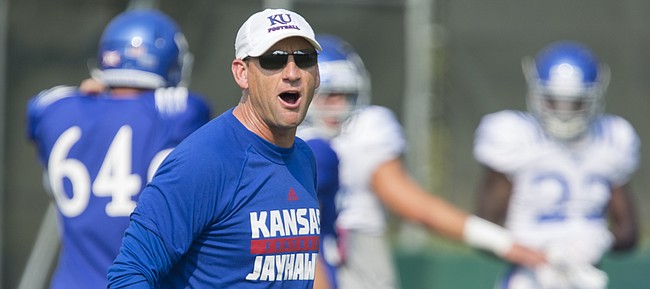 Kansas University coach David Beaty, in a news release Friday, offered up his thoughts on newly hired linebacker coach Todd Bradford.
From the sound of things, Bradford is a guy whom Beaty could have hired when he was first forming his staff after being tapped as the next head coach as Kansas in December of 2014.
"I have made it a point to hire coaches who are not just talented in one area," Beaty said in the release. "I want our staff to consist of men who can get after it in recruiting and at the same time develop the players in our program and Todd definitely fits that mold."
Out of coaching since 2011, when he served as the defensive coordinator at Maryland, Bradford returns to his longtime profession to replace Kevin Kane who left KU for the DC job at Northern Illinois, with a ton of experience in a variety of systems.
But it's his familiarity with the Big 12 Conference and wide-open style of offenses that have to be defended that may make Bradford the best fit for Kansas.
Before his one year at Maryland, Bradford was the defensive coordinator/secondary coach at Southern Miss for three seasons and that followed up a stint as the linebackers coach for Mike Gundy at Oklahoma State from 2005-07.
"Not only does Todd's track record speak for itself in regards to recruiting and development of players," Beaty said. "But he has done it within the landscape of the Big 12. He knows what it takes to help a team become successful in this league."
In addition to his vast knowledge of different styles of defense, Bradford, in his 25 years of coaching at the collegiate level, has coached or recruited 36 players who went on to have careers in the National Football League.
While at Maryland, Bradford, 52, primary recruiting territory made him responsible for northern New Jersey and five boroughs in New York City. His official bio with the Terps listed Texas, Oklahoma, Wisconsin and northern Virginia as his secondary recruiting areas.
A CLOSER LOOK AT TODD BRADFORD:
Date of Birth: April 15, 1963
Hometown: Salt Lake City, Utah
Alma Mater: Southern Utah, `86
Family: He and wife, Sondra, have a son, Kody, and three daughters, Ashlee, Hailee and Whitnee.
Coaching Experience:
University of Maryland
2011-pr.: Assistant Coach - Defensive Coordinator/Defensive Backs
University of Southern Mississippi
2008-10: Assistant Coach - Defensive Coordinator/Defensive Backs
Oklahoma State
2005-07: Assistant Coach – Linebackers
BYU
2003-04: Assistant Coach - Offensive Co-Coordinator/Wide Receivers
Middle Tennessee State
2002: Assistant Coach - Defensive Backs /Kickoff Coverage
Wisconsin
2000-01: Assistant Coach - Defensive Backs
Louisiana Tech
1999: Assistant Coach - Defensive Backs
1997-98: Assistant Coach - Defensive Coordinator/ Defensive Backs
Eastern Michigan
1995-96: Assistant Coach - Defensive Backs
Lehigh
1994: Assistant Coach - Defensive Coordinator/Defensive Backs
New Hampshire
1988-93: Assistant Coach - Defensive Backs /Recruiting Coordinator
Southern Utah
1987: Assistant Coach - Defensive Backs/Special Teams and Recruiting Coordinator