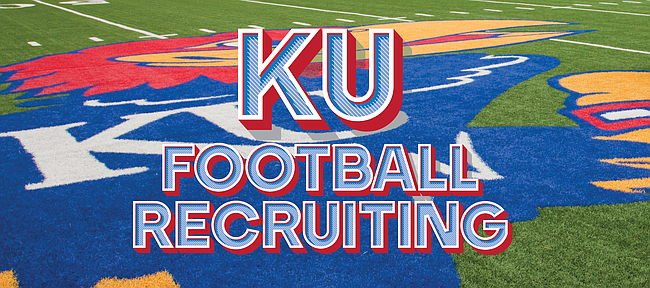 With signing day right around the corner and the current dead period about to expire, now is as good of a time as any to examine the so-far-so-quiet recruiting landscape of Kansas University's football program.
As you surely know by now, coach David Beaty's first full class will not be a full class.
Beaty, who was hired in December of 2014 and barely had two months to fill out the 2015 class, will have the luxury of bringing a class entirely full of his recruits to Lawrence this time around, but it will not be a full class.
Because of the number of 2015 additions that counted forward toward the 2016 class in order to get them on campus prior to last season — think WRs Quincy Perdue and Joshua Stanford, OL Larry Hughes, DT Corey King, etc. — the final number that Beaty will be able to add in the soon-to-be-revealed 2016 class will be closer to 18 or 19 instead of the full 25 allowed annually by the NCAA.
Who's in?
In case you've forgotten or are in need of a refresher, a quick look at the 2016 recruiting class thus far, a list that includes the three recruits who signed during the mid-year transfer signing period and the seven oral commitments who, as far as we know, remain committed to the program.
What we know
On the surface, with the Jayhawks known to be lacking numbers to begin with, that certainly seems like a bummer. But the actual read is in the eye of the beholder, and you can either choose to look at it as a lost opportunity to add more young bodies in the 2016 class or as a way to get a head start on the 2016 class by bringing those recruits to campus earlier.
A strong case could be made for either argument, but, at least in my opinion, the recruits who arrived early and counted forward but had more than a year or two of eligibility remaining were 2016 scholarships well used. The others, such as Stanford and Perdue, names that no longer appear on the official KU roster, appear to be misses.
But anyone who tells you that the goal is to bat 1.000 in recruiting does not deal in reality. I have yet to talk to or cover a coach who hasn't taken the approach that if half of the recruits you sign in any given year pan out and contribute, you did all right.
To the best of my knowledge, the following players counted forward to the 2016 class but were on the 2015 roster. As you'll see, nearly all of them made a meaningful impact last season, even if it was for a winless team.
Larry Hughes, offensive lineman who started several games at tackle still has three years left and is a big part of KU's plans; Clyde McCauley, offensive lineman who started several games at left tackle and also has three years left; Kendall Duckworth, young, athletic linebacker who played in seven games and also has three years left; Marcquis Roberts, veteran linebacker and South Carolina transfer finished third on the team in tackles (71) and has one year remaining; Corey King, started eight games at DT and rarely came off the field, which allowed KU to give younger D-tackles time to develop without destroying their confidence; WR LaQuivionte Gonzales, the Texas A&M; transfer who will be a huge part of next year's team, and fellow wideouts Quincy Perdue and Joshua Stanford, who never made much of an impact.
Do with that information what you will, but, I think it's important to remember that even the biggest and baddest programs out there don't hit home runs on every recruit. The difference is, it just doesn't hurt them as badly when they miss because they're not rebuilding and their numbers are fine.
KU's are not, but that's not because of anything Beaty and company have done. He has said from the beginning that it would take a few years to get back to a full deck and he continues to be as creative as possible with enticing walk-ons and scanning the country for athletes who represent the right fit and immediate upgrades.
So, keep that number — 18 or 19 — in mind as you read on.
The next number that is important to remember is 3. That was the number of mid-year transfers that KU signed back in December — D-Tackles DeeIsaac Davis and Isi Holani and athlete Stephan Robinson — so the number of new names that will be eligible to make their commitments to KU official on February 3 actually will be closer to 15 because these three are already on board.
With seven players in the 2016 class currently committed — a handful of KU commitments fell off the radar during the past couple of months because of a number of issues, most of the departures falling in the category of the KU coaches doing what's best for Kansas — that leaves roughly seven spots open and two crucial recruiting weekends right around the corner to fill them.
What's still out there?
By far the biggest fish still out there who KU has a shot at is Lawrence High prospect Amani Bledsoe. The four-star defensive end showed he's serious about considering Kansas when he used one of his five official visits on the Jayhawks despite having made dozens of unofficial visits to KU in the past couple of years. At least half a dozen people I've talked to about Bledsoe's recruitment believe it will come down to Kansas and Oklahoma, with the decision hinging mostly upon whether he wants to go somewhere and play right away and be a part of a legacy that helped turn the program around (Kansas) or wants to go somewhere that is used to winning but possibly sit a year or two before he gets on the field (Oklahoma).
Both offer good opportunities, albeit in different ways, and Bledsoe is expected to take the decision all the way down to the wire. It's worth noting that Baylor, North Carolina State and Oregon remain in the mix.
If KU can land Bledsoe, it would turn what already looks to be a pretty good class into a solid one, and there's no telling what his addition could bring.
Would it entice other four-star prospects on the fence to at least consider joining him at KU? Would Bledsoe's faith be the momentum boost KU needs to get into the living room of some other big-time players in the future?
A perfect example of this comes from right down the road at Olathe North, where stud Isaiah Simmons (younger brother of former Jayhawk Victor Simmons) remains undecided and could really give KU a chance if he knew he'd be joining Bledsoe in Lawrence.
If they don't get Bledsoe, nothing is lost because KU's not getting a real shot at a bunch of four-star prospects anyway.
What's next?
Even though the numbers are down, you can bet darn sure that KU is going to introduce as many quality additions as it can on February 3rd. One thing Beaty told me this offseason, however, was that the staff was going to be very judicious and would not recruit players just to add bodies. They won't add a player unless they believe he immediately upgrades that position.
That philosophy is responsible for at least one or two of the departures of players who had orally committed but no longer appear on KU's radar.
That means Beaty and company have a little more than two weeks to fill those final seven or eight spots and you can bet that they'll hold onto a spot or two if they don't find/can't get worthy upgrades because you never know what might pop up throughout the spring and summer and it's always good to have a spot available in case something happens out of nowhere.
The weekends of January 22-24 and January 29-31 figure to be huge in this process and KU's visit lists should be as close to full as possible for those weekends — unlike Bledsoe's visit weekend, when the LHS standout was the only official visitor in town and received the undivided attention of the entire coaching staff and program. Lucky break, eh?
A quick look at the Rivals.com visit tracker shows just two players listed for those two weekends — juco DB Mike Daniels and prep RB Jawon Hamilton — but Jon Kirby and the guys at JayhawkSlant.com are tracking many more visitors than that and, again, you can bet KU's slate will be full those two weekends.
Here are a few other names to watch in the coming weeks, which includes a few players who are committed to other schools but may still be looking around: Coffeyville safety Toyous Avery; prep DBs Julian Chandler (Missouri City, Texas) and Hamp Cheevers (Trenton, Fla.); Richmond, Texas, WR Evan Fairs; and D-Linemen Johsua Bailey (Jacksonville, Fla.) and Isaiah Bean (Summer Creek, Texas).
It's hard to know exactly what positions are priority for the Jayhawks, but it seems safe to say that they want to add another running back, would like another receiver and would be interested in a couple of D-Linemen and DBs.
Something to remember
One of the most important things for fans to remember regarding KU's football recruiting is this: Because of the numbers crisis facing the Jayhawks, it's not as simple as one player leaves, another comes in to replace him.
Take recently departed linebacker Kyron Watson, for example.
Common sense says that with Watson gone and no longer on scholarship, that frees up another spot and KU will be able to add a body in his place, which should only help the numbers dilemma. And while that will be true eventually, it's not initially because of the numbers.
Watson leaving does not change the fact that KU can only sign 18 or 19 scholarship athletes in this class. And with the number of outgoing scholarship seniors from last season already higher than that, KU will still be lagging behind. Could they go find a taker for Watson's scholarship? In a second. Will the NCAA allow it? Nope. Not with KU counting so many scholarships forward in the Class of 2016 and filling up its 18- or 19-man 2016 class. Remember, except for on rare occasions, no program can add more than 25 players in a single class in any given year. That doesn't change just because players leave. So, really, even though Watson's departure won't hurt the product on Saturdays, it does hurt a little because that's one less practice body. In order to make up for it, a walk-on will likely now be taking Watson's reps.
That's why Beaty has deemed the development of a strong walk-on program as such an important part of this rebuild and he's dead on about that.
This same general concept holds true for a number of ex-Jayhawks you've probably already forgotten: OL Brian Beckmann, OL Junior Visinia, OL Damon Martin, DB Matthew Boateng, RB Corey Avery and QB TJ Millweard. All are players who could have still been in the program and on scholarship but left the program for one reason or another and were either not replaced or replaced by walk-ons.
Those might not be the most talented names in the world, but KU is in no position to be OK with losing bodies. And that's what makes Beaty's decision to get rid of players such as Avery, Boateng and others so powerful. Trust me, those were not decisions Beaty took lightly, but he made them because he believed he only had one shot at establishing the culture and setting the tone and those moves certainly did that.
A few final words
As you can see, the rest of the month clearly will bring a big couple of weeks for the KU football program, but even if the Jayhawks don't land a bunch of the names you read above, don't take that as time to panic.
As we saw throughout the rough 2015 season, this coaching staff is willing to be patient and will remain positive and upbeat even in the face of the most dire circumstances.
And that's certainly the only way to describe the current state of the KU football program.
But it sure seems like the positive feedback from the seniors who played their final seasons of college football last year as well from underclassmen is aiding KU's recruiting efforts.
Several KU coaches have said that parents of current targets repeatedly have referenced comments made by Ben Goodman, De'Andre Mann and Taylor Cox as well as younger players who figure to be part of the future, such as Joe Dineen, Ben Johnson and others, and those words seem not only to be providing the families comfort but also encouraging them to give Kansas a long, hard look.