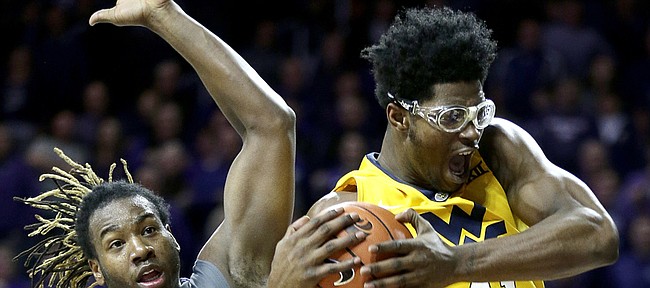 West Virginia's Devin Williams isn't awed by Kansas University's No. 1 national ranking heading into Tuesday's Big 12 Conference showdown, set for a 6 p.m., Central time, tipoff (ESPN2) in Morgantown, West Virginia.
"(Kansas) is No. 1. But what does that mean? What if we were put in the Top 10 when we first started? Where would we be? There's nothing we can do about that number they got," Williams told the Pittsburgh Post-Gazette on Saturday after the Mountaineers' 77-60 home victory over Oklahoma State at WVU Coliseum.
"We had to put ourselves in the Top 25," Williams added. "At the end of the day, we should feel disrespected, because we're just as good as anybody in the country — starting five to bench. We can play with anybody in the country."
KU and West Virginia have identical 14-1, 3-0 records. Yet the Jayhawks are indeed the country's No. 1 team in the AP poll, while the Mountaineers checked in at No. 17 last week.
WVU could be a Top 10 team when the latest poll comes out today.
More importantly, after Tuesday, just one team — KU or WVU — will be the only remaining unbeaten in the conference. West Virginia has won at Kansas State and TCU and beaten OSU at home. KU downed Texas Tech, 69-59, on Saturday in Lubbock and has won home games against Oklahoma and Baylor.
"I think it'll be a war. They're going to pressure us. We have to handle pressure," KU coach Bill Self said after Saturday's win. "We also will have to be able to guard them and have plenty of energy. That'll be a juiced-up atmosphere playing there. It may be as juiced as anyplace we go this year. They could be in the Top 10. We'll be ranked real high. It'll be a great atmosphere. We'll certainly get unbelievable effort from them."
KU, by the way, has taken a No. 8 national ranking to West Virginia each of the past two seasons. The Jayhawks lost both times — to an unranked Mountaineer team, 92-86, in 2014 and 62-61, to No. 23-rated WVU, last Feb. 16.
Winning on road: KU forward Perry Ellis has been around long enough — four years, in fact — to know all wins on the road classify as good wins.
"It's always tough every game you go play. You always get their best shot," Ellis said after Saturday's 10-point win.
"It's always a tough game for us down here," he added of Lubbock, where KU needed an Andrew Wiggins tip to win at the buzzer two seasons ago. "We fought to the end.
"It's always a great feeling to get that road win," added Ellis, who scored 15 points and grabbed 10 rebounds in 31 minutes. He also had two assists, three turnovers and a block.
The Jayhawks were able to survive an off night from two of their three starting guards.
Wayne Selden Jr., who did not score the first half, wound up with nine points off 4-of-13 shooting in 33 minutes. Devonté Graham had four points off 1-of-6 shooting, with four boards, two assists and one turnover in 30 minutes. The other starting guard, Frank Mason III, had 17 points, 10 rebounds, five assists and two turnovers in 31 minutes.
"Frank played like the best point guard in the country," Selden said. "We needed him tonight because me and Devonté weren't there. When Frank steps up like that, it's big for us."
Graham also lauded Mason's effort.
"Unbelievable energy. We feed off him," Graham said. "He always is aggressive. He made shots for us late. Ten boards is big considering we outrebounded them by 16 (42-26). Getting on the boards was big, and he hit some big shots."
Mason hit three of eight floor shots (three of six threes) and was 8-for-8 from the line.
"He's as good at anybody at forcing help and getting his shoulders past people," Self said. "He backs out of way too many plays. A lot of times he'll move the ball right when the ball screen is being set, which is fine for anybody else, but not for him because he's so good off ball screens. There's a lot of times he can play 'Take 'Em,' when in all honesty he doesn't do that near as often as what I'd like. He's learning, and I tried to rest him more tonight.
"It seemed he didn't play much, and he played 33 minutes. It seemed to me I didn't have him out there as much. I think he can give us a lot more."
Bragg fares well: Freshman forward Carlton Bragg, who started the second half, had four points off 2-of-3 shooting, with three boards and three turnovers in 14 minutes.
"I thought he was great," Self said. "He made one bad play. We had total momentum. He tries to back down that big fella (Norense Odiase) and turned it over, which led to a runout. Hunter (Mickelson) ... I knew they (Red Raiders) would go to him, and that would have been his third foul to start (second half). Landen had three (first half); Mari (Jamari Traylor) had three. I wanted to see if he (Bragg) could get out there and buy some time. I think he did a nice job."
More road talk: Graham agreed with Ellis that life on the road will be tough again this year.
"It was our first conference road game. All games on the road are big," Graham said. "In order to be a good team you've got to be able to win on the road. It was a big win. We have another big one on Tuesday."
Olson watch list: KU's Ellis is one of six players in the Big 12 who have been placed on the Lute Olson midseason watch list. The award goes to the country's top Div. I player who has played at least two seasons. Other Big 12 players on the list: Monté Morris, Georges Niang, Iowa State; Rico Gathers, Baylor; Buddy Hield, Oklahoma; and Williams, West Virginia.