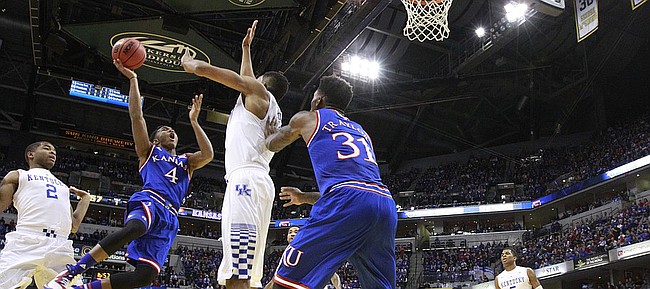 Just like everyone figured, the Jan. 30 Big 12/SEC Challenge main event — Kentucky at Kansas — will be played at night and broadcast by ESPN.
The Jayawks, currently ranked No. 1 in the nation, will play host to the Wildcats, currently No. 14, at 6 p.m.
UK leads the all-time series, 22-6, and has defeated KU in three straight meetings, including the 2012 national title game.
In the most recent KU-UK matchup, Karl-Anthony Towns and company steamrolled the Jayhawks, 72-40, at the 2014 Champions Classic, in Indianapolis.
Kentucky last visited Allen Fieldhouse 10 years ago, and Kansas blew out its fellow blue blood, 73-46.
The Big 12 won the made-for-TV showcase each of the past two seasons, going 6-4 in 2014 and 7-3 in 2013 (previously the games took place during the first two months of the season).
This year marks the first time all 10 games in the Big 12/SEC Challenge will be played on the same day.
2016 Big 12/SEC Challenge
Sat., Jan. 30
Vanderbilt at Texas (11 a.m., ESPN2)
West Virginia at Florida (noon, ESPN)
Iowa State at Texas A&M; (1 p.m., ESPN)
Ole Miss at Kansas State (1 p.m., ESPNU)
Tennessee at TCU (1 p.m., ESPN2)
Texas Tech at Arkansas (3 p.m., ESPNU)
Oklahoma at LSU (4 p.m., ESPN)
Georgia at Baylor (5 p.m., ESPN2)
Kentucky at Kansas (6 p.m., ESPN)
Oklahoma State at Auburn (7 p.m., ESPN2)