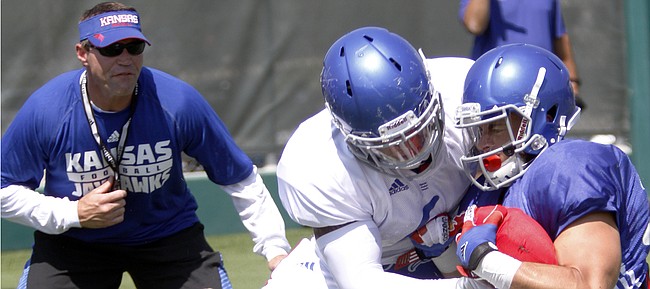 Sophomore Kyron Watson revealed on Twitter on Sunday night that he will not return to play for the Kansas University football team in 2016.
"I will not be attending The University of Kansas anymore," Watson wrote. "I will truly miss it though."
The reserve linebacker from East St. Louis, Illinois, played in 15 games during his two years in Lawrence, but did not make the kind of impact many expected when he signed with the Jayhawks in February of 2014.
He played in 11 of 12 games as a true freshman on defense and special teams but never seemed to possess the speed and mobility to warrant a heavy workload in the Big 12 and played in just four games during the winless 2015 season.
The 6-foot, 225-pound big hitter earned a four-star rating out of high school from ESPN.com and was a labeled three-star prospect by both Rivals.com and Scout.com. Rivals ranked him as the 22nd best outside linebacker in the nation in the Class of 2014 and he chose KU over offers from California, Cincinnati, Michigan, Minnesota, Missouri, Purdue, Syracuse and TCU.
There is no word yet on where Watson will transfer, though it seems likely that he could look for a school closer to his hometown and young daughter.
Watson's departure is the second piece of linebacker news to come out of the KU football program during the past week. Earlier in the week, linebackers coach Kevin Kane officially left KU to become the defensive coordinator at Northern Illinois, where he worked before coming to join David Beaty's staff at his alma mater.
Even with Watson leaving, the KU linebacking corps will return second-leading tackler Joe Dineen and veterans Marquis Roberts and Courtney Arnick in 2016. The coaching staff also has high hopes for Baker transfer and Free State High grad Keith Loneker, who sat out the 2015 season after transferring, and Kendall Duckworth, who played as a walk-on in 2015.