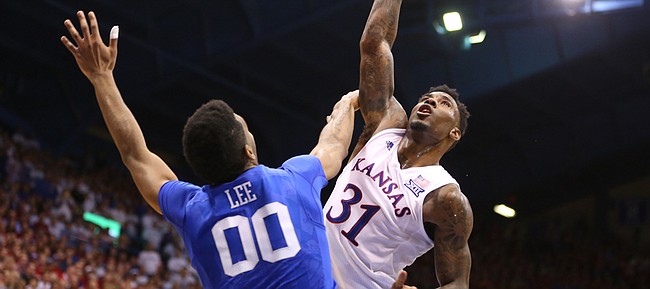 If nicknames were handed out to athletes based on the most common words their coaches used to describe them, Kansas University senior Jamari Traylor would be known as The Spark.
Hardly a week has gone by during the 2015-16 basketball season that KU coach Bill Self has not made note of a short but important stint by Traylor impacting the game in a positive way.
The examples are endless, easy to find and just as easy to overlook, and they illustrate with great certainty where Traylor's mind has been during his final season as a Jayhawk.
"I just want to win," Traylor said. "When my number's called, I just want to go out there and do what I can to affect the team in the best way that I can."
The way Traylor has sparked the team this season may not have led to more minutes, but it has earned Self's admiration and set a great example for the Jayhawks' supporting cast, a group that, for the most part, has stayed ready to contribute even while enduring long droughts — sometimes minutes, sometimes games — between time on the floor.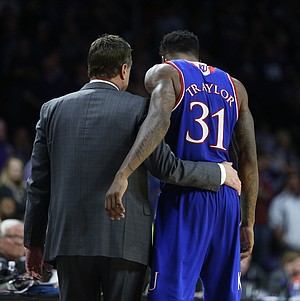 "Jamari has been as good a teammate as you can have," Self said. "I'm real pleased and proud of how our guys have hung in there and been really together and unselfish. ... Our attitudes have been, not good, great."
It was not always this way for Traylor, now in his fifth season with the program. From the scars he carried with him from a tough upbringing on the rough streets of Chicago to the combustible attitude that made him known as much for his explosive body language as his ability to get buckets, Traylor's journey as a Jayhawk has been as much of a roller coaster as his personality once was.
After sitting out alongside Ben McLemore as a partial qualifier during KU's run to the national title game in 2011-12, Traylor saw an increase in playing time during each of the next three seasons. From 10 minutes per game as a red-shirt freshman to 16 as a sophomore and 20, with 18 starts, a season ago, Traylor appeared to be growing with his role. This year, however, as Traylor's time on the court has been closer to what he was given as a first-year player than an experienced junior — 13.6 per game overall, 11.9 per game in Big 12 play — his approach and mind-set have been better than ever.
Rather than sulking and letting his face show his frustration, Traylor has chosen to treat each opportunity the way hockey players hop over the boards for a line change — with 90 seconds of constant, all-out effort.
Traylor seems to understand that players don't need to play 35 minutes a night to make a play that changes the game. They just need the chance and the heart.
"I definitely want to play," Traylor said. "But more than that, I want to win. It's my senior year, and when we win big at the end of it, it's gonna be a bigger piece of the pie for everybody. You gotta sacrifice a little bit for the greater good."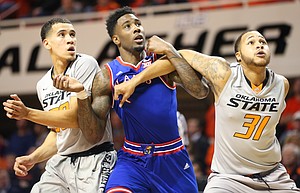 So as his minutes slipped, Traylor refused to let his attitude slip with them. He credits former teammate and current Los Angeles Lakers forward Tarik Black for helping him embrace a more limited role and pointed to a January text exchange between the two former front-court-mates that made acceptance easier.
"In the text, he said, 'I'm sitting on the plane with Kobe (Bryant) and on a bench in the NBA right now when I could be somewhere else doing something crazy,'" Traylor began. "That had me like, 'You know what? I've got nothing to complain about.' "He was saying, 'Man, at the beginning of my senior year I didn't even play, I was fouling and didn't play, and now I'm in the NBA making money when I could be on the streets in Memphis.' That really hit me because it made me think, 'You know what, I could be in Chicago right now doing something crazy.'
"So I just look at guys like that and appreciate the example they've set. I'd like to be Tarik right now, making a lot of money just playing ball and doing what you love to do."
Traylor said the compliments from Self and appreciation and respect his teammates have tossed his way have made him feel like a critical part of this team, even if his 3.0 points and 3.4 rebounds per game don't scream that.
One man who has helped Traylor focus on his role and savor every minute of it is KU director of student-athlete development, Fred Quartlebaum, who at times this season has sounded a lot like Traylor's corner man.
"Coach Q's always in my ear saying, 'Senior year. Enjoy the moment. Time's tickin,'" said Traylor, shaking his head and laughing. "It's kind of sad, really, but he says it all the time, so as far as embracing the moment, I do that every day."
As for what comes next, Traylor has not ruled anything out. Like his buddy, Black, he certainly hopes to get a crack at the NBA, but also, after all these years and lessons, is realistic enough to know that plane rides with people like Bryant might not be in the cards for him.
"Everybody wants to play in the NBA," he said. "That's still a dream and everything, but I just want to play basketball after college. If I have to play overseas, I'd be cool with that. It's never a bad thing to make money to play basketball. I'd do it for free."
Traylor knows nothing will come free for the Jayhawks (25-4) the rest of the way. Even with a 12th consecutive Big 12 title now theirs and landing yet another No. 1 seed in the NCAAs growing more likely by the day, Traylor said this year's group remains hungry and focused on what a few more weeks of grinding and smiling might deliver.
"If I could write the script," he began, "there's all these teams out there that can win it, and everybody's gonna go hard, and I just feel like, 'Why not us?' We put in enough work. We've got the group. We've got the coaches. Why not us? That's the goal — the whole thing. That's just how our minds work and where our motivation is."