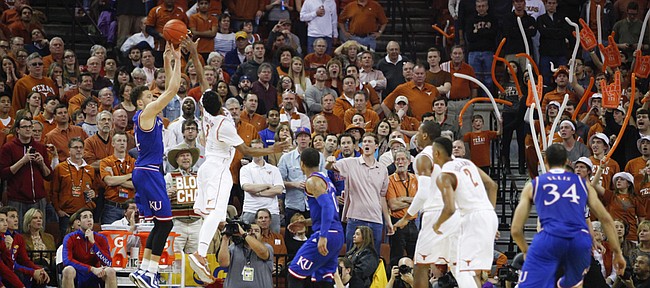 Austin, Texas — Kansas University's basketball team played perhaps the most efficient road game of the 13-year Bill Self era last season at Texas' Frank Erwin Center, committing three turnovers in a 75-62 victory over Rick Barnes' last Longhorn team.
"They only had three turnovers? That's crazy. They did a great job of taking care of the ball. That's a great recipe for winning," gasped UT junior point guard Isaiah Taylor, who has dished 145 assists against 54 turnovers entering today's 8 p.m. Big Monday contest between KU (25-4, 13-3) and Texas (19-10, 10-6).
"I don't know how many turnovers we had. I bet we had more than three," Taylor added with a smile, speaking to the Journal-World at Big 12 Media Day.
The Longhorns had nine turnovers — not bad at all, still lacking in comparison to KU, which tied a school record for fewest miscues in a game.
KU had three turnovers against Iowa State back in 1966.
"We ran. We were opportunistic. We played smart. Shot selection was good, and we paid attention to scouting report for the most part," Self stated.
Chances are KU's coach would welcome a repeat of not only last year's game in Austin, but the first KU-UT game of the Shaka Smart era tonight. That's the Jan. 23 outing in Allen Fieldhouse in which KU suffered just nine turnovers (UT had eight) in a 76-67 victory.
Taylor, a 6-foot-3, 185-pounder from South Hayward, Calif., who averages 15.5 ppg, had 13 points, five assists, six rebounds and just one turnover in that contest.
"We talk about teams that are athletic. They may have the best athlete in college basketball in (Kerwin) Roach. He may be as good an athlete as there is in college basketball for his size," Self said of the 6-4 freshman from Houston. "Taylor is a jet. I think Felix (Javan, 5-11, sr.) has had a great year, too.
"They are athletic, and they are aggressive, and they have a rim protector (6-11 senior Prince Ibeh). No question that they have got great pieces."
And an energetic, 38-year-old coach in former VCU coach Smart, who looks as if he definitely has the Longhorns in position for a bid to the NCAA Tournament, where the Longhorns competed in 16 of Barnes' 17 seasons in Austin.
"I'm not there every day. I would say from my standpoint, vantage point watching, they enjoy playing for him," Self said of the UT players. "I think they play very, very hard. I think the one thing that they have done a ton of that's a little different than Rick is switch defenses. They will switch all the time doing things differently. They'll down ball screens and next time out they are trapping off ball screens. They do a good job of keeping you off-balance and certainly pressure more. They are pressuring more now in the full court.
"But you know, to me, putting your handprint on it is more from a personality standpoint and a recruiting standpoint. And from what everybody tells me, he (Smart) is well liked in the state, and the staff works hard, and it's definitely a very positive feel, from what I hear."
Taylor gives a thumbs-up to the work of Smart and his staff.
"I think of him as a players coach, someone who can relate to the players, someone who knows what we are going through and not just on the court but in life as well," Taylor said.
"Coach Smart has been a great dude in and out of practice, added a lot of enthusiasm, positive energy and confidence to the team. He is a person who wants us to work hard on every possession, give 110 percent every possession. He's been that big brother the team has been missing, somebody we can go to on and off the court."
Taylor will have a decision to make after this season whether he wants to continue on at Texas or enter the NBA Draft. He explained his decision to return for a junior season to the J-W.
"Being around my teammates, enjoying college, knowing we had (six) seniors, and it's their last year," Taylor said of Felix, Ibeh, Demarcus Holland, Cameron Ridley, Connor Lammert and Danny Newsome. "When our schedule came out, we were going to the Bahamas (where UT beat Washington and lost to Texas A&M; and Michigan), getting that exposure. It was hard to pass up. The NBA is not going anywhere. Just being with these dudes is a moment I wanted to have."
Where would he have been drafted?
"Early second round, some had me late first, depending on the workouts," he said. "I think I would have moved to the first round like many people have. Depending on what NBA people said didn't affect my decision at all. When coach Smart came on staff, he reached out to me. He reached out to my family. It showed a level of trust there already. I respected him not to jump."
KU coach Self said former VCU coach Smart, "has done a great job. They are playing with confidence. They guard. They are tough. We're going to have to play better than we have this past week. Hopefully we'll get our batteries recharged and be able to do that."
Going for it all: By winning today on Texas' Senior Night or at home Saturday against Iowa State on KU's own Senior Day, KU can clinch the outright Big 12 regular-season title. Another way to win it outright — KU of course clinched at least a tie on Saturday — would be for West Virginia (11-5) to lose to either Texas Tech on Wednesday in Morgantown, W.Va., or Baylor on Saturday in Waco, Texas.
"It's a carrot for Monday, also a carrot for Saturday if it stretches to Saturday," Self said. "Everybody is selfish in their own right. But why would we want anybody else to recruit to being a Big 12 champion? I don't know any coach out there going into the season, wouldn't say, 'If we could get a piece of it, it'd be great.' We'd say the same thing. But after you are guaranteed a piece of it, you want to be the only one who does it. That's the competition that drives that. I think now that we have a piece of it I'd hope we'd play more relaxed moving forward knowing we've got a piece of it."
This, that: No. 25 Texas drew a sellout of 16,540 for Saturday's 76-63 win over No. 3 Oklahoma. The win was made possible by a late 22-0 run. Texas has defeated four Top 10 teams this season. ... KU is expected to move to No. 1 in both the AP and USA Today polls today. ... KU leads the all-time series 26-8, including a 7-6 mark in Erwin Center. KU has won four straight, nine of 10 and 12 of 14 vs. Texas. ... Self is 16-8 vs. Texas, including 16-6 as KU coach. Smart is 1-1 vs. KU, 0-1 as Texas coach. KU beat Texas, 76-67, on Jan. 23 in Allen. Perry Ellis had 26 points and Wayne Selden Jr. 19 in that game. Devonté Graham had 14 points and six assists. Landen Lucas had 10 boards and Frank Mason III 13 points.
Jackson update: Josh Jackson, a 6-8 senior forward from Prolific Prep in Napa, Calif., who is ranked No. 1 in the recruiting Class of 2016 by Rivals.com, is officially down to three schools. Jackson, who is originally from the Detroit area, told CSNBayarea.com on Friday that his finalists are KU, Michigan State and Arizona. He said he will decide sometime in March.