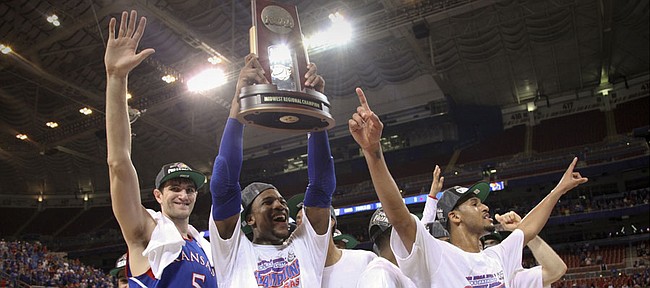 If you believe in patterns, then you have reason to believe this will go down as a memorable season for Kansas University's team.
A clarification is in order: I did not mean pass patterns. The team in question here plays basketball, not football, and a look at what types of teams Bill Self has taken deep into NCAA tournaments indicates this one fits into that category.
Obviously, Self has found a way to coach all but his first of 13 KU teams to the Big 12 title.
When facing the rest of the nation, Self has encountered extraordinary success in the NCAA Tournament when coaching a veteran bunch and has experienced mixed tournament results when banking heavily on freshmen.
Heading into this season, half of Self's teams included two or more freshmen among the top five scorers, and half had fewer than two freshmen among the top five in points.
In years with fewer than two frosh in the top five, Self has a 17-5 tournament record, 10-6 when relying heavily on freshmen.
Carlton Bragg Jr. is this season's leading freshman scorer. His 112 points rank him eighth on the team. Cheick Diallo has scored 68 points, which places him 10th.
Another emerging pattern also bodes well for Kansas. This will be the fourth time Self has coached the Jayhawks in the tournament in a presidential-election year. His tourney record in the previous three: 14-2. He's 13-9 in all other years. (If Self spoke Trumpese, he might be inclined to say, "Presidential elections love me!" Or: "The losing coach sweats too much. He has a problem.")
Self has reached the Final Four twice, in 2008, when Kansas defeated Memphis in overtime to win the national title, and in 2012, when the Jayhawks lost to Kentucky in the national title game. How this team compares to those personnel-wise has no relevance because it won't have to play against them. All that matters is this year's field, and it's not a particularly strong one, at least at the top.
In 2008, Kansas, Memphis, North Carolina and UCLA formed the only Final Four that featured four No. 1 seeds, which made picking a winner a tough call. Four years later, Kentucky, led by center Anthony Davis (59 points, 20 rebounds for the New Orleans Pelicans eight days ago in 111-106 victory at Detroit), easily was the nation's best team.
Kansas deserves the No. 1 ranking it will receive today, but VegasInsider.com has Michigan State (15/2) and North Carolina (8/1) ranked ahead of three teams at 10/1 (Kansas, Kentucky and Oklahoma) for national-championship odds.
Self accurately maintains that he has been as willing to play freshmen as much as any coach other than Kentucky's John Calipari. Six of Self's seven one-and-done players have ranked among the team's top five scorers. Josh Selby was the lone exception. (Even at that, his 7.9 points-per-game average ranked him fifth, but since he was not eligible first semester, he was not among the top five in total points.)
Teams for which Xavier Henry, Ben McLemore, Joel Embiid, Andrew Wiggins, Cliff Alexander and Kelly Oubre Jr. played went 5-4 in the NCAA Tournament. Embiid (back injury) and Alexander (suspended) did not participate in the postseason. The squad that did not need to bank heavily on Selby went 3-1 in the NCAA Tournament and was outscored by Virginia Commonwealth by 20 points during Selby's minutes. Veterans know better how to negotiate the Madness.