Kansas University bounced back from its first tennis setback of the season with a 7-0 sweep of No. 46-ranked New Mexico on Sunday at the Jayhawk Tennis Center.
Led by sophomore Smith Hinton — who is undefeated in singles and doubles this year — No. 23 KU (7-1) dropped just two sets to the Lobos (5-3).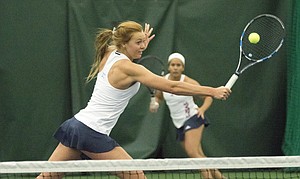 "It's very encouraging to have defeated our third top-50 team," Kansas coach Todd Chapman said. "I think it was made even more encouraging after having such a disappointed team on Friday. I was excited to see how we would respond to that loss. It told me a lot about our team.
"We have five freshmen and sophomores, so I didn't know how we were going to respond. Losing in a situation where we thought we had some chances to be successful and not doing it, for this young of a group to approach that the way that they did is impressive to me."
KU will host SMU on Friday.
Doubles
Nina Khmelnitckaia-Janet Koch, KU, def. Dominique Dulski-Emily Oliver, 6-1
Maria Jose Cardona-Summer Collins, KU, vs. Ruth Copas-Andrea LaBlanc, 2-2 (unfinished)
Smith Hinton-Anastasiya Rychagova, KU, def. Rachana Bhat-Sharon Coone, 6-0
Singles
Rychagova, KU, def. LeBlanc, 4-6, 6-2, 6-3
Hinton, KU, def. Oliver, 6-4
Koch, KU, def. Dulski, 4-6, 6-3, 6-1
Khmelnitckaia, KU, def. Ludvine Burguiere, 7-6, 6-4
Collins, KU, def. Bhat, 6-1, 6-0
Cardona, KU, def. Coone, 6-7, 6-2, 7-6