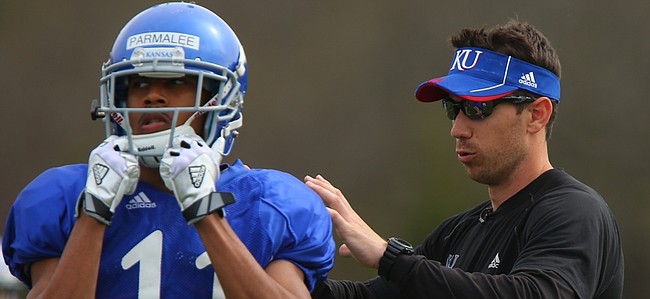 Another full-time assistant on David Beaty's Kansas University football is leaving the program after just one season in Lawrence.
A source with knowledge of wide receivers coach Klint Kubiak's plans, told the Journal-World on Tuesday afternoon that Kubiak was leaving to join his dad's staff with the Denver Broncos. Kubiak later confirmed the move in a phone interview.
"I'll be heading out there pretty quickly," Kubiak, 28, told the Journal-World Tuesday. "And it was not an easy decision because of how much I think of coach Beaty."
A 2009 graduate of Colorado State who came to KU with NFL experience with the Minnesota Vikings as a coach and Washington Redskins as a player, Kubiak coached the KU receivers in 2015 and was slated to share the role with new hire Jason Phillips in 2016. Kubiak was expected to coach KU's inside receivers and Phillips, who came to KU from SMU, was brought on board to coach the outside receivers.
Where Beaty will go from here with the position likely depends upon what coaches are available and how he wants to fill out the staff in terms of recruiting.
Like recently departed running backs coach Reggie Mitchell, who late last week accepted a job at Arkansas, Kubiak said he believed KU football was on the rise and bound for better days in the near future.
"I'm really going to miss Kansas," Kubiak said. "And I'm kind of jealous that I won't be here for all of the good times that are ahead. I just really appreciate everything David has done for me personally and professionally. I had no intention of leaving. It just kind of came up and I couldn't pass up the opportunity to go be with family. But it definitely wasn't an easy thing to do."
The Broncos announced Tuesday night that Kubiak, who attended Super Bowl 50 and was on the field celebrating with his father after the Broncos' 24-10 victory over Carolina, will fill the offensive assistant job vacated by Brian Callahan, who was hired away by the Detroit Lions earlier this week. Callahan, the son of former Oakland Raiders and Nebraska Cornhuskers coach Bill Callahan, worked with Denver's quarterbacks in 2015.
Kubiak becomes the fourth full-time assistant on Beaty's first staff at KU to leave his position — joining Mitchell, linebackers coach Kevin Kane, who went to Northern Illinois to be the defensive coordinator and former special teams coach Gary Hyman, who was reassigned but is still on staff — and Beaty now will look to fill two full-time spots on his coaching staff with spring practice just a few weeks away.