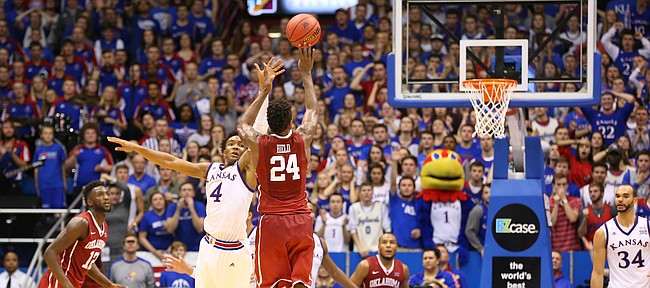 It's been 40 days since the Kansas University men's basketball team got an up-close look at the greatness that is Oklahoma senior Buddy Hield.
You know the story by now and probably have not forgotten much of it yourself. Forty-six points on 13-of-23 shooting. Eight three-pointers. Twelve free throws. Eight rebounds. Seven assists. Fifty-four minutes.
Even at Kansas, where some of the most highly recruited players in the country come to play for one of the most tradition-rich programs in the history of college basketball, Hield's night was one to remember and unlike many — if any — most Jayhawks had ever seen.
Podcast episode
Kansas basketball coach Bill Self meets with media members to discuss the Jayhawks' Saturday rematch with Oklahoma, with topics ranging from the greatness of Buddy Hield to points in the paint and much more.
While KU players, coaches and fans marveled at the performance of the reigning Big 12 player of the year and soon to be national player of the year following that thrilling, triple-overtime KU victory, one Jayhawk, though impressed, was hardly surprised.
That's because Perry Ellis had seen Hield unleash similar performances long before he became a star with the Sooners.
Originally from Freeport, Bahamas, Hield moved to the United States in 2010 and began playing high school basketball at Sunrise Christian Academy, a small school in the competitive basketball town of Wichita.
That was where Ellis, a star at Wichita Heights, first remembered hearing about Hield and Ellis said the two first met during their sophomore year. The next summer, Ellis and Hield teamed up on the same AAU team, Kansas Pray and Play, and it was then that Ellis began to see the types of performances Hield was capable of putting together.
At the adidas Invitational in 2011, Hield scored 35 points in a victory over Dream Vision, a team ranked in the Top 5 nationally, and delivered many of the same types of shots and plays he hit Kansas with back in January.
Throughout the years, Hield's game, like his friendship with Ellis, has continued to evolve, and now that the two former teammates are playing for rival schools that are tied at the top of the Big 12 standings, that friendship has grown even stronger.
"Every time we go back home, we're always working out and things of that sort," Ellis said after Hield's 46-point outburst on Jan. 4. "He goes back there quite often in the summer time."
Asked where Hield's big night ranked on the list of opposing performances, Ellis did not hesitate to answer.
"Definitely the top," he said. "From what I've seen and what I've played against.... I don't know what to say. It was just a great effort by him. He did a tremendous job."
Both exhausted by the nearly three halves of high-level basketball they had just played, Ellis and Hield enjoyed a quick moment on the court after that game. It is not in the nature of either player to talk much trash or get hung up on bragging rights. Instead, the exchange was based on respect and admiration.
"I just said, 'Man, just keep going. You're gonna do big things and it was a great effort,'" Ellis recalled. "He was making all types of shots and making plays. That's what great players do."
It was clear from the way Ellis spoke, smiling and shaking his head from side to side with every comment about old friend and former teammate, that Ellis was impressed by and proud of the player Hield had become.
However, just in case it wasn't, Ellis explained what part of Hield's game he liked the most.
"His heart and his energy, just what he brings to the team," Ellis said. "It really puts them over the top."
Ellis said he had never seen anyone put on that type of performance on the same floor as him and added that he was appreciative of the Kansas fans who gave Hield a standing ovation as he left the Allen Fieldhouse floor.
"He deserved it," Ellis said. "Words can't describe how well he played. I'll remember it forever."
---
---
---
---