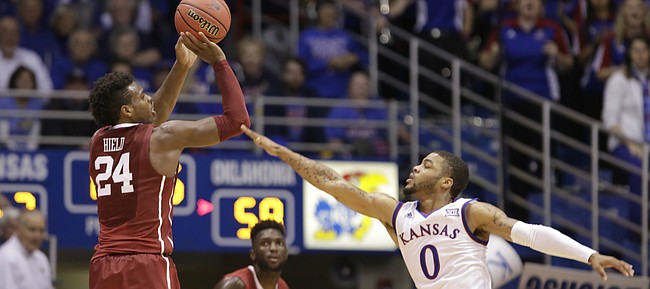 The number 60 is so outrageous next to the word points for a basketball player that many thought Bill Self was kidding when he said it five weeks ago. He wanted to make sure everyone knew he wasn't, so he said it again Thursday.
"I'm serious about this," Self said of Buddy Hield, "if Frank (Mason) had not been on our team, he would have got 60. I mean, he scored, I'd say, 50 percent of the time he touched it when Frank was guarding him. But he didn't touch it very often. If he'd have gotten 10 more touches, he could have scored 10 more points, easily."
Mason did such a terrific job of denying Hield the ball that even though the leading national player of the year candidate scored 46 points during Kansas University's 109-106, triple-overtime victory against Oklahoma, he attempted just four field goals in the second half and scored 11 points, two on a tip-in.
Podcast episode
Kansas basketball coach Bill Self meets with media members to discuss the Jayhawks' Saturday rematch with Oklahoma, with topics ranging from the greatness of Buddy Hield to points in the paint and much more.
Hield made 6 of 6 second-half free throws, 1 of 2 two-pointers and 1 of 2 three-pointers.
Trying to figure out how to contain Hield raises many possibilities and no easy answers.
Kansas guards Mason and Devonté Graham are entrusted with collapsing defenses on drives to the hoop. It's an exhausting responsibility that comes with bruises delivered by bigger bodies, but not as tiring as chasing Hield all over the place to try to keep him from receiving passes.
"I don't think Frank can guard Buddy the whole game," Self said. "Is Frank more valuable being on the floor, we talked about, even if he's maybe a little fatigued, than somebody else being fresh out on the floor? We need Frank on the floor for the most part. So I think we need to sub him smarter, sub him more often for shorter stints, even for 30 seconds here or a minute there. But to say he's going to lock in on Buddy, that won't be our game plan going in. That may be the game plan late game in possessions that really matter, but I think we're going to need him in the game being a little bit more rested offensively the first 30 minutes or so."
Hield will try to drive when Wayne Selden checks him. If he's too successful doing that, look for Graham and Mason to take their turns, maybe with relief here and there from Brannen Greene and Svi Mykhailiuk.
"So it could happen, but it probably won't happen as much as what the obvious person would think, based on how well he defended him the last 25 minutes the other day," Self said of Mason checking Hield. "It totally gassed him, though. He was spent."
Once Hield has the ball, he's tough to stop without fouling. Hield has made 50 percent of his 192 three-point shots, many of them taken when closely guarded. He ranks second in the nation in three-point percentage, ranking behind only Giddy Potts of Middle Tennessee State (.519). Hield's 4.17 made threes per game leads the nation. Hield ranks second in the nation to Howard's James Daniel (27.4) with a 25.7 scoring average.
Self, who almost uses a man-to-man defense with a strong bent on helping, has turned to a triangle-and-two defense with some success throughout the years.
Junk defenses only work against teams that have multiple non-scoring threats. Oklahoma, with four scorers in double figures, doesn't qualify. Zone? Oklahoma leads the nation with a .451 three-point percentage, so so much for that idea.
No easy answers, but the same can be said for Oklahoma in coming up with a plan for trying to slow senior forward Perry Ellis.
In Big 12 games only, Hield leads the conference with a 25.9 scoring average.
Ellis is tied for second with Iowa State's Georges Niang at 19.5 points per game, so Kansas isn't the only one with a difficult defensive challenge on its hands.
— Tom Keegan appears on The Drive, Sunday nights on WIBW
---
---
---
---