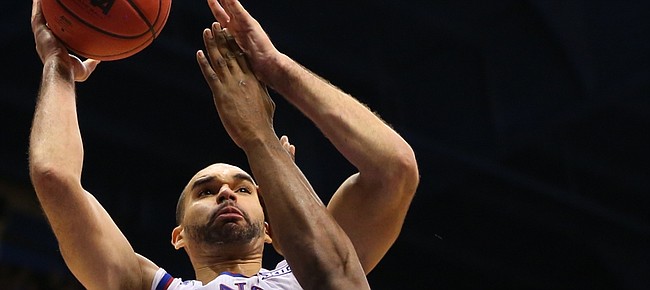 Kansas University senior forward Perry Ellis' shooting from two- and three-point range has been uncanny the last three games.
In wins over Kansas State, TCU and West Virginia, the 6-foot-8 Ellis has hit 22 of 27 two-pointers for 81.5 percent and four of seven threes for 57.1 percent.
Of his two-point accuracy of late Ellis said Thursday: "I would say maybe I'm attacking the hole a little more, a little more aggressive and taking my time a little bit more off the dribble. That could be something due to not rushing into it, using my dribble a bit."
On the season, Ellis, a 53 percent overall shooter, has made 19 of 40 threes for 47.5 percent. All last year, he made 18 of 46 threes for 39.1 percent and overall hit 45.7 percent of his shots.
Podcast episode
Kansas basketball coach Bill Self meets with media members to discuss the Jayhawks' Saturday rematch with Oklahoma, with topics ranging from the greatness of Buddy Hield to points in the paint and much more.
"This summer, I definitely did (work on perimeter game)," Ellis said. "I tried to get my body and muscle memory get used to taking those shots. That definitely helped me out a lot."
Last summer, KU coach Bill Self told Ellis to practice shooting threes from past the NBA three-point line, which is 23 feet, 9 inches, compared to college basketball's 20-9.
"It helped me just stretch my range, I think," Ellis said. "At first it wasn't real comfortable shooting those (NBA) shots. Gradually it started getting better and better. It worked out."
When Ellis returned to shooting college threes this season, the distance appeared much, much shorter, in effect an easier shot than last year.
"Definitely," Ellis said. "When I first started at the NBA line it seemed so far back I couldn't even shoot them well until I got used to it. Now it's really helping," he added.
Another Jayhawk who is faring well from three is sophomore Devonté Graham, who has made 40 of 94 for 42.6 percent. Last year, he cashed 17 of 40 for 42.5 percent.
"The coaching staff helped me with it (threes) being confident," Graham said. "Coach gets on all of us for passing up open shots. If you are open, he wants you to shoot the ball. He instills that confidence in all of us so we play with a free mind, not being hesitant on shots. It's been going in for me. That boosts confidence. Making shots definitely is helping me out," added Graham, who has 10 threes in 25 tries the last six games.
Unlike Ellis, Graham was not able to work on his trey shooting much last summer because of a partially torn quad above the knee.
"I couldn't really do anything but stationary jump shots. I couldn't run, jump," Graham said.
Big game part II: KU's Graham is looking forward to Saturday's 1:30 p.m., battle at Oklahoma, which is a rematch of KU's 109-106 three-overtime win on Jan. 4 in Allen.
"Last night I was thinking about it kind of all night," Graham said Thursday. "I was up until 1 o'clock thinking about the game, thinking about last game. Coach tells us to not waste any energy until it's game time, save it for game time. We need to be happy, be ready for it, energetic, get practice in and get ready."
Naismith list: KU's Ellis and Wayne Selden Jr., have been named to the Naismith Trophy midseason 35 list, the Atlanta Tipoff Club announced Thursday. Others from the Big 12 on list: Georges Niang, Monte Morris, Iowa State and Buddy Hield, Oklahoma. The award is presented to player of the year in college basketball.
Azubuike, others to play in tourney here: Future KU forward Udoka Azubuike and several other KU prospects, including Josh Jackson, Thon Maker, DeAndre Ayton, Billy Preston, Deshawn Corprew and Trevon Duval will be competing at the Tanager National Championships on March 24-27 at Free State High School, the organizer of the event tells Matt Scott of 247sports.com. Game schedules and specifics will be released in coming weeks.
Self on OU's Buddy Hield likely winning national player of year: "Yeah, yeah, there's nobody else. There's other talents. Denzel (Valentine, Michigan State) hadn't got hurt, maybe you could make a case for him. We saw him when he was as good against us as Buddy was against us for the most part. And of course (Ben) Simmons you can make a case for the best prospect, without question. But nobody's impacted the game this year like Buddy has. They could give that award out now," Self said.
---
---
---
---