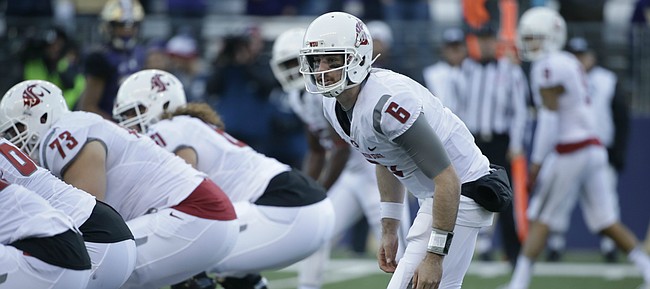 Eternally optimistic Kansas football head coach David Beaty had even more fuel for his fired-up disposition Wednesday, when eight members of the Jayhawks' 2017 recruiting class signed their national letters of intent.
The head coach threw around an array of compliments for his newest players, as well as their families and coaches, at his mid-year signing day press conference, where he spent a great deal of time discussing the potential of his incoming quarterback, Peyton Bender.
A fill-in starter for Washington State two years ago, as a redshirt freshman, the 6-foot-1 Bender threw for 2,733 yards and 21 touchdowns, with four interceptions, in nine games as a sophomore at Itawamba Community College, in Fulton, Miss., before signing with KU.
"We know that Peyton is gonna be a guy that is gonna be able to come in and compete for a job, really early here," Beaty revealed, while adding sophomore-to-be Carter Stanley entered the offseason as the No. 1 QB on the depth chart. "We need (Bender) to come in here and compete and push Carter right now, and I know Carter won't give that thing up easy and I know Peyton's gonna want to come in here and try to win that job.
Podcast episode
Kansas football coach David Beaty talks about his mid-year signing class, which included eight players (and quarterback Peyton Bender), and his recent contract extension.
"So it'll be great competition and it'll be a good addition to our team," Beaty added of Bender. "Not only is he a terrific talent but he's a great, great leader. I love his poise on the field."
Most of Wednesday's signees will join KU's defense. Appropriately, the first non-offensive player Beaty heralded was Hasan Defense, a 5-foot-11 cornerback from Kilgore College.
"Really terrific kid, and I think that he's a guy that is gonna help us fill that void that our two senior corners left," Beaty said, referring to Brandon Stewart and Marnez Ogletree. "I think that he can come in and compete to win that job. So we were lookin' for that obviously at that position."
Kansas aims to get help on the defensive line, too, with the arrival of 335-pound Hutchinson Community College defensive tackle J.J. Holmes.
"We think this guy can be a guy that really can do some things a lot like Daniel Wise," Beaty said, referring to KU's current top interior lineman. "The guy weighs more (than Wise). He's bigger than Daniel and he is strong and he is very, very talented. Man, this was a great get for us. The guy was hard to get."
An offensive prospect who didn't commit to KU until late Tuesday evening joined the list of signees, as well. Kerr Johnson, a 5-foot-11, 180-pound wide receiver from Santa Rosa Junior College, might not sound like a huge target. But Beaty claimed Johnson has the wingspan of a 6-foot-4 athlete.
"He's got big hands. He reaches away from his body when he catches the ball," Beaty said. "He's got a great catch radius. He's got terrific quickness. The guy can really run and the first guy doesn't tackle him."
While every other player who signed will arrive at Kansas as a college transfer, high school linebacker Kyron Johnson (Arlington, Texas) made his future with the Jayhawks official, and plans on enrolling for the upcoming spring semester.
"When I think of Kyron, I think of blazing fast speed," Beaty said of the three-star linebacker. "He's gotten bigger. He's probably closer to 6-2 now and he's probably 205 right now. This guy will be 230 pounds, and he can run and he's already got that length, which is really, really good."
An "under the radar" addition, according to Beaty, 6-foot-2 defensive lineman Willie McCaleb, from Northwest Mississippi Community College, could make a big impact for Clint Bowen's defense in 2017, too. Beaty said McCaleb could line up on the opposite side of All-Big 12 defensive end Dorance Armstrong Jr.
"You know, we're losing Damani (Mosby), and being able to find a guy that already has playing experience at the collegiate level and a guy that is dynamic enough to draw some double teams and some chips away from Dorance, that's gonna be critical," the head coach said of McCaleb.
Kansas hopes more depth will arrive for the D-line with KeyShaun Simmons, a 6-2, 285-pound lineman from Pearl River Community College.
"He is a good-lookin' guy, reminds me a lot of a bigger Daniel Wise is what he reminds me of," Beaty said. "But this guy is really big and really strong. Really happy to get him here."
The eighth member of the Jayhawks' mid-year signing group should, like Defense, aid the secondary. Beaty described Mesa Community College corner Shakial Taylor as big, long and rangy.
"Easily a 6-foot guy, long arms, has plenty of weight on him but can really run," Beaty said. "Has been very productive throughout his career. He started for South Dakota State as a true freshman out there. And, I mean, he played in a lot of games for those guys up there and then had a really good career at Mesa."
— Watch video highlights of KU's new signees: KU football signs eight players from 2017 recruiting class
— KU's 2017 recruiting class, as it stands Wednesday:
QB Peyton Bender

DB Hasan Defense

LB Jay Dineen

OL Joey Gilbertson

DT J.J. Holmes

WR Kerr Johnson

LB Kyron Johnson

K Liam Jones

WR/Ath. Travis Jordan

DE Willie McCaleb

DL KeyShaun Simmons

WR Kenyon Tabor

CB Shakial Taylor

DB Robert Topps

RB Dominic Williams

WR Takulve Williams