When Kansas quarterback Montell Cozart is asked about receiver Tyler Patrick, one of the first words that comes to his mind is deceptive.
Patrick, listed at 6 feet and 177 pounds, doesn't exactly fit the bill for an intimidating receiver.
But given the chance, the redshirt sophomore Patrick has already proven he can make an impact at the Big 12 level.
Patrick scored two touchdowns last season, catching 30 passes for 255 yards.
"He will sneak up on you," Cozart said. "We've seen that on one-on-one matchups with T-Pat. He's flying past guys and getting open, and when the ball is in the air, being able to attack it and come down and win those one-on-one competitions."
Patrick, known as "T-Pat" by his teammates, is frequently listed as one of the fastest players on the team. In fact, he caught the eye of Charlie Weis and his staff when he ran a 40-yard dash clocked at 4.4 seconds on a recruiting trip, which led to a scholarship offer and his eventual commitment.
But calling Patrick a speed receiver would be selling short everything he's worked on throughout his first year on campus.
Playing at The Woodlands (Tex.) High, Patrick converted from a safety to a receiver for his senior year, giving him one year of experience on the offensive side of the ball when he entered KU. It wasn't until the end of his redshirt season that he started to feel comfortable.
"In high school, I relied on my speed to just run by people," Patrick said. "But you can't really do that at this level. I had to really improve my routes and my technique and my eyes and all that."
After his redshirt season in 2014, Patrick proved to be a fast learner. That included adjusting to the Air Raid offense and a new coaching staff when Weis was fired and David Beaty took over.
"It was tough," Patrick said of the coaching change. "But I feel like you can learn from anything. It's up to you how you deal with it. You can either reject it or accept it and run with it, and that's kind of what I did."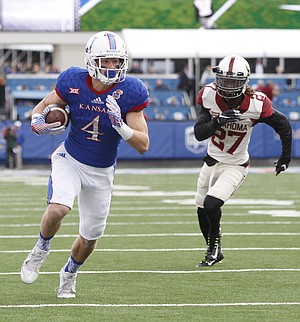 Once Patrick was comfortable on the field, his natural talent did the rest. Last year, he went from the scout team at the beginning of fall camp to starter in one month.
He made a career-high six receptions in the second game against Memphis and he followed it with a game-high 70 receiving yards against Rutgers the following week. Fellow receivers went to him for advice on plays, route depth and coverages.
"He's definitely dependable," Cozart said. "When I know it's a one-on-one coverage, I know exactly when he's going to break his route, I can put the ball there and I know he's going to get there."
Before earning a starting spot, Patrick didn't attract attention like other receivers. He's not the biggest target. Not all of the fast receivers can run a strong route or pull in tough catches.
Perhaps, that's what made him so "deceptive" in his rise to a starting role. Patrick simply wanted to make himself better in each practice and game.
"Under the radar or not, I just went out there and tried to give my team the best opportunity to win," Patrick said. He admits he doesn't have many individual goals for the upcoming year, besides winning games.
But one area he wants to improve is his leadership style. Patrick, in his third year in the program, feels like one of the veterans on the team with such a young group of receivers.
"It seemed like yesterday, but then you wake up and I'm going on my third camp," Patrick said. "It's insane."
A quieter player, he wants to become more vocal. Anything he can do to help his team win games is his first and foremost goal, especially after going through last season's winless campaign.
"It was definitely an eye opener," said Patrick, referring to last year. "We got to learn a lot and a lot of us got experience because we were really young. I feel like that just helped us so much and that was kind of our first year we were in the system. We really laid a foundation. I feel like this year we'll be able to learn from a lot of those outcomes and just try to make our fans proud."