Five days away from his team's season opener, Kansas football coach David Beaty remains coy on the subject of who will start at quarterback against Rhode Island.
In fact, as of Monday morning on the Big 12 coaches media conference call, Beaty indicated he won't publicly name KU's No. 1 QB prior to Saturday's 6 p.m. kickoff against URI at Memorial Stadium.
"We basically are still in our competition mode with our guys," Beaty said. "We're not gonna name a starter. You'll see somebody run out there Saturday. And whenever that guy gets on the field, that'll be the guy that takes the field."
The Jayhawks' second-year head coach remained vague when asked whether the players would find out the identity of the first-string quarterback prior to the game, saying he "might" tell them. Chuckling, Beaty quickly added, "We might not."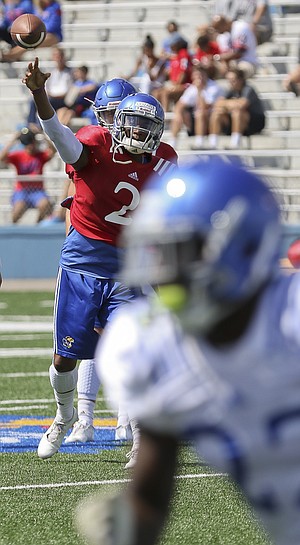 Sophomore Ryan Willis started eight games as a true freshman for KU last season. Willis took over after Montell Cozart, the starter in three of the first four games, suffered a season-ending shoulder injury.
The two remain the most likely candidates to open the season as the starter, but apparently neither created enough separation in the race at preseason camp to secure that title. What's more, when KU released its first depth chart of the season Monday afternoon, it listed Willis, Cozart and redshirt freshman Carter Stanley as the three possible starters.
Willis completed 164 of his 315 throws (52.1 percent) for 1,719 yards in 2015, with nine touchdown passes and 10 interceptions. Cozart connected on 66 of his 105 attempts (62.9 percent), netting 752 yards, with two touchdowns and an interception. Stanley has yet to experience game action at the college level.
According to the man running the program, keeping the No. 1 quarterback's name a secret leading up to the Jayhawks' 2016 debut should provide his team an edge.
"We have an advantage. We know who's gonna play quarterback for us and whenever we send that guy out there, we'll know exactly what we're gonna do with him," Beaty said. "That's the advantage we're gonna carry and we're gonna carry it all the way into the game. I'm not gonna give that advantage away."