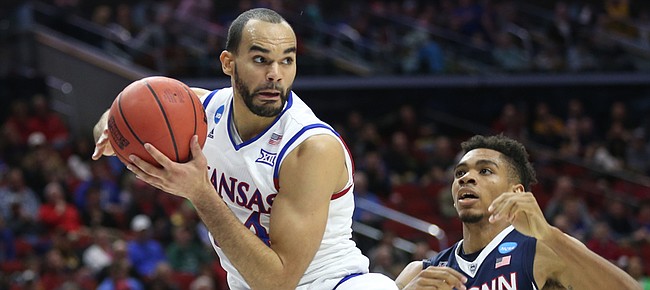 Kansas University senior Perry Ellis, junior Wayne Selden Jr. and freshman Cheick Diallo have been invited to the 2016 NBA Combine, set for May 11-15 in Chicago.
It's believed all three will compete in drills and 5-on-5 games at the Combine, which is used both to measure and test prospects, plus watch them compete in drills and scrimmages.
Junior Brannen Greene, who also has declared for the draft, did not net an invitation to the Combine.
"(I'm) disappointed for Brannen, but he'll still have opportunities to get in camps and work out for teams," KU coach Bill Self said Saturday. "(I'm) happy for those other guys. They deserve to be there. Now it's up to them to go perform well there."
Greene has hired agent Sam Goldfeder of Excel Sports Management. Ellis has contracted with Mark Bartelstein of Priority Sports and Management and Selden with Neal Rosenshein of Summit Sports Group.
Until Diallo signs with an agent, he has until May 25 to pull his name out of the draft and return to college. Self has said he definitely does not expect Diallo, who is listed as a first-round pick by draftexpress.com, to return.
Ron Baker of Wichita State was invited to the Combine, but Fred Van Vleet was not, according to the Wichita Eagle.
Combine invitations: Here are some players invited to the Combine, according to Jeff Goodman of ESPN.com and Adam Zagoria of zagsblog.com: Cat Barber, N.C. State; Wade Baldwin, Damian Jones, Vanderbilt; Malik Beasley, Florida State; DeAndre Bembry, Isaiah Miles, Jaylen Brown, Cal; Isaiah Cousins, Oklahoma; Marquese Chriss, Washington; Henry Ellenson, Marquette; Daniel Hamilton, UConn; Nigel Hayes, Wisconsin; Buddy Hield, Oklahoma; Demetrius Jackson, Notre Dame; Justin Jackson, North Carolina; Malik Newman, Mississippi State; Georges Niang, Iowa State; Jacob Poeltl, Utah; Taurean Prince, Baylor; Malachi Richardson, Syracuse; Pascal Siakam, New Mexico State; Diamond Stone, Robert Carter, Jake Layman, Melo Trimble, Maryland; Caleb Swanigan, Purdue; Tyler Ulis, Skal Labissiere, Jamal Murray, Kentucky; Isaiah Whitehead, Seton Hall; Jarrod Uthoff, Iowa; Kyle Wiltjer, Gonzaga; Stephen Zimmerman, UNLV.
Vaughn to Nets?: Former KU guard Jacque Vaughn will join the Brooklyn Nets as top assistant to new head coach Kenny Atkinson, according to Yahoo Sports' Adrian Wojnarowski.
Vaughn, who went 43-121 in three-plus seasons with the Orlando Magic, has worked this season as pro personnel director of the San Antonio Spurs. Atkinson is currently top assistant with the Atlanta Hawks.