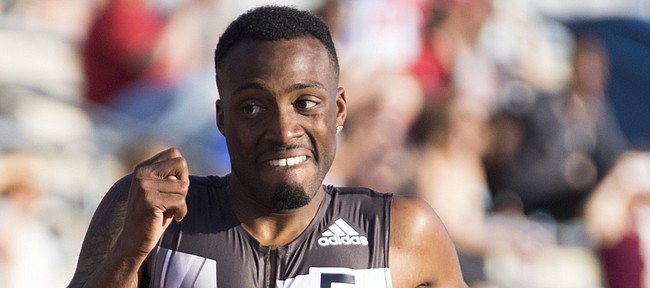 It seemed fitting that Michael Stigler's quest for the 2016 Olympic Games started in earnest Saturday at the 2015 Kansas University graduate's favorite home meet — the Kansas Relays.
"For me to open up (the outdoor season) here kind of brought a little bit of different energy into my race because it's my home crowd, and I wanted to perform well for everybody. I know they don't get to watch me run in person all the time. For them to see my first race is a great feeling. I hope they enjoyed it. There's more to come," said Stigler, a 24-year-old Canyon, Texas, native, who won the 400 hurdles in 50.12.
Now competing for adidas, Stigler finished well ahead of 33-year-old Drake assistant track coach LaRon Bennett (52.82), who like Stigler has a realistic chance of placing in the top three at the Olympic Trials on July 1-10 in Eugene, Ore., and snare a spot in the Rio Games, which runs Aug. 5-21.
Bennett, a three-time All-American out of the University of Georgia, will be competing in his fourth Olympic Trials, Stigler his second.
"Mike ... he is strong, and he is fearless," Bennett said. "Us older guys, we rely on technique and execution. I think he's been coached up well. He's starting to run a lot more confident, a lot more smooth. I'm proud of him. I give him encouragement all the time. He's strong right now. I look forward to seeing him on the team, myself as well."
Bennett was hoping to defeat the hometown hero Saturday on a windy day at Rock Chalk Park.
"I always try to see if I can sneak an 'L' under his column. I knew he was ready, so ..." Bennett added, his voice trailing off.
Stigler — he hopes to become the first Jayhawk male athlete to run in an Olympics since Charlie Gruber ran the 1,500 in 2004 — wasn't about to be caught off guard Saturday. Not in front of about 5,000 fans, many who came specifically to see him run.
"I feel there are kids in Lawrence who definitely look up to me. For them, I hope I am a hero and can continue to be there for them," Stigler said. "At the end of the day my thing is just to influence other people just like the professionals before me did for me, to get me into the sport."
His time in Friday's prelims (49.84) should be an Olympic Trials qualifying time, he indicated.
"I didn't celebrate at all," Stigler said. "I know if I put my race together that qualifying for Trials will not be a problem. Definitely can't celebrate. (I'll) celebrate when I make the Olympic team. That's where my mindset is right now."
Livingston wins: KU's Strymar Livingston, a 6-2 junior from Brooklyn, N.Y., won the 800 in a Rock Chalk Park facility-record 1:49.93. KU's Matt Anyiwo was second in 1:54.09.
Livingston is a transfer from Iowa Western Community College.
"My coach at Iowa Western introduced me to Stanley Redwine (KU), and he (Redwine) saw me run (and recruited him). I want to thank both of them for bringing me here and bringing me to the level I am today. I love it here. The coaching staff is great. The school is great. Coach is always on you to work," Livingston said.
Livingston won the 2015 national junior college 800 title in 1:50.94.
"It's time, it's definitely time," Livingston said of qualifying for the Olympic Trials. "I've got to prepare myself mentally and physically."
Livingston was asked if there's any special meaning behind his unique first name.
"Honestly I don't know," he said, "but to me it means a 'great man' because I want to be a great man.''
Adams a winner: KU's Whitney Adams placed first in the 800 in 2:12.31. KU's Hannah Dimmick and Dorie Dalzell were second and fourth in 2:13.26 and 2:14.87.
"I've hit 2:05 this year. I want to break 2:03 and potentially move into the Trials over the summer," said Adams, a 5-foot junior from St. Charles, Mo. "I have high hopes for myself and hope to execute those. It's a big goal," she added of the Trials and ultimately the Olympics. "I definitely have time. If I keep progressing the way I have been this year, it's definitely in my eyesight."
Her strategy Saturday on a blustery day?
"I tried to stay behind a tall person for a little while," she said with a smile. "We train in worse wind. We are kind of used to this. It's Kansas wind, but it definitely takes a toll on you when you are running."
The MVPs: Former KU and Wyoming thrower Mason Finley earned Relays male MVP honors for winning Friday's discus in a Relays-record 210-2. SM Northwest's Molly Born was named female MVP for winning the 3,200 in a Relays-high-school-record-time of 10:28.16.
Cooper sets record: KU's Mitchell Cooper won the men's discus Saturday in a school-record 205-3. The Queensland, Australia, junior's final toss exceeded the 46-year old record previously held by Doug Knop (203-10).
"I was excited because I knew I already had the (victory). I just wanted to go for it. I talked to coach (Andy Kokhanovsky) before the throw and he was saying to focus on my technique, but I wanted to go for it. It paid off, but it wasn't the greatest technical throw. You had all the excitement, the fans cheering. It was really good," Cooper said.
"The next goal is to work on my consistency, trying to get my average up. I feel I am in a pretty good spot strength-wise, it's the technique I need to work on. I'm not sure distance-wise what to go for because (62 meters) was my goal. The next goal would be 65 meters but it might be a bit early to be talking about that. I am just happy to be throwing well and I just want to keep going."
Saturday's other KU winners: Nick Meyer, pole vault, 17-7; Evan Landes, 5,000, 14:21.57; Jaime Wilson, 200, 21.27; Zainab Sanni, 200, 23.57; Sanni, 100, 11.38; Dasha Tsema, discus, 178-8; Curtis Ray, long jump, 23-113⁄4; Nicole Montgomery, 400, 54.86; Kelli McKenna, 1,500, 4:33.24; Shaylyn Stallbaumer, javelin, 167-5; Dylan Hodgson, steeplechase, 9:08.01; Courtney Coppinger, steeplechase, 10:58.72. Also, KU's women's 1,600 relay team of Adriana Newell, Sanni, Montgomery, Adams, 3:41.64; men's 400 relay team of Jaron Hartley, Jaime Wilson, Alex Wilson, Ivan Henry, 40.26.
NU rules: Nebraska won the men's and women's team quadrangular titles. NU's women had 206 points, followed by KU 191, Colorado State 150, Rice 133. NU's men had 226 points, followed by KU 219, CSU 164, Rice 84.
Finley fares well as freshman: Colorado State freshman Rebecca Finley, a Lawrence High grad, placed sixth in the discus (154-6) and ninth in the shot put (39-8).
Kansas Relays
Saturday at Rock Chalk Park
MEN
Team scores: Nebraska 226, Kansas 219, Colorado State, Rice 84
Kansas Results
Discus — 1. Mitchell Cooper, 205-3. 3. Nicolai Ceban, 190-3. 5. Brandon Lombardino, 172-7. 8. Philip Stand, 166-1.
High jump — 5. Kai Shean, 6-9. 6. Joel Long, 6-7. 8. Lane Macari, 6-31⁄4.
Long jump — 1. Curtis Ray, 23-113⁄4. 7. Matt Berkshire, 22-61⁄4.
Shot put — 2. Ceban, 59-93⁄4. 7. Paul Golen, 54-2. 8. Kenny Boyer, 53-11⁄2.
Javelin — 5. Tye Carter, 167-4.
Pole vault — 1. Nick Meyer, 17-7. 2. Jake Albright, 17-7. 3. Hussain Alhizam, 17-3. 4. Greg Lupton, 17-3. 7. Nick Maestretti, 16-31⁄4.
Triple jump — 2. Barden Adams, 50-43⁄4. 5. Ezekiel Welch, 47-13⁄4.
3,000 steeplechase — 1. Dylan Hodgson, 9:08.01. 3. Ben Burchstead, 9:15.92. 6. James Hampton, 9:44.59.
4X100 relay — 1. Hartley, J. Wilson, A. Wilson, Henry, 40.26.
1,500 — 4. Daniel Koech, 3:55.05. 6. Adel Yoonis, 4:01.09. 7. Bryce Richards, 4:02.16. 8. Brandon Bernal, 4:05.25.
100 hurdles — 5. Nick Giusti, 14.57. 6. Christian Hicks, 14.73.
400 — 3. Ivan Henry, 47.07. 4. Drew Matthews, 48.36.
100 — 2. Jaime Wilson, 10.44. 3. Jaron Hartley, 10.55.
800 — 1. Strymar Livingston, 1:49.93. 2. Matthew Anyiwo, 1:54.09.
400 hurdles — 5. Alex Wilson, 53.47. 6. Giusti, 54.42.
200 — 1. J. Wilson, 21.27. 2. Hartley, 21.35.
5,000 — 1. Evan Landes, 14:21.57. 2. Chris Melgares, 14:47.50. 5. Carson Vickroy, 15:15.62.
4X400 relay — 2. Henry, Hartley, J. Wilson, Livingston, 3:07.63.
WOMEN
Team scores: Nebraska 206, Kansas 191, Colorado State 150, Rice 133.
Kansas Results
Shot put — 4. Anastasiya Muchkayev, 49-31⁄2. 5. Dasha Tsema, 45-81⁄2.
Javelin — 1. Shaylyn Stallbaumer, 167-5.
Pole vault — 9. Laura Taylor, 11-81⁄2. 10. Morgan Griffiths, 11-81⁄2.
Long jump — 7. Kelly McKee, 18-31⁄4.
Discus — 1. Tsema, 178-8. 3. Daina Levy, 166-9. 5. Muchkayev, 160-11.
High jump — 8. (tie) LaTyria Jefferson, Grace Pickell, 5-31⁄4.
Triple jump — 4. McKee, 40-83⁄4. 6. Deanna Dougherty, 39-10. 7. Taryn Tempel, 38-71⁄2.
3,000 steeplechase — 1. Courtney Coppinger, 10:58.72. 4. Riley Cooney, 11:37.42.
4X100 relay — 3. Sanni, Montgomery, Thomas, Valentine, 46.41.
1,500 — 1. Kelli McKenna, 4:33.24. 5. Lydia Saggau, 4:34.33. 7. Nashia Baker, 4:39.45. 8. Malika Baker, 4:40.57.
400 — 1. Nicole Montgomery, 54.66. 3. Adriana Newell, 55.60.
100 — 1. Zainab Sanni, 11.36. 3. Tianna Valentine, 11.70.
800 — 1. Whitney Adams, 2:12.31. 2. Hannah Dimmick, 2:13.26. 4. Dorie Dalzell, 2:14.87.
400 hurdles — 5. Jessica Murray, 1:05.76.
200 — 1. Sanni, 23.57. 5. Newell, 24.29.
5,000 — 2. Sharon Lokedi, 16:51.17. 4. Emily Downey, 17:46.14. 5. Rachel Simon, 18:15.89. 7. Jennifer Angles, 18:42.69.
4X400 relay — 1. Newell, Sanni, Montgomery, Adams, 3:41.64.