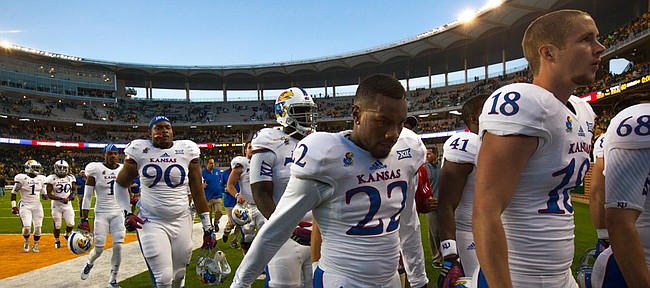 If the Kansas University football program hopes to rid itself of that ugly road losing streak that currently sits at 33 consecutive setbacks away from Lawrence, this week's game at Rutgers — 11 a.m. Saturday — might represent its best chance of 2015.
With nothing but Big 12 games on the docket after Saturday and road games at Iowa State, Oklahoma State, Texas and TCU ahead, the 0-2 Jayhawks are looking forward to their final non-conference test of the season for more than one reason.
"Obviously, it's a very good environment up there for them," KU coach David Beaty said of Rutgers' High Point Solutions Stadium. "I think their fans do a very nice job, and we have to handle that. ... I think it's gonna be good to see our guys go into that environment and (play) on that stage for the first time."
Dating back to the 2009 season, when the road losing streak began, the Jayhawks are a combined 0-9 on the road against the four conference foes they'll face away from Lawrence this season — 0-3 at both Iowa State and Texas, 0-2 at Oklahoma State and 0-1 in their lone shot at TCU. Despite those numbers — and several others — stacked against them, Beaty believes his squad is ready to prove it can handle life on the road.
"It's something that we've prepared for," Beaty said. "And it really is kind of a good time for us to be able to go on the road and give those guys a new look at what college football's about."
Not only are the Scarlet Knights a non-Big 12 opponent, but, like the Jayhawks, they too enter Saturday's game struggling.
After falling at Penn State 28-3 last Saturday night, Rutgers sits at 1-2, with its lone victory coming in the opener against Norfolk State. Add to that the fact that Rutgers recently suspended six players for off-the-field issues — including its best offensive player in wide receiver Leonte Carroo — and will be playing its second game without head coach Kyle Flood, who is serving a three-game suspension, and it's possible the many distractions facing the Knights could benefit Kansas.
Still, Beaty said the key for his team to have a chance in this one was not to get caught up in all of the things ailing the opponent and continue to focus on what they have been working toward since the spring — "getting just a little bit better every day."
"We don't control our opponents, and we don't control the venue," Beaty said. "We have to continue to focus on us and not let distractions be a problem. ... It'll be interesting to see how our young team handles that this week, and I think they'll do fine. I think they'll do really well. I know our coaches have prepared 'em.
"I think they're gonna be excited to be able to step on that plane for the first time and travel and represent our university."
KU-ISU kickoff set for 11 a.m.
The Big 12 Conference announced Monday morning that KU's Oct. 3 road game at Iowa State would kick off at 11 a.m. and be televised by FOX Sports Net.
The Jayhawks defeated the Cyclones, 34-14, in 2014 at Memorial Stadium in Lawrence, giving KU just its third Big 12 victory in the post-Mark Mangino era.
A year earlier, on a bitterly cold night in Ames, Iowa, the Cyclones shutout the Jayhawks, 34-0, for their first conference victory of the 2013 season.
Jayhawks back on Longhorn Network
As was the case for games at Texas in 2011 and 2013, the Jayhawk Network and Longhorn Network will co-broadcast the Nov. 7 game between Kansas and Texas in Austin, Texas, at Darrell K. Royal-Texas Stadium.
Kickoff for the early November clash is set for 7 p.m.
Time Warner Cable SportsChannel will produce the game, which can be seen on the Jayhawk Network in the state of Kansas and the Kansas City metro area. More information on the Jayhawk Network (JTV) and its affiliates is available at KUAthletics.com/TV.