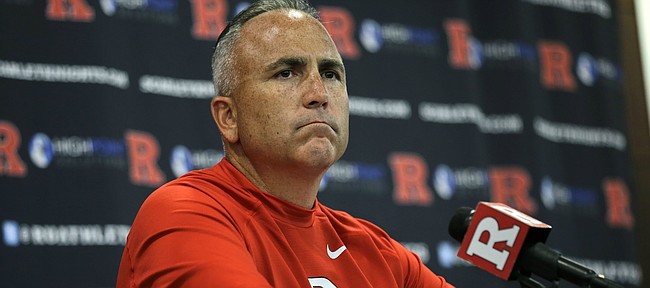 Six arrested Rutgers football players, two charged in a home invasion, four with assault, have been dismissed from the team in the past two weeks.
Head coach Kyle Flood was tagged with a three-game suspension for initiating contact with a faculty member regarding a player's grades that knocks him out of the home game vs. Kansas one week from Saturday.
Wide receiver Leonte Carroo, the team's best player, was suspended indefinitely for an "incident" outside the locker room Saturday after a 37-34 loss to Washington State.
Rutgers faces all these distractions and will take on more bumps and bruises playing Penn State on Saturday as Kansas rests and spends two weeks preparing for the Scarlet Knights.
Are you thinking what I'm thinking?
You are if you're thinking it's all a cruel tease to make you believe Kansas finally will end a losing streak that stands at 33 games away from Memorial Stadium.
It's going to take more than a bona fide Football Bowl Subdivision squad roster at the start of the season losing a half-dozen players and a head coach to fall to the level of a Kansas roster so woefully shy of depth, talent, size and speed. It will take more than that to make the bye-week advantages to become significant enough to make KU anything but a heavy underdog vs. the Big Ten program in disarray.
Not that Kansas can't win. Upsets do happen.
And Rutgers does have vulnerabilities. Three of the booted players came from the secondary and it has shown. Two weeks into the season, including a 63-13 victory vs. Norfolk State of the Football Championship Subdivision, Rutgers has surrendered 677 passing yards and six touchdown passes and has intercepted one pass.
So far, Kansas hasn't shown the ability to exploit that sort of weakness. Montell Cozart doesn't specialize in shredding secondaries with down-field strikes.
True, Rutgers hasn't yet seen a running back as good as Ke'aun Kinner, KU's best football player, averaging 6.3 yards per carry. But if a quarterback can't hit home runs there are ways to stop the running game. Two games in, the Rutgers defense allowed 2.0 yards per carry.
Even against a diminished Rutgers, it will require a Kansas quarterback having a career day to keep New Jersey from becoming the 13th state to become part of KU's road losing streak, joining Colorado, Texas, Kansas, Missouri, Mississippi, Iowa, Nebraska, Georgia, Oklahoma, Illinois, West Virginia and North Carolina.
— Tom Keegan can be seen on The Drive, Sunday nights on WIBW TV.