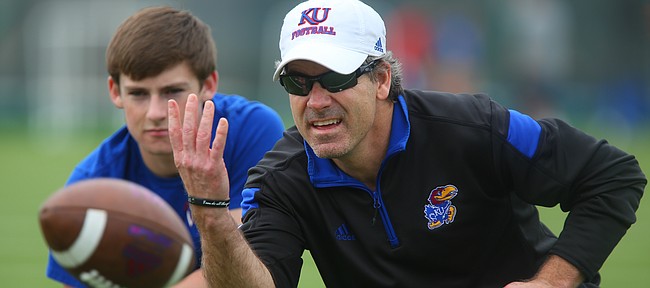 First-year Kansas University offensive coordinator Rob Likens has been waiting for Saturday's season opener against South Dakota State for a long time.
"I just kind of want to see how good we are, because you really don't know when you've been going against the same guys," Likens said earlier this week. "I can't wait to get out there and kind of see where we are."
It has been five seasons since Likens last called plays on a full-time basis. And even that was at a much different level when he was OC at Central Connecticut State.
Beyond that, Likens, a long-time disciple of the Air Raid offense he and head coach David Beaty brought with them to Kansas, seems awfully curious to see how his stamp on the vaunted attack looks in live action.
Because he has scripted the first 10 or so offensive plays — and he did it roughly a week and a half ago — Likens has an idea of what it might look like early in the game. But he admits that if there's one thing he has learned during his college coaching career, it's that even the best-laid plans sometimes run off course.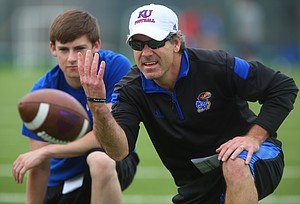 "One thing is certain," he said. "It's not gonna go as planned. You know that for a fact. So now you kind of start getting ready for some things not to happen the way that you want them to happen, and you kind of think ahead to how you're gonna react to those things."
So much of what Likens and company hope to get accomplished at Kansas depends upon one position. And although he will keep a close eye on how his offensive line holds up, how well his receivers get open and how often his tight ends execute their assignments, that one position will have Likens' attention most often during the opener.
"Just the quarterback," he said of junior starter Montell Cozart. "I'm just interested to see how it all unfolds for our guy. Obviously, it's the first time he's gonna be in a game running this offense, so you just don't know."
One thing Likens does know is that KU's first opponent will not be a pushover. He said he thought his players understood that and added that Beaty had done a good job of emphasizing that the Jackrabbits are ranked 15th in the competitive FCS polls for a number of reasons.
"What's gonna be tough is, they're used to winning, they're used to going to the playoffs, they're used to having a winning record, and that's tough to beat," Likens said. "Opening up with a team like this, with how tough they are and physical they're gonna be, we're gonna find out a lot about that area of our team. We'll know. Because they're gonna bring it out in us, I promise you that."
Added Beaty: "They're used to playing in this environment. It's not something that they're not used to. I know they're coming in here expecting to get after us from the word go, so we've got to be ready to go."