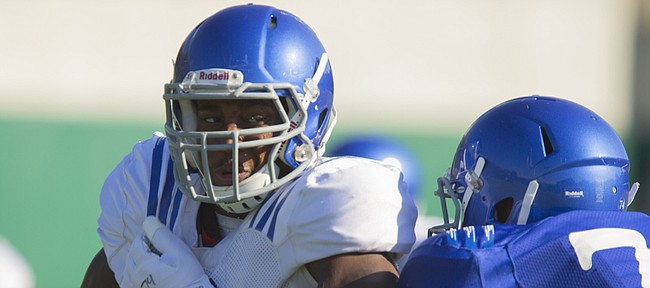 South Dakota State (0-0) at Kansas Jayhawks (0-0)
11 a.m. Memorial Stadium — Game-time forecast: 84 degrees, partly cloudy, 0 percent chance for rain, winds 11 mph from the south — TV: FOX Sports Net (WOW! channels 36, 236)
Head over to KUsports.com for our new-look live game blog coverage and follow the KUsports.com staff on Twitter: @KUSports @mctait @TomKeeganLJW and @bentonasmith
Keys for Kansas
1 Bring the heat
South Dakota State quarterback Zach Lujan has some experience and is a smart player who rarely puts himself in bad positions. That means it's up to the Jayhawks' defensive front to force him into mistakes. We've heard all offseason about the talent of defensive ends Damani Mosby, Anthony Olobia, Ben Goodman, T.J. Semke and Dorance Armstrong, and now it's time for KU defensive coordinator Clint Bowen to unleash them and let them get after Lujan. SDSU surrendered 34 sacks to opponents during the 2014 season — more than twice what its defense collected — and the speed, strength and size of KU's five-headed pass-rushing monster could create problems for Lujan and the guys protecting him.
2 Stop the run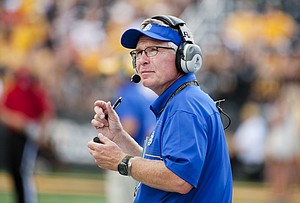 In recent years, SDSU coach John Stiegelmeier has shown a fondness for handing off the football and letting his running backs dominate games. A big reason for that was the presence of current Detroit Lions RB Zach Zenner, who rumbled for 186 yards on 23 carries, including a 99-yard TD, against the Jayhawks in the 2012 season opener. With Zenner gone, the Jackrabbits' rushing attack is not quite as potent, but that will not stop Stiegelmeier and company from trying to win the line of scrimmage and set up the pass by establishing the run. If KU can prevent SDSU from picking up big chunks and moving the chains with the ground game, that will only make things easier on the Kansas pass-rushers and, therefore, tougher on South Dakota State's passing attack. "They run the football really, really well," KU coach David Beaty said. "Because of that, they do a good job of play-action passing. ... I think they do a great job with what they do schematically both offensively and defensively."
3 Match SDSU's toughness
For the past several months, it has been brothers and teammates and friends on the other side of the line of scrimmage for the KU football players. And human nature dictates it's just not as much fun to pound your pal into oblivion. Add to that the fact that the main focus of KU's camp was about installing an up-tempo offense and playing fast, and you have to wonder where KU is at in terms of toughness entering Week 1. Both Beaty and offensive coordinator Rob Likens said they expected the Jackrabbits to be extremely physical in the opener, and if KU is unable to handle that and match or even exceed it, that could spell trouble for the home team. "They're tough," Likens said. "Those guys are gonna hit you. They're gonna bend your face mask. It's not gonna be a ride in the park. They're gonna come and hit you."
Mega Matchup: South Dakota State WR Jake Wieneke vs. the KU secondary
While South Dakota State, in most years, is known for its ability to run the football, an SDSU wide receiver might be the biggest concern for the Jayhawks. At 6-foot-4, 205 pounds, Wieneke is a big body with great athleticism and good speed. Beaty made no secret about the fact his defense will make sure it was aware of where Wieneke lined up on every snap. And, given that he'll be facing a largely inexperienced secondary — especially at cornerback — Wieneke could have a huge impact in this one. "They get it close to him, and he goes up and gets it," Beaty said. "He runs good, but he uses his body really well. He can run all the routes. They do a good job of creating ways to get the ball to him. ... When he's matched up with the wrong guy, he can make you look pretty bad pretty quick." Last season, as a true freshman, Wieneke led SDSU with 1,404 yards and 16 touchdowns on 73 receptions.
5 Questions with junior quarterback Montell Cozart
1 What's the biggest difference between you at this time in 2015 and you at this time in 2014?
"Just that confidence level that I have right now in myself and our team. Just going out there knowing that I'm the best athlete on the field and making it known to everyone."
2 How often do you think about that first quarter against Southeast Missouri State in the 2014 season opener in which you raced out to a 24-0 first-quarter lead and scored on four consecutive possessions to open the season?
"I watched that game a little bit this past fall and just kind of saw different things that worked, getting the ball out of my hands real quick and getting in a rhythm early. Watching that and just kind of falling back on those habits is something I'm looking forward to getting me back going this season."
3 Why do you wear No. 2?
"No. 2 is for me and my brother (Wade). Me and him, we're the only kids. He's nine years older than me, but it's always been me and him, and I've worn No. 2 since I was a youngin."
4 Who's your favorite quarterback of all-time and why?
"All-time, I'd have to go with Tom Brady. But if I had to go with a newcomer, someone from my generation, it would have to be Cam Newton. Being able to watch him go through Florida and Auburn and all those different transitions and the adversity, it kind of makes me relate to that a little bit. And now, being able to be the face of the Carolina Panthers, that's something that all quarterbacks look forward to being able to match."
5 Describe the perfect opening drive to the 2015 season?
"I say first play we get a big play out of Ke'aun (Kinner) to put us in a great position to get that tempo going real early and then be able to get those secondary guys on their heels and let one of our guys run right by 'em and throw a touchdown. Of course, like every quarterback wants."
Jayhawk Pulse
For the third time in the last six years — fourth if you count the transition from Charlie Weis to interim head coach Clint Bowen four weeks into the 2014 season — Kansas University football is debuting a new head coach. It's time for the beginning of the David Beaty era, and although we've come to learn all kinds of stuff about what that looks like off the field — energy, enthusiasm, handshakes and hard work — it's time to see what it looks like on game day. The expectations surrounding this version of Kansas football are as low as they have been in years, and the general feeling from fans is that they want to see proof of something better before buying in. Inside the program, the hard work put in by the Jayhawks throughout the offseason combined with the incredible energy and passion of a new coaching staff has produced the vibe that this rebuild is starting on the right foot and heading in the right direction. Wins and losses will ultimately be the determining factor. But, at least for now, Beaty and company are in position to win some goodwill by putting a competitive product that works hard and plays right on the field.
Tale of the Tape
KU run game vs. SDSU run D — Kansas
KU pass game vs. SDSU pass D — Kansas
SDSU run game vs. KU run D — South Dakota State
SDSU pass game vs. KU pass D — Kansas
Special teams — Kansas