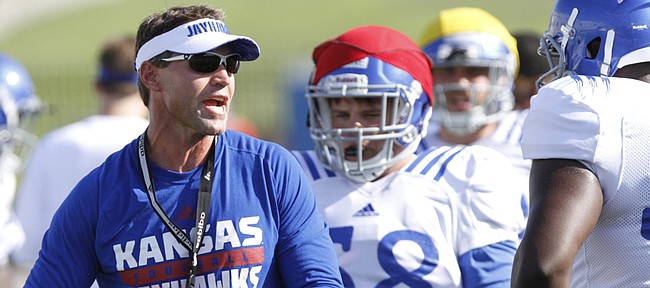 The Kansas University football team's two top assistants walked into Mrkonic Auditorium to meet the media, and several reporters rushed to offensive coordinator Rob Likens.
I decided to approach defensive coordinator Clint Bowen to see if maybe he had chicken pox.
Nope. He's healthy. It's just the way it goes. Offense sells. Defense tends to be discussed when it doesn't do its job.
Bowen pointed to the crowd's reaction at spring intrasquad games as an illustration of that.
"When does the crowd cheer?" he asked.
When a touchdown is scored.
"Why aren't they booing?" he joked. "Our defense just got scored on. Shouldn't they be booing?"
Good point.
Bowen has the best permanent job he ever has had, is getting paid more than he ever has and is working for a friend in first-year head coach David Beaty. Just as is the case with Likens, he's heading a unit that lacks experience and, even more so, depth.
Bowen took the time Tuesday to discuss the players on his defense and what to expect in general terms from South Dakota State.
We'll start with the opponent.
"They're very efficient," Bowen said. "They play physical. Their offensive line plays physical. They understand their system, and they execute. They don't have a lot of problems."
What the Jackrabbits have is stability.
"Their head coach (John Stiegelmeier, 18 years) there a long time," Bowen said. "Their offensive coordinator (Eric Eidsness, six seasons) has been there a long time. Their system has been in place a long time."
KU defeated South Dakota State, 31-17, in Charlie Weis' debut.
"You go back and watch our 2012 game against them, their offense hasn't changed since then," Bowen said. "I feel pretty confident that they have a program, they're going to do what they do, but personnel is always going to dictate to an extent what you do. They had one of the best tailbacks in the nation last year, which made a lot of sense to give him the ball a lot of times. It probably won't be as heavy-run now that he's gone."
The strongest position on the KU defense?
"The defensive-end spot," Bowen said. "We have some different type of players in there. They're all a little bit different. When you've got (Damani) Mosby, (Anthony) Olobia, (Ben) Goodman, (T.J.) Semke and (Dorrance) Armstrong, you've got five kids in there that in reality all five of them deserve to be starters. That's definitely our deepest spot."
Armstrong's a true freshman who was recruited by heavyweight programs.
"Dorrance definintely will play," Bowen said. "He's a talented young man, has maturity about him and has done a good job to come in here and learn the defense."
Linebacker Marcquis Roberts, a graduate transfer from South Carolina, started 14 games for the Gamecocks and missed many others because of injuries. Courtney Arnick, who started five games for KU last season, joins him. Sophomore Joe Dineen of Free State High is new to the position, but will be "a major contributor to our defense," Bowen said. "He's done a nice job of learning at linebacker. He's a kid with a lot of want-to, motor and toughness. He'll definitely be in there."
Nickelback Tevin Shaw, "pound for pound the strongest guy on the team," and "just a tough, tough kid," and starting safeties Fish Smithson and Greg Allen bring some game experience.
"Fish is our best guy (at safety)," Bowen said. "He's the guy that controls the show, knows what he's doing the best and has the most production. Bazie (Bates) is coming along. He has never played a (Div. I) football game. We have to remember that."
Kansas has very little experience at cornerback, where speedy juco transfer Brandon Stewart and heady true freshman Tyrone Miller will start.
"(Miller) came in here and played like a veteran guy from the first day he stepped on campus," Bowen said. "He's not a kid who gets real excited, gets real down, gets real up. He's a kid who shows up to work every day and has a very natural, instinctual ability to play. The game just kind of falls in place for him."
Kansas has a speed advantage vs. the Jacks, a factor that could keep inexperienced players' confidence levels from caving.
"I'm excited about our defensive line and hopeful on those guys" Bowen said. "I want to see that they can get off on the ball and cause some problems up there with a four-man pass rush. At the same time, I'm interested to see what our DBs can do. We've put a lot of emphasis on being smart players, being smart DBs. We need to take that to the game, so I'm cautiously optimistic on both ends."
Cautious optimism beats pessimism, even if only by a field goal.