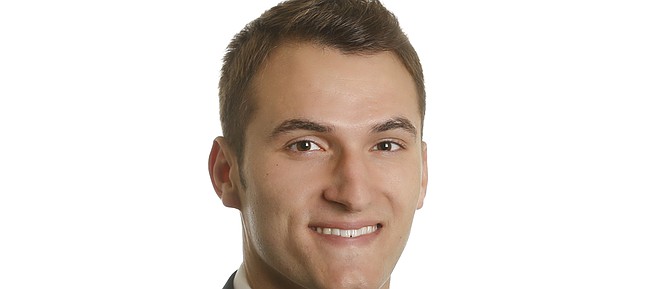 Kelley Newton, who starred in both football and basketball at Kansas City Wyandotte High in the mid 1990s, would like to have attended a certain university just down the road from his childhood home.
"I grew up wanting to go to Kansas. It didn't happen," said third-year Kansas City Kansas Community College hoops coach Newton, who, after going unnoticed by KU, played two years at Neosho County CC and two more at the University of Oklahoma, where his two Sooner teams combined for a 53-14 record and two NCAA Tournament berths.
"I might not root for Kansas when they play Oklahoma, but on most nights (he cheers for KU)," Newton added, laughing.
Newton, who played for Kelvin Sampson at OU, now has even more of a reason to follow the Jayhawks' fortunes closely.
One of his KCK Blue Devils players — Clay Young — on Wednesday was added to the Jayhawk roster as a non-scholarship player. Young, a 2013 Lansing High grad who averaged 10.0 points and 5.6 rebounds his freshman year at KCKCC — he tore an ACL in Game Five a year ago — joined the Jayhawks program on the recommendation of Newton, a friend of KU coach Bill Self and assistant Norm Roberts.
"Our relationship goes way back," Newton said. "Coach Self was one of the coaches in the recruiting process. He and coach Roberts were at Tulsa at the time. They recruited me heavily. Even though I went to Oklahoma, coach Self has always treated me like I played for him. I have so much respect for coach Roberts and Self.
"He (Self) has allowed me to watch practice and do some things and talk to him frequently. As I grow in the business, he's one of the guys I look up to in the coaching world, that I keep in contact with, as well as coach Sampson, who is at Houston."
Newton told Self and Roberts they would be well served to consider adding Young as a walk-on.
"Clay is a tough kid, one who will run through a wall for you," Newton said. "I have two daughters, of course not of Clay's age. The biggest compliment I could give is, if he wanted to date one of my daughters at an appropriate age, there would be no problem. He has great character, great values. He's driven for success not only financially, but in life, period. He's one of those guys you love to be around.
"He's a team player but also stands for something way bigger than himself. He's one of those great individuals I want in my program and will be a value and asset to any program. He'll bring that to Kansas. He has a great sense of humor as well," Newton added.
Plus, Young is a lifelong KU fan who desperately wants KU to win and win big.
"It's always been his dream to be at Kansas. I'm really happy for the young man. He gets to live out a dream," Newton said. "He gets to live out something he wanted to do as a young kid, a goal he set as a youth."
Young's life has changed dramatically in 10 months. He tore the ACL in his left knee in the second half of a game against St. Louis CC last Nov. 15.
"I had surgery the 26th of November, so it hasn't been a year yet," Young said. "After surgery, it took me four months to fully recover. I was back on the court playing by May 1. I had a pretty speedy recovery. I hit rehab hard. I didn't miss any days. I just wanted to be able to walk and run again. I'm still kind of getting in the swing of things."
Newton was a big help during recovery from the surgery.
"I tore mine (ACL) on Halloween 1998 at Oklahoma," Newton said. "I was back by February of that year and tournament time. Nowadays, for these athletes, outpatient surgery is down to a science. Doctors do a great job building up that tendon so you can get back to work. It's a 24-hour thing, rest and rehab and six to eight months back on the court and playing. He was a warrior with that (rehab)," Newton added of Young.
Coincidentally, Young believes he would have gone on to play at a Div. II or NAIA school on scholarship had he had a stellar sophomore season and not had to sit out all but the five games at KCKCC. He's pretty sure he'd rather be a walk-on at KU, even though it won't mean much playing time in actual games.
"For some reason, God made whatever happen, happen," Young said. "I must have torn my ACL for some kind of reason. If I hadn't, I wouldn't be here. I'm blessed and thankful to be here."
And KU will be happy to have him here, Newton said.
"Whatever the team needs, he'll do it. He is not a follower. He is definitely a leader. He leads by example," Newton said. "He's a great character kid. He comes from a great family in Lansing, deeply rooted in core values. There couldn't be a better situation for a better kid. The sky is the limit for him. I told him, 'Use this and network, and you never know where it will take you.' He's the type of person who will go far (in life)."