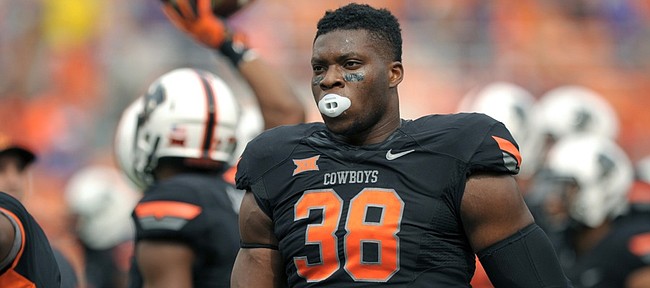 Kansas Jayhawks (0-6 overall, 0-3 Big 12) vs. No. 14 Oklahoma State Cowboys (6-0 overall, 3-0 Big 12)
2:30 p.m., Boone Pickens Stadium, Stillwater, Oklahoma — Game-time forecast: 66 degrees, mostly cloudy, 10 percent chance for rain, winds 11 mph from the north — TV: FOX Sports 1
Log on to KUsports.com for our new-look live game blog coverage and follow the KUsports.com staff on Twitter: @KUSports @mctait @TomKeeganLJW and @bentonasmith
---
Keys for Kansas
1 . Keep Ogbah in check

Oklahoma State defensive end Emmanuel Ogbah leads the Big 12 (and ranks fifth in the nation) in sacks per game, and his nine quarterback hurries already are an OSU season record. In short, the man is a beast, and unless the Jayhawks can find a way to slow him down and keep him away from true freshman quarterback Ryan Willis, it's going to be a long day for the Jayhawks. Left tackle Jordan Shelley-Smith may be up for the challenge of the one-on-one battle, but he's almost certainly going to get — and need — help throughout the game. Ogbah is strong and fast and has a variety of moves that help him wreak havoc on opposing QBs.

2 . Remain strong against the run

During the past handful of games against the Cowboys — dating to the last 100 carries — the Kansas run defense has limited Oklahoma State to a paltry 2.8 yards per carry. Doing the same today, with an undersized and inexperienced defense, could be a challenge, but OSU enters the contest averaging just 137.5 yards per game, which ranks 100th nationally, and 3.7 yards per carry. The matchup figures to be profitable for either the OSU offense or the Kansas defense. Either the Jayhawks will continue to keep the Cowboys under wraps, or OSU's ground attack will get right and take advantage of KU's 119th-rated run defense that gives up 250 yards per game.
3 . Gang up on Glidden
Both defensive coordinator Clint Bowen and head coach David Beaty said OSU receiver David Glidden was one of the most dangerous and might be the most underrated player in the Big 12. At 5-foot-8, 185 pounds, the fifth-year senior possesses a combination of size, speed and athleticism that allows him to get open and make plays all over the field. The Cowboys' offensive MVP from the 2014 season leads the team in receiving yards (457), all-purpose yards (457), receptions (28) and receiving TDs (3) and also is the team leader with nine explosive plays, defined as any gain of 20 yards or greater. KU will not have the luxury of assigning one guy to check Glidden, so it'll be up to the secondary as a whole to keep him in check.
---
Mega Matchup
Oklahoma State red-zone offense vs. Kansas red-zone defense
Through six games, the Oklahoma State offense ranks third in the nation in red zone efficiency, scoring on a whopping 96.6 percent (28 of 29) of its trips inside the 20. Eleven of those scores were field goals, but getting any kind of points at that clip is impressive. KU coach David Beaty said the key to OSU's red-zone success is the decisive nature and efficiency of quarterback Mason Rudolph, who ranks in the top 25 nationally in six passing categories. On the flip side, Kansas ranks 28th in red-zone defense. After failing to stop its first two opponents (South Dakota State and Memphis) in 11 red-zone trips during the first two weeks of the season, the Jayhawks have limited two of their last four opponents to a success rate of less than 50 percent inside the 20. Defensive coordinator Clint Bowen said a big reason for the improvement is that his guys have bought into the fact that the advantage flips to the defense whenever the offense crosses the 15-yard line. "A lot of times, kids don't believe that," Bowen said. "A lot of times it's the 'Oh-no' mentality instead of, 'Alright, let's force 'em to a field goal and get off the field.' A lot of techniques change down there, and our guys are starting to get a little bit better at it."

---
5 Questions with sophomore linebacker Joe Dineen Jr.
1 . Your defense held Texas Tech's offense to just three points in the second half of last week's loss. How good is the KU defense feeling right now?
I think our confidence is really high right now, going into Oklahoma State. On film we saw some stuff we could still correct, and it would make us that much better. So I think once we get those problems taken care of, things will get even better and we'll be even more confident.
2 . KU coach David Beaty said senior defensive end Ben Goodman stood up in a team meeting prior to last week's game and basically said enough was enough. Is it really that simple to just decide that and then go out and play better?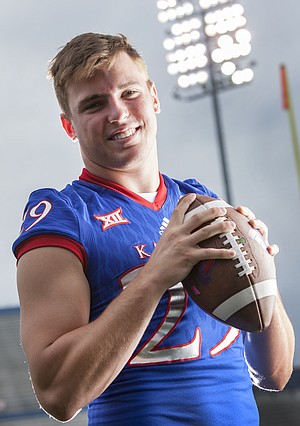 To a point, yeah, it is. We don't want to be the laughingstock of college football. You get sick of it. We come out here and work hard, just like everyone else, and when you don't see the product on the field that you're hoping for, after a while it just gets tiring, and you want to do whatever you can to help your team. Against Texas Tech, I think all of us came together and did that.
3 . KU's red zone defense has been pretty good this year, ranking 28th nationally and holding the Red Raiders to three empty trips a week ago. What gives?
When you're down there, you have an extra defender. It shortens the field. They can't throw vertical routes, so the corners and DBs kind of know what's taken away, and they can help in other areas. The intensity just ramps up, and everyone really bears down and plays more physical down in the red zone.
4 . What would you do with a $1 million check from proud and loaded Oklahoma State supporter T. Boone Pickens?
I don't know. I'd probably go buy a yacht or something and put it out on Clinton Lake. And I'd probably name it something bad against the Cowboys or maybe just Jayhawk.
5 . You're now halfway through the season, and you're going to be a fairly heavy underdog the rest of the way. With six games left, how much emphasis do you guys put on the importance of finding a way to get that one win?
You realize it's a process, and you want to keep getting better. You're not going to go from zero wins to running the table, and we understand that. But we need to get a win and these last six games are so important. We feel like we can go out and win all of 'em. We just gotta play great.
---
Jayhawk Pulse
For the past five seasons, KU fans everywhere — and even a handful of players and coaches who came through the program — have talked about what a difference a quality quarterback would make. True freshman QB Ryan Willis appears to be proving them right. Although Willis has only done it for two games and still has a long way to go before he's considered legit, his play thus far has energized the fan base and the KU offense. And it's not just Willis' stats and ability to move the offense that gives the Jayhawks a different look. His confidence and act-like-you-belong demeanor are contagious, and his ability to lead the team has inspired players on both sides of the ball and given the entire roster a lift.
---
Tale of the Tape
KU run game vs. Oklahoma State run D — edge: OSU
KU pass game vs. Oklahoma State pass D — edge:OSU
Oklahoma State run game vs. KU run D — edge:OSU
Oklahoma State pass game vs. KU pass D — edge: OSU
Special teams — edge: OSU