In his 18th season at Kansas University, volleyball coach Ray Bechard couldn't exactly pinpoint how long it has been since the Jayhawks last beat perennial power Texas.
In his mind, the Longhorns have been beating KU "forever."
A victory for unbeaten, No. 7-ranked Kansas tonight at No. 2 Texas wouldn't be unprecedented, but one can understand Bechard's viewpoint. The Jayhawks have lost their previous 22 meetings with UT, dating to a Nov. 8, 2003, victory in Austin, Texas — KU's lone win ever at Gregory Gym.
Given his program's historical headaches with Texas (4-37 all-time), Bechard (4-28 versus the Longhorns) doesn't hesitate to call this top-10 showdown the most difficult match on the schedule. As he puts it, KU and the rest of the Big 12 have been chasing UT and coach Jerritt Elliott for the past decade. With 31 NCAA Tournament appearances and national championships in 1988 and 2012, Texas has appeared in the national semifinals in six of the past seven seasons.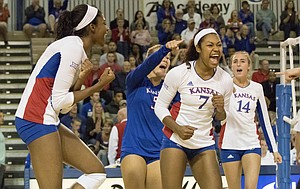 "I think everybody's cheering for the Jayhawks," Bechard said of the rest of the conference.
As much as tonight's matchup between KU (19-0 overall, 7-0 Big 12) and Texas (17-1, 7-0) means to each Jayhawk, being a part of the team that ended the Longhorns' run of dominance would carry even more weight for the five Kansas players who call the Lone Star State home: senior Tiana Dockery (Richmond), sophomore Kelsie Payne (Austin), sophomore Claire Carpenter (Rockwall), sophomore Ainise Havili (Fort Worth) and sophomore Madison Rigdon (Pflugerville).
Payne — second in the Big 12 in kills per set (4.0) to UT's Amy Neal (4.27) — grew up watching Texas home matches "all the time." But her hometown program never offered her a scholarship.
"I always dreamed of one day playing in that gym, so I guess this is my way of doing that," Payne said, adding that landing with Kansas has worked out perfectly.
Dockery said the Jayhawks realize they're playing in the nation's marquee matchup this weekend.
"I think we're all pretty jacked up about it," the senior said.
KU's players also understand the ramifications of a win in Austin: 20-0, first place in the Big 12, the end of a 22-match losing streak, validation nationally, etc. Bechard told the Jayhawks after Wednesday's home victory over Oklahoma they just need to keep playing their hearts out, like they have the first 19 matches of the season.
"And that's what we plan to do," Dockery said.