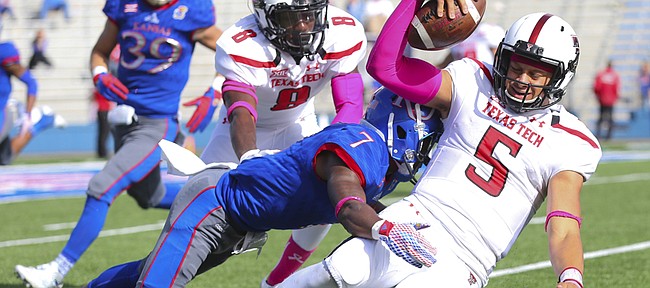 Kansas University wide receiver Derrick Neal admitted earlier this week that he was surprised when the KU coaching staff recently approached him about playing a few snaps on defense. But that did not prevent him from accepting the offer without hesitation.
"It kind of shocked me," said Neal, who played cornerback and receiver in 2014. "I wasn't expecting it. But when they asked me, I was just like, 'Oh, yeah. That's cool.'"

Despite his laid-back, low-key answer, Neal, a sophomore from Dallas, said he was thrilled when he heard about the opportunity for more playing time.
Fast, shifty and ultra-athletic, Neal projects well at both positions because of his ability to open up his hips and run.
On offense, that allows the 5-foot-10, 170-pound wideout to find creases in the defense and gain yards after the catch.
On defense, his ability to cover ground with ease allows him to change direction quickly and stalk receivers looking for those same open spaces in the Kansas defense.
"He's played defense before for us," KU coach David Beaty said of Neal. "And he did a couple things the other day in the game (vs. Texas Tech) that are just natural. It wasn't until (that) game where I saw him make a tackle on a little hit screen that I was like, 'Whoa, he's got a little something to him out there.'"
Neal, who finished last week with one tackle and a forced fumble in his first full game on defense, said his competitive nature made him capable of playing both positions. While he has yet to put himself in the conversation with former KU two-way standouts Charles Gordon and Aqib Talib, Neal believes he has what it takes to continue to take snaps on offense and defense the rest of his career.
"I have the energy for it," he said. "But whatever my coach tells me, I'm willing to do. It's not hard at all. It's just being focused, just knowing your keys and playing the technique that the coaches give you."
Beaty said the defense called on Neal to add depth at cornerback, with Brandon Stewart sidelined by a groin injury. With Stewart expected to return this week, KU's first-year coach added it remained unclear whether Neal's switch to defense was permanent.
"We'll see," Beaty said. "The good thing about him is, he's smart enough to be able to come back in there on the offensive side if we need to do that. So, man, I gotta take my hat off to him because we asked him to (switch to cornerback), not in the first part of the week, it was in the middle of (last) Tuesday's practice, on the way to Wednesday. And, man, with very little preparation he went out there and played hard and actually made a difference in the ballgame."
While last week's game against Texas Tech marked his first heavy action on defense — he did not take a snap with the offense — Neal actually entered the game at both positions during the Jayhawks' loss to Baylor a week earlier.
If it's up to him, it will be that way not only the rest of the season but also the rest of his career.
"I would love that," he said. "It's exciting to me. I wouldn't say I have it all down, but I basically know the formations and everything, and it's just (working on) techniques on both sides to get it all done. ... I'm a competitive player, and I just love making plays, so whatever it takes.