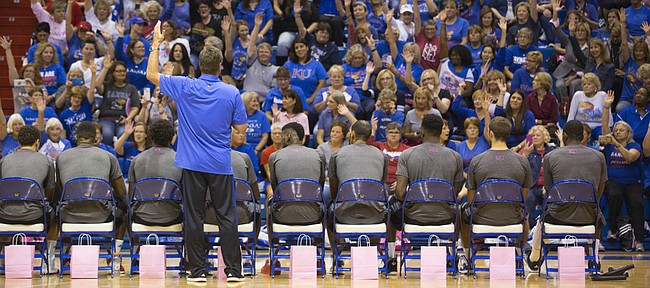 Kansas University freshman forward Cheick Diallo, whose high school academic credentials continue to be examined by the NCAA Eligibility Center as tipoff for the 2015-16 season nears, showed off some linguistic expertise at Bill Self's sixth-annual Ladies Night Out cancer benefit Thursday in Allen Fieldhouse.
During a meet-and-greet/Q-and-A session with 450 attendees, Diallo, KU's 6-foot-9 Mali native, introduced himself in English, then answered a question in French and finally in his native Bambara.
Photo Gallery
Ladies Night Out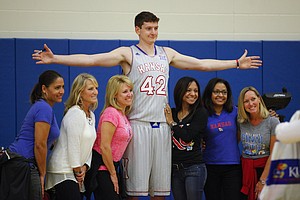 View a gallery of images from Ladies Night Out with Bill Self and members of the Kansas men's basketball team
Diallo's mastery of different dialects drew a loud round of applause, second only to sophomore guard Devonté Graham, who borrowed some material from the 2014 event that supports cancer treatment and research at Lawrence Memorial Hospital and the KU Cancer Center.
"Last year, I said Kansas has the best-looking women, and I'm sticking with it," Raleigh, North Carolina, native Graham exclaimed, to screams and applause from the bleachers.
The women in attendance took a tour of the hoops locker room and meeting rooms, posed for pictures with players and coaches and were schooled about strength and conditioning, players' uniforms and equipment, as well as hoops X's and O's from members of the basketball program.
Asked in the player Q and A which contest stood out as his favorite so far at KU, senior Perry Ellis said last season's West Virginia-at-KU game.
"I got hurt that game, and my teammates stepped up. I was proud we were able to win the league (by virtue of 76-69 win)," Ellis said.
"I'd say the West Virginia game," agreed senior Jamari Traylor. "That gave us 11 straight (league titles)."
KU junior guard Frank Mason III was asked what would be the strength of this year's team.
"I would say depth," he said. "We've got a lot of guys who can come off the bench and spark the team. Most importantly, our great coach."
Asked what the team's free-throw shooting percentage would be in 2015-16, junior guard Wayne Selden Jr. said, "One hundred percent. I think it'll be high 70s, mid 70s," he added in a more serious tone.
Self chimed in: "With the new rules this year, officials will be calling games so tight, winning games at the free-throw line will probably be more important than ever."
Fielding a question about what he thinks of KU's new McCarthy Hall for the players, Traylor said: "It's really cool. There's a (basketball) court we go in to shoot whenever we want. We play ping-pong. Overall, there's a lot more space."
The Jayhawks headed straight from the practice gym to the fieldhouse to assist at Ladies Night Out.
"It might be a little tough. We worked hard today," Ellis said. "But when we get going, we're good to go. It's all for a good cause. We're just having fun getting together, clowning and having a good time."
Noted junior forward Landen Lucas: "It's awesome to see some of the same people come out year after year. It's an amazing feat for them (those who have beaten cancer). For us to be around them and see how happy they are ... just to be here can show there's a lot bigger things going on in people's lives. Coach Self has a ton of different outside charity things we work on. We get to be around a lot of special things he's doing. He definitely lets us get involved in everything."
Self said the Jayhawks had a good practice before Ladies Night Out.
"It wasn't bad. It wasn't the best, but I think we gained on it a little bit today," he said, noting KU's injured players (Selden, Traylor, ankle sprains) were back practicing. "We need to get better the next two days because beginning next week we'll start scrimmaging an awful lot. There's an awful lot of stuff we need to get in before we start scrimmaging."
First exhibition is Nov. 4 versus Pittsburg State. Tipoff is 7 p.m. in Allen.
Recruiting visitor: Jarrett Allen, a 6-9 senior forward from St. Stephens Episcopal School in Austin, Texas, who is ranked No. 20 nationally in the Class of 2016 by Rivals.com, will begin his official visit to KU today. He is also considering Notre Dame, Houston, Indiana, Kansas State, Kentucky, North Carolina and Texas. ... Mitch Lightfoot, a 6-9 senior forward from Gilbert (Arizona) Christian High, will announce his college choice at 3 p.m. Central time Saturday at the 2015 Arizona Preps Fall Showcase in Glendale, Arizona. The finalists for Rivals.com's 117th-rated player nationally are KU, Arizona, St. John's, Utah and Stanford, with many recruiting analysts believing KU will win out over U of A. Lightfoot averaged 17.9 points, 9.7 rebounds and 3.9 blocks a year ago.