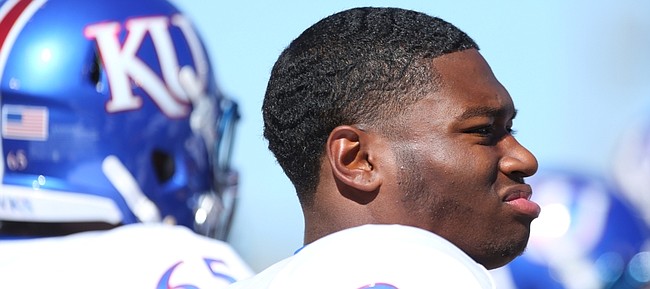 On a sunny late Tuesday afternoon, when most sports fans were indoors watching the Royals move closer to a second consecutive American League pennant, the Kansas University football team's quarterbacks were in the middle of one of their rapid-fire throwing drills near the North end zone of the West practice field.
Ryan Willis hummed accurate fastballs because that's what he does. Carter Stanley's delivery looked better than it had in the summer.
All the quarterbacks caught the football tossed to them, turned and threw to targets.
Montell Cozart, in uniform and with helmet strapped, did what his sprained left shoulder allowed him to do, which is to say not all that much. He stood with his left arm motionless at his side and caught the football with his right hand. (If his left hand is as reliable as his right, he's got two good hands, which would come in handy in both catching passes and intercepting them.)
He then raised his left arm almost high enough to stabalize the football for the throw, but in no way looked like an athlete close to being cleared to play in a Big 12 football game. Just from that short glimpse from Tuesday's practice, it won't surprise me if Cozart won't be able to practice at full speed with no restrictions until spring football, much less get cleared to play in a game this fall.
If fortune smiles on Cozart, that's how this season will play out for him. If his season is over, the injury he suffered vs. Iowa State becomes the difference between having no shot at an NFL career and a legitimate chance to develop into an NFL-worthy prospect.
Here's why: Cozart played in four games, the maximum allowed to qualify for a medical redshirt.
Ryan Willis already has demonstrated that he's the quarterback of the present and near future. Head coach David Beaty said Tuesday that if Cozart isn't on the field as quarterback he's too good an athlete to be standing next to the coach. He'll find a place for him on the field.
At 6-foot-2, 193 pounds and blessed with long arms and quick jumping ability and a frame that easily could take on many more pounds without making him slower, Cozart projects as a prospect at cornerback, safety and wide receiver.
If he has flexible hips, cornerback presents an exciting possibility. Try him there first. If he doesn't look quite right, put him at safety. If doesn't seem like a natural there, put him on offense and don't forget to put the wide receiver reverse in the playbook.
Cozart doesn't throw accurately enough to become a pro prospect at QB. He would have to love his new position, work hard at it and have a natural aptitude for him to develop into a football player who could draw interest from the NFL.
As a quarterback, he works hard, enjoys being coached and has a personable presence that makes teammates want to follow him. But if the performance falls short, leading is impossible. All those traits would help him if he played a position his skills more ideally suit.
Two spring seasons, two summer camps, two-and-a-half years of conditioning and two full seasons of practices and games could be enough for Cozart to blossom into a star by his senior year, which would be 2017, if he's granted a medical redshirt.
Kerry Meier switched from quarterback to receiver and enjoyed a brief stay in the NFL until knocked out by injury. JaCorey Shepherd moved from receiver to cornerback and earned a starting spot as a rookie, only to suffer a season-ending knee injury well before the Philadelphia Eagles' first game.
Not all position changes work so smoothly, but it certainly will be interesting to see Cozart take his loud talent elsewhere on the field. No rush, though. For all parties concerned, a slow recovery might be just what the doctor ordered.
— Tom Keegan appears on The Drive, Wow! Channels 13, 213, Sunday nights.