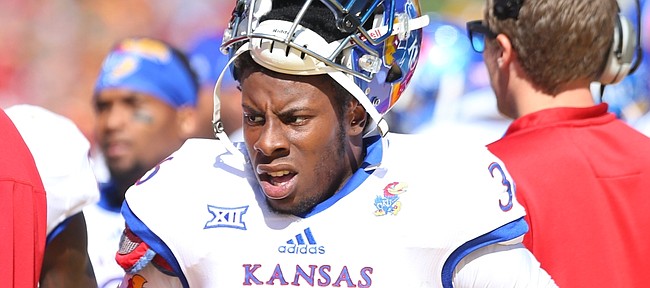 FBS and FCS schools ignored Chevy Graham. So did every Div. II school except East Stroudsburg University. Several Div. III schools wanted him to play football.
So, what did the high school student-athlete who had far more schools interested in him as a student than an athlete do? He pursued his goal of playing Div. I football in a big-time conference. He settled on Kansas University. His friends and classmates laughed at that, mocked the idea.
Guess who could laugh now, if he so chose, which he doesn't?
Graham went far from his home in Easton, Pennsylvania, enrolled at Kansas and sat in the stands for every football game during his freshman season. The moment that stood out for Graham the most came when Matthew Wyman kicked a last-second, 52-yard field goal to defeat Louisiana Tech.
Podcast episode
First-year Kansas football coach David Beaty talks with media members about some injury issues, Saturday's game against Texas Tech and what he learned from Red Raiders head coach Kliff Kingsbury, among other topics.
Graham didn't know until Tuesday that Wyman, the year before that game-winner, also watched from the stands. Graham, like Wyman, earned his uniform the old-fashioned way, by trying out for the team. He didn't have to check a list posted on a locker room door to see if he made the cut, but he did have to make a phone call. Graham said that at walk-on tryouts after the 2013 season and before 2014 spring football he was told players would receive a phone call.
"I never got the call," Graham said.
So he did the dialing and said he was told: "Oh, you made it. We just didn't call you because all your papers are in line. We didn't mean to scare you."
In his first season, Graham appeared in four games as a special-teams player. This season, the 5-foot-9, 189-pound defensive back is tied for eighth on the team with 17 tackles, one of them a 12-yard sack.
Graham knows he got his shot because he worked at it and knows he'll lose his chance the second he takes anything for granted.
"He's a guy that's been pressed into playing time," head coach David Beaty said of Graham. "He's gotten his opportunities, and he's done a couple of good things out there. Man, he's got a lot to get better at. He doesn't have a lot of playing experience. He's played on some special teams. He played out there at nickel a bunch the other day. He did some really nice things, but he also made some mistakes that young guys make, guys that haven't had a lot of experience. Some of those mistakes are costly at times."
At Iowa State, Graham stopped a receiver a yard short of the first-down marker on third and 5.
"I've never really been that guy to show emotion," Graham said. "I've never really been that guy to show emotion. Inside, I was saying, 'Yes! Yes! This is exactly how we practiced it.' I got up and looked at the sideline (for a signal)."
That's when defensive coordinator Clint Bowen let him know it was fourth down, there would be no signal, time to get off the field.
For Graham, it was a pinch-himself moment and his emotions got the better of him. In most cases, he leads with intellect. The son of an engineer, Graham majors in chemical engineering. Talk about a busy schedule. If he's not studying film, he's studying complex material from his classes. And then there are the challenges faced by any Big 12 defensive back. Which makes for tougher studying, thermal dynamics or Big 12 receivers?
"Thermal dynamics," Graham said, "because a lot of the concepts don't make sense. I'm still trying to figure that out. Thermal dynamics homework and physical chemistry homework, those are the ones that keep me up at night. I feel with enough film, you can kind of figure out a receiver's tendencies. You might not be able to figure out everything about him. Thermal dynamics, you never really understand what you're doing. You just know A plus B equals C somehow. I'd rather watch hours of film on receivers."
While living in Indiana (kindergarten through freshman in high school), Graham's eighth-grade science teacher not only helped to pave the way for him to become a chemical engineering major. He gave him a cooler name by referring to Chevrick Graham as Chevy Graham when announcing football games.
"I played quarterback back in the day and after he started calling me that, it just kind of stuck," Graham said.
So instead of high school teammates asking him, "Chevrick, why are you going out to Kansas, what's out there?," it was, "Chevy, why are you going out to Kansas, what's out there?"
Either way, the answer would be the same: Opportunity. So far, he's making the most of his.
— Tom Keegan appears on The Drive, Sunday nights on WIBW-TV.