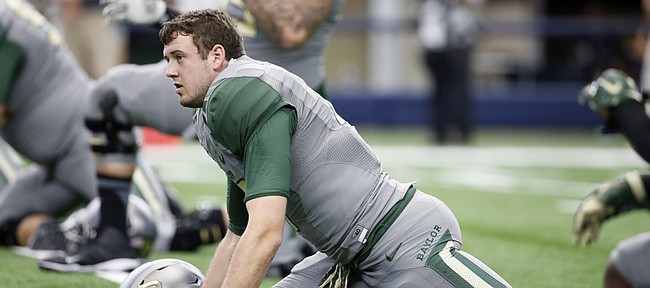 In some sort of alternate universe, T.J. Millweard would be starting for Baylor on Saturday and Seth Russell would be taking the snaps for Kansas.
However, in the current plane of existence, Millweard, who was offered a scholarship by Baylor out of high school, enters this week's 11 a.m. kickoff against No. 3 Baylor as the immediate back-up to true freshman Ryan Willis, and Russell, who once orally committed to KU out of high school, leads the nation with 19 touchdown passes through four games.
To surmise simply that Russell, had he stuck with his commitment to Kansas, would be doing similar things for the 0-4 Jayhawks is a bit of a leap. But there's no arguing that the appeal of the shiny quarterback who leads one of the nation's most high-powered offenses resonates with KU fans who have been forced to witness so many subpar performances from the position in the days since Todd Reesing threw his last pass as a Jayhawk.
It's important to point out that Russell, a native of Garland, Texas, in a sense, did stick with his commitment to KU. Recruited by current KU head coach David Beaty — then in charge of the Kansas wide receivers — Russell orally committed to the Jayhawks because of his connection to Beaty — they're both from Garland — and the family atmosphere that former KU coach Turner Gill had created.
Following the dismissal of Gill at the end of the 2010 season, Russell stayed true to KU and made a visit after Charlie Weis was hired to replace Gill.
It wasn't the same.
"The whole deal was a weird situation," Russell told the Journal-World earlier this week. "I committed to Kansas before my senior season of high school so, you know, I was pretty dead set on going there. But after the season, coach Gill got released and everything just kind of unraveled. I kept my commitment and stayed strong with Kansas because I wasn't sure what was going on. I wasn't just gonna drop the ball and say, 'Hey, I'm not going there.' I gave coach Weis complete respect. I came and visited and it just didn't have that same feeling. One of my main reasons for committing to Kansas was the family atmosphere. I felt like coach Gill had that and coach Weis and I just didn't really connect on that aspect."
Had Beaty been retained by Weis, it's possible that Russell would have stuck with Kansas. After all, as Russell pointed out, "Coach Beaty was always telling me that Garland Owls have to stay together."
But Beaty moved on to Texas A&M;, Weis hired Rob Ianello to coach KU's receivers and Russell took advantage of the opportunity to follow Robert Griffin III, Nick Florence and Bryce Petty at Baylor.
Just because that decision worked out so splendidly for the 6-foot-3, 220-pound junior QB does not mean that he didn't think about Kansas a time or two while he waited his turn at Baylor.
"Maybe in the first couple of seasons I may have thought about that," Russell said. "But as I continued to grow as a player, I was humbled by the situation that I was in, being around guys like Nick Florence, Bryce Petty, I got to talk to Robert a little bit. It was awesome to be able to watch those guys and how they led on the field and off the field."
Russell has not just followed in their footsteps. His four-game stretch to open the 2015 season statistically is more impressive than the one any of the other three put up during their days in green and gold.
Only Petty, in 2013, was able to get Baylor off to a 4-0 start. And although he threw for 67 more yards and had a higher completion percentage during the first four games that season, Russell's 19 TDs nearly double up Petty's number, and he has out-rushed him roughly 3-to-1.
In fact, other than a slightly lower completion percentage, Russell's 2015 numbers — 1,281 yards, 19 TDs, 172 rushing yards and three TDs — most closely resemble those thrown up by Griffin's 3-1 start in 2010, when RGIII started with 1,308 yards and 18 touchdowns and added 173 yards and three TDs on the ground.
"We've had good quarterbacks going all the way back to when I was at (Houston)," Baylor coach Art Briles said. "Guys like to come play in this offense, and they've seen other guys in front of them have success."
Now Russell is the one having success. And he hopes to keep it rolling Saturday against the team and coach with which he once nearly joined forces a few years back.
Despite his past connection to Beaty and Kansas, Russell said this week's game held no special significance.
"Not really," he said. "It's another football game. It doesn't matter if you're playing against your home high school team or somebody you were committed to. It's an opponent. And I have to look at it as that and I'm gonna go out there and play just as hard against Kansas as I would in the national championship game."