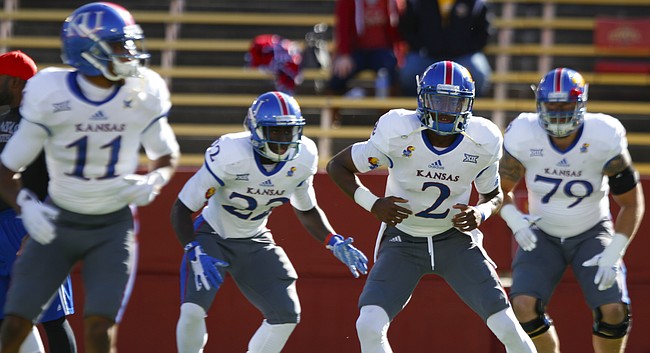 Unless the Kansas University football team can score a major upset in Saturday's 3 p.m. kickoff at Memorial Stadium against rival Kansas State, the Jayhawks will finish the season winless for the second time in history and the first since 1954.
Kansas State football coach Bill Snyder was a sophomore at Lafayette High in St. Joseph, Mo., when KU went 0-10 in its first season under coach Chuck Mather. Neither first-year Kansas head coach David Beaty nor any of his assistant coaches had been born. Edward Ferdinand Arn was governor of Kansas, Dwight D. Eisenhower president of the United States.
The 1954 Jayhawks, captained by Bud Bixler, lost by an average margin of 28.4 points. The current squad (0-11) has lost by an average of 30.8 points so far.
One of two paths is available to the 2015 Jayhawks to avoid being labeled statistically the worst KU football team in the 115-year history of the program: The Jayhawks can either score the upset or lose to the Wildcats by one point. The latter result would mean KU would have lost its 12 games by an average margin of 28.3 points. Losing by two computes to an average loss of 28.42 points, .02 worse than 1954.
Regardless of the outcome, Kansas will enter 2016 with 38 consecutive losses in games played outside of Memorial Stadium, including three losses to Missouri at Arrowhead Stadium, a neutral site. An upset victory would enable the Jayhawks to improve their record to 4-56 in their last 60 Big 12 games, which of course is another way of saying a loss would drop it to 3-57.
KU ranks last among 128 Football Bowl Subdivision teams with 46.2 points allowed per game and last with 578.8 yards allowed per game. In recent weeks, the offense has performed worse than the defense, and for most of the season the special teams have been anything but.
Kansas State (4-6 overall, 1-6 in the Big 12) has a six-game winning streak in the series that dates back to 1902, but KU still leads the series, 65-42-5. The Wildcats have scored at least 51 points in four of the past five games in the series and are motivated to win their final two games in order to gain bowl eligibility.
So what I'm trying to say is, Kansas has got a shot.