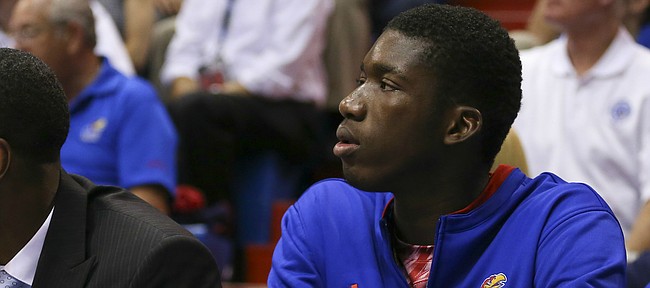 Kansas University freshman basketball forward Cheick Diallo's legal guardian, Tidiane Drame, has hired Alabama-based attorney Don Jackson to assist him as Diallo attempts to gain eligibility, Jackson told the Journal-World today.
A Yahoo Sports report indicated Jackson had been hired by Diallo to work on his academic eligibility case with the NCAA Eligibility Center. Yahoo, in fact, indicated the NCAA has "received 2,000 pages of homework from Diallo's Our Savior New American high school courses, and has requested middle-school transcripts as far back as sixth grade."
However, Jackson told the Journal-World that at this time he is "formally representing his guardian (Drame)" as the NCAA looks into Diallo's relationship with Drame, who like Diallo is from Mali.
"Obviously our goal is for the young man to be cleared," Jackson said, noting he could ultimately get involved in the academic side of the case.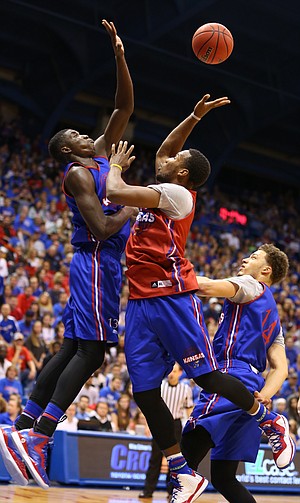 "There's nothing to it at all," he added of Diallo's relationship with Drame. "More than one player is involved in the NCAA investigation, another man from Mali as well who is at St. John's, attended the same high school and is going through, to some degree, the same thing at this point."
Kassoum Yakwe, like Diallo, attended Our Savior New American in New York and has not yet been declared eligible for participation.
"Tidiane obviously has connections in Mali, assisting kids in coming to the U.S. to attend school here. He has a relationship with this young man's family and has had a relationship a number of years," Jackson told the J-W. "The reality of the matter is this is just an excuse to justify keeping this young man off the floor."
Asked if he will get involved in the academic side of Diallo's case, Jackson said: "We'll see. Hopefully he will be cleared at some point in the not so distant future."
As far as the NCAA Eligibility Center having yet to clear Diallo, Jackson, who has experience in these cases said: "Candidly, this time of year there's no credible explanation. I have been involved in literally dozens of these kind of cases including several now. There's no credible explanation the Eligibility Center has to drag an investigation that started in June and is now in November. If they had not found any justifiable basis in keeping the young man off the floor, they should leave him alone. When these investigations occur, it's a de facto suspension to keep the young man off the floor when there's no finding of improper conduct."
Diallo has missed one exhibition game and coach Bill Self has said he does not expect the case to be resolved by tonight. KU plays Fort Hays State at 7 p.m., in Allen Fieldhouse.
Meanwhile, Self was asked Monday if he wishes he could openly campaign publicly on Diallo's behalf.
Announcers such as Jay Bilas have tweeted that the NCAA should get out of the initial eligibility business and let Diallo play for the Jayhawks.
"I would say that in the situation we're in, we are in a partnership with the NCAA. That's by their bylaws. That's by the mission statement of the NCAA. The NCAA and member institutions are a partnership to try to work together to come out with not necessarily the answer that we want or the answer they want but the right answer. So I can't do what some will do (campaign) because that's not the mission of this," Self said.
"The mission of this is to do the right thing based on the information that has been compiled. It's frustrating. It's beyond frustration. We haven't commented on it, but the process we have been told is still ongoing. Whenever the process is still ongoing. ... a lot of that is on us because we obviously aren't content with the way the process is moving.
"We've got to do our job as far as to create a situation in which the process moves in a more favorable direction toward Cheick, if in fact that's possible, which we 100 percent believe it is. Yes it's frustrating but at this point in time I don't have to say anything publicly because that will happen. That's going to happen. It won't necessarily have to come from the University of Kansas or the athletic department, but it'll happen. It can't help but happen. At some point in time when you see a 6-foot-9-inch kid sitting with a coat and tie on at the end of the bench, every camera that we play at is going to focus and the announcers are going to talk about Cheick. That's going to happen. That doesn't mean we're planting seeds. That's a fact of the matter. Every game we play (in which he's) not suited up that's going to be a topic of conversation. It's not like we have to do it. Trust me the media will be our mouthpiece without question," Self added.