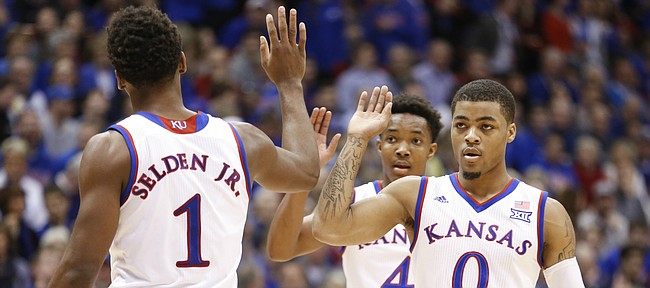 Kansas University basketball coach Bill Self, who has tinkered with all sorts of combinations since the start of practice on Oct. 2, said the three-guard lineup of Frank Mason III, Devonté Graham and Wayne Selden Jr. will likely start Wednesday's 7 p.m. home exhibition game against Pittsburg State.
Obviously, first-team All-Big 12 performer Perry Ellis will be the fourth starter — at forward — with Self hinting Jamari Traylor might be the one to open next to Ellis in the frontcourt.
"If you're going to start Devonté and Wayne and Frank, then, yes, we're looking at them coming off the bench," he said of taller wings Svi Mykhailiuk and Brannen Greene.
"They need to be instant offense. They need to be able to be guys that can be more than adequate defensively. Brannen Greene, to me, whether he plays 10 minutes or 20 or 25, whatever it is — he could be a guy, if he gets five open looks, he can come away with 12 points. So we need him to make shots."
Podcast episode
Kansas basketball coach Bill Self meets the media to discuss the Jayhawks' health, preseason progress and potential, ahead of KU's Wednesday exhibition opener against Pittsburg State.
Of Traylor, Self said: "Jamari has actually played better than he's played at any point in time in his career (in) the last two weeks, so I don't know who will start Wednesday, but he certainly would be a guy that deserves to start as much as anybody else right now. That doesn't mean we'll start him, just because we want to look at different combinations. We already know how he and Perry can play together."
Wayne's health: Self said Selden is not 100 percent recovered from an ankle sprain.
"He's been inconsistent so far in large part because he turned his ankle bad. It's bothered him for two months. He's getting to where he's about 90 percent," Self said. "In about a week he should be fine. Doctors said that's what he should do (practice on it) and fight through it, but I don't think he quite had the explosion this preseason as what he would have or what he did this summer."
Of his health, Selden said Monday: "I'm not being hindered that much. I'm not as quick as I can be. That will come in time."
Decision coming?: Self was asked if KU would learn freshman Cheick Diallo's fate by Wednesday.
"The reality, I think there will be a definitive answer (on academic eligibility) by Northern Colorado (Nov. 13), but I'm hoping, obviously, even sooner than that. But I have no feelings that it will get done by Wednesday, but I'm still hopeful that it can," Self said.
Diallo won't play in the exhibition if his eligibility is in limbo.
"Not unless the NCAA told us, 'Play him,' and it has no bearing on hurting him if they make a determination later. But that will not happen. They're not going to tell us that. We'll hold him until we know," Self said.
Self said he has no problem with the NCAA's administration of the case.
"Of course you (media) will never be privy to what's been done, but it's been handled in a correct way, and I think there's a lot of processing going on right now," Self said. "But we don't know if that takes additional information, we don't know what that entails, but I do think that everybody's on the same page and understanding the importance of getting this thing cleared up as soon as possible."
Self said practices have been held with the assumption Diallo will play this season. He has been taking a full amount of reps.
Refs at practice: Self had Big 12 refs work Monday's scrimmage and speak to the team about the rules emphasis on aiding freedom of movement after the scrimmage.
"We're going to commit 30 fouls a game early on," Self said on his weekly "Hawk Talk" radio show. "Svi had a great day today (at scrimmage). Brannen Greene had a great day today. Wayne had a really good day today, but we need to get more consistent with our guard play."
It's the second time refs have come to practice.
"I got on the officials the first time, because they called four fouls in the first two possessions. And I said, 'Guys, I mean, gee, I'm all for this, but we at least want to scrimmage today.'''
Asked who will be the first to foul out in a game with the new rules emphasis, Self said: "Cheick. Without question."
Of the team's performance this preseason, Self said: "I would say, to me, Hunter Mickelson is probably what fans would probably view as our most improved guy. But I'm not sure that Frank and Perry and Jamari probably haven't played at a higher level than they did at any point in time last year right now."
Bend those knees: Self was asked if junior wing Greene did not have an instinct for getting back on defense.
"I guess you could make a case for that. Maybe bending knees, anything like that. So, no, I'm joking. But Brannen's had, he's had a good camp. I just don't think his health (coming off hip surgery) has allowed him to be at 100 percent.
"I told our guys the other day, 'Hey, as a freshman, you're learning. As a sophomore, you're stubborn. As a junior, well, you just don't get it.' I'm not talking about Brannen. I'm talking about anybody in general. So if you're still fighting certain things as a junior or senior, then it's not stubbornness, you just don't get it."
Hoiberg's daughter at KU: Former Iowa State coach Fred Hoiberg's daughter, Paige, is a freshman at KU and works in the KU basketball office.
"I've not talked to Fred (new Chicago Bulls coach) since the season started. I have a contact (in Hoiberg family)," Self joked on "Hawk Talk." "He has a lot going on. I think they are 2-1 now. They beat Cleveland to start his (pro) career. That's a great win to start your career."
Tickets on sale: General-admission tickets are still available for Wednesday's game and a Nov. 10 game vs. Fort Hays State.
For tickets call 1-800-34-HAWKS.