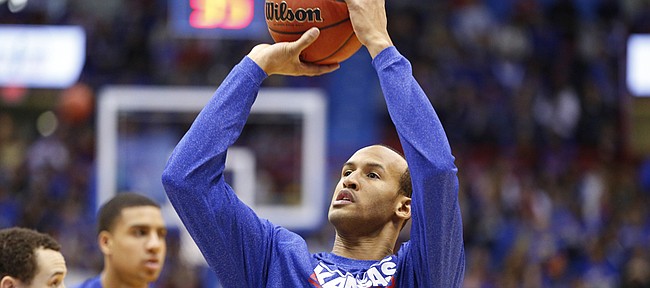 Former Kansas University guard Travis Releford exploded for 26 points with six assists and four rebounds in leading Maccabi Kiryat Gat to a 93-74 victory over Ironi Kiryat-Ata on Friday in the deciding Game Five of Israel's National League basketball finals.
The victory assured Releford's team of being promoted to Israel's Super League top flight for next season.
The 6-foot-6, 210-pound Kansas City, Missouri, native hit eight of 10 shots, including one of two threes. He also hit nine of 11 free throws. Former Mississippi player Terrence Watson contributed 19 points for the winners.
Releford, 25, has also played for pro teams in Canada and Belgium. He averaged 17.9 points and 4.9 rebounds a game this past season.
Williams to Gonzaga: Former Missouri forward Johnathan Williams III has chosen Gonzaga as his transfer destination, Memphis radio station ESPN 929 reported Saturday. KU at one point had expressed interest in the 6-9, 225-pounder who averaged 11.9 points and 7.1 rebounds for the Tigers last season.
Hoiberg gone?: It's hard to find anybody who thinks Fred Hoiberg will spurn the Chicago Bulls and remain coach at Iowa State, despite the fact the Cyclones are a serious Final Four contender in the 2015-16 season. ESPN, in fact, says the Bulls are working on a five-year contract with Hoiberg.
The popular reason he's all but gone is that it has been a lifetime dream of Hoiberg's to coach in the NBA.
So who will replace Hoiberg — if he leaves — and take over an ISU roster highly capable of challenging KU's run of 11 straight Big 12 titles?
Current assistant T.J. Otzelberger has been mentioned as well as Phoenix Suns coach/Iowa State grad Jeff Hornacek. Also, Randy Peterson of the Des Moines Register brought up the name of ESPN announcer/former college coach Fran Fraschilla.
Peterson was asked in a Q and A: "If Hoiberg leaves, how does this shift the power balance next season in Big 12 hoops?"
His answer: "Immediately, it shouldn't shift power in the Big 12. Iowa State will be good next season, regardless who coaches the team. Even Georges Niang could coach this very talented bunch of guys. It's the season after next that needs immediate attention; there's a lot of scholarships available."
Vick still likely to reclassify: Future KU guard LaGerald Vick is expected to announce his decision to reclassify to the Class of 2015 or stay in the Class of 2016 Monday night, according to Zagsblog.com. Vick, a 6-5 senior combo guard from Douglass High in Memphis, in a message to the Journal-World, however, said if he does announce something Monday he is not sure what time of day it would be. It's likely he will reclassify and be part of KU's World University Games team this summer.
Trent on list: Gary Trent Jr., a 6-4 junior-to-be from Apple Valley (Minnesota) High who is ranked No. 45 in the Class of 2017 by Rivals.com, reports on Twitter that he has received a scholarship offer from KU. He's also considering Michigan State, Duke, Kentucky, Ohio State, Minnesota and others. Playing for Howard Pulley AAU, he's the leading scorer on NIKE's EYBL circuit and has a 43-point outing to his credit this spring. His dad played in the NBA from 1995-2004.