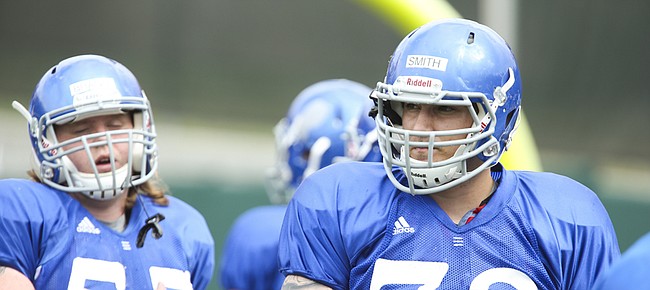 A year ago, Kansas University football player Jordan Shelley-Smith was a 248-pound tight end preparing for his third season in the KU program.
Today, he's on the verge of joining the 300-pound club — he actually spent a couple of days at 302 but since has dipped back down to 297 — and consistently working with the first team at left tackle on the offensive line.
To say that things have changed a little for the Waco, Texas, native — who earned all-state honors his senior season at Reicher Catholic High — would be an understatement almost as large as Shelley-Smith has become.
With his big frame begging to have weight added to it instead of stripped off, Shelley-Smith was moved to the O-line midway through the 2014 season. At the time, the news came as a shock. He always had fancied himself a play-making tight end. Coming out of high school, he often talked about trying to mold his game to match that of Dallas Cowboys star Jason Witten, an athletic all-pro tight end who moves well, runs fast and looks lean.
But with more experienced tight ends stacked ahead of him on the KU depth chart, the chance to make an impact there never came.
So when Shelley-Smith was approached about switching positions, he jumped at the chance. And it has been full-speed ahead since then.
"I am an offensive lineman, and I'm enjoying it," he said during an interview this spring.
Getting to the brink of 300 pounds, though natural in some ways, wasn't exactly easy and involved a detailed and strict diet plan.
"I was that guy," Shelley-Smith said, "3 a.m. shake every day. Before I went to sleep and 3 a.m. It's not fun at first, but sometimes I would get up and not even remember waking up and drinking a shake because you get so used to the routine."
The routine was not the only thing Shelley-Smith got used to.
Other than the recent time when he tried to put on an old pair of jeans and failed, he said the extra 50 or so pounds never seemed out of place.
"I've never really felt heavy," he said. "When I step on the scale, I'm like, 'Is that right?'"
To his coaches, who have admired his commitment to the bulking-up process, it seems very right.
"I didn't know him before 290," O-line coach Zach Yenser said. "But when you see what he's done with his body, to see the buy-in, that tells you everything about the kid and how his work ethic is and how he views the game. You'd take kids like that. He cares, and that's half the battle."
Added KU coach David Beaty: "That kid, man, he is a great kid, unbelievable worker, great work ethic, great in the classroom. He does everything you want him to do. He's one of those kids that if you could design one to coach, he's kind of the guy you'd want to follow."
Shelley-Smith is still not all that comfortable with the praise he has been receiving for this transformation. The way he sees it, just being a Division I athlete is reward enough. Having people respect, admire and appreciate the way he does it is merely a bonus. But it also fuels him.
"I expect myself to go as hard as I can and to do anything extra I can to put myself in a position to produce," Shelley-Smith said. "That's what I expect of myself."
There's still a long road ahead before Shelley-Smith becomes the kind of lineman he wants to be. But, given his size, spirit and background, both he and his coaches think the tools are there for a strong finish to a slow-starting career.
"He knows there's a ton of stuff that he still needs to work on to get polished," Yenser said. "But he's athletic, strong. He's a good football player, and guys respect him.