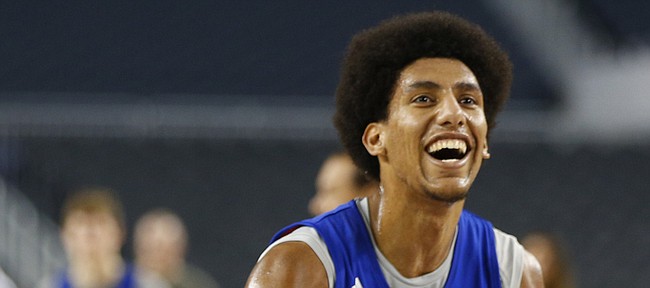 Former Kansas University forward Kevin Young emerged as one of the best players in the National Basketball League of Canada this past season.
Young, 24, who played for the NBL runnerup Halifax Rainmen, averaged 22.7 points, 7.9 rebounds and 2.2 steals a game during the regular season. In nine playoff games, he averaged 22.4 points and 11.7 boards and, according to the Halifax Chronicle Herald "became a fan favorite at Scotiabank Center (home arena)."
Young, who played on KU's 2012 NCAA runner-up team, said he enjoyed his one and perhaps only (more on that later) season in Canada.
"These guys love playing basketball just like I do. There's a great bunch of guys, a great coaching staff and a great organization. It's still a young league, and, I mean, there's a lot of things to learn from this year and future years, but it's getting a lot better," the 6-foot-8, 190-pound native of Perris, California, told the Chronicle Herald.
The only negative?
"There's a lot of snow, that's the first thing. I'm looking outside, and that's the first time I've seen the grass since I got here," he told the paper.
Young and all his Rainmen teammates have been mired in controversy the past week. They were fined $5,000 apiece and suspended indefinitely for forfeiting Game Seven of the league's championship series in Windsor, Ontario.
The Rainmen and Windsor Express got into a fight at shootaround the morning of the title game. Halifax merely didn't show up for Game Seven citing "safety concerns for its players and coaches."
At a news conference to discuss the controversy, Young told The Canadian Press he and his teammates felt targeted during the series by Windsor players. Young told The Press that owner Andre Levingston first supported the team's decision to forfeit, then pressured the squad to play a few hours later.
"As someone we put our trust in ... I honestly felt disappointed in him because there was no regard to our safety at all. It's like he's just turned his back on us and threw us under the bus and said that this was our decision, when he was there with us to make the decision," Young said.
The league has appointed former KU forward David Magley, head coach and general manager of the Brampton A's, to conduct an investigation of the entire incident.
"I don't think there's any possible way of spinning this in a positive manner," Magley told the Toronto Star. "The only thing as a league we can do is face it full frontal, be honest, be open, (and) have integrity. We've got to restore faith in our paying fans."
Meanwhile, Young is expected to soon join Brujos de Guayama of the Puerto Rico League, which started play in early March. In his career he has also played for Halcones UV Xalapa in the Mexican League. He plays for Puerto Rico's national team as well.
"There's no place like Kansas and the fans are amazing and the atmosphere is unbelievable and I do miss it a lot," Young told the Chronicle Herald. "But I go home after every season and I actually moved my mom out there (to Lawrence), so her and my little brother and my little sister live out there now, so I get to go back a lot."
More on Magley: Brampton coach Magley, who was inducted into the Indiana Basketball Hall of Fame in 2010, is KU's No. 52 leading scorer of all time. He led the Jayhawks in scoring his senior year (1981-82). Prior to taking over the Canadian League team two years ago, he spent 11 years coaching high school ball at Bradenton Christian in Florida. According to Yahoo! Sports Canada, Magley's teams reached the state finals four times, and 27 players went on to play in college.
"At this level of professional basketball, so many of my players have been accustomed to having to get their own numbers because they're always working for their next job," Magley told Yahoo!. "The most rewarding thing is when you can get guys who have been pros for a long time to get past that.
"Basketball is the most popular youth sport played in Canada today. It's really become a breeding ground for a great sport," he added.
More camp news: Cole Aldrich of the New York Knicks will not be running a camp this year in Lawrence. Former KU standouts Jeff Gueldner and Mark Randall instead have taken over the camp and are calling it "The Kansas Old School Basketball Camp." It will be July 20-23 at St. James Academy in Lenexa. For information email jgueldner@comcast.net.
Howland praises Self: New Mississippi State coach Ben Howland was in town to watch some KU practices last season and to speak at KU coach Bill Self's coaches clinic.
He told SI.com he studied, "Bill Self's offensive system. He's won 11 straight conference championships. I think it's one of the most amazing accomplishments in modern day basketball. If you look at the last 50 years, no coach has done more than him. Period. Their system, how they isolate the post, he does a great job at both ends of the floor, defensively. His system is really unique in the amount of success he's had in it."
Howland also attended practices of Tom Izzo of Michigan State and Sean Miller of Arizona.
"All the different sets, all the different things they run, the camaraderie they have with the kids is really good, the facilities are incredible. This year, was the greatest example of how good he is in getting the most out of his team and his ability. Because when I watched them, I would've never thought they were going to be a Final Four team this year," Howland told SI.com.
"Sean Miller has done a great job. His biggest strength is the defensive end, where he does a great job. That makes me feel good, because that's what I did in the Pac-12 when I first got there (at UCLA). He's done an incredible job in a short amount of time in terms of instilling a culture there that's going to be long lasting."