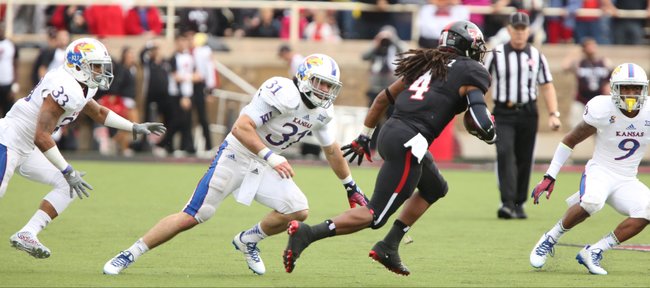 A starting linebacker in his final three seasons at Kansas University, Ben Heeney learned what his NFL future holds Saturday, when the Oakland Raiders selected him with the fourth pick of the fifth round, in the NFL Draft.
A First-team All-Big 12 selection in his final season with the Jayhawks, the Hutchinson native stood out both at East-West Shrine Game practices and the NFL Scouting Combine following his senior season.
Heeney's speed — 4.59 seconds in the 40-yard dash and strong showings in shuttle drills — helped him overcome a perceived lack of size (6 feet, 231 pounds) for an NFL inside linebacker.
His knack for finding the ball (127 total tackles as a senior, 12 tackles for loss) and his reputation with his college coaches sure didn't hurt Heeney's case, either.
According to NFL.com, Heeney graded out as a potential backup or special teams performer.
On ESPN's live coverage of the draft, analyst Todd McShay praised Heeney, and said he'll be able to cover kickoffs right away in the league.
"A lot of times you see these smaller guys, who are sideline-to-sideline linebackers who don't tackle well," McShay said. "That's not Heeney."
ESPN analyst Bill Polian, former vice chairman in Indianapolis, said Heeney reminded him of former Colts line backer Gary Brackett: "Small, short, but he can tackle, and he's got punch."
Many projected the former KU star as a mid- to late-round pick, and Oakland snatched Heeney up before another franchise had a chance to do so, with the 140th overall pick in the seven-round draft.
One round later, Philadelphia selected Heeney's KU teammate, cornerback JaCorey Shepherd.
---
More KU news and notes from NFL Draft
---