Daniella Chavez hit a two-run home run, but struck out with two on in the seventh inning of Kansas University's 4-2 loss to No. 14 Baylor in Big 12 softball on Friday at Arrocha Ballpark at Rock Chalk Park.
"I thought we fought hard until the end, and it was good to see them answer right away to start the game," KU coach Megan Smith said. "But, I think what got us tonight was that our at-bats the second time around weren't as good."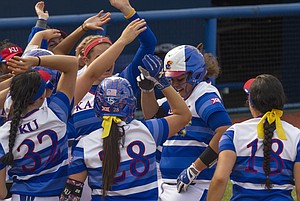 After surrendering two runs in the top of the first, the Jayhawks (35-11 overall, 5-8 Big 12) responded with two in the bottom, courtesy of Chavez's home run.
Baylor (35-13, 9-4) scored a single run in the second and another in the seventh.
The series will continue at 2 p.m. today in Kansas' Senior Day.
Baylor 210 000 1 — 4 11 0
Kansas 200 000 0 — 2 5 0
W — Heather Stearns, 17-9. L — Alicia Pille, 21-5.
2B — Kaitlyn Thumann, Lindsey Cargill, Shelby Friudenberg, Jordan Strickland, Baylor. HR — Friudenberg, Baylor; Daniella Chavez, KU.
KU highlights — Chanin Naudin 2-for-3; Chavez 1-for-4, R, 2 RBIs; Maddie Stein 1-for-3, R.