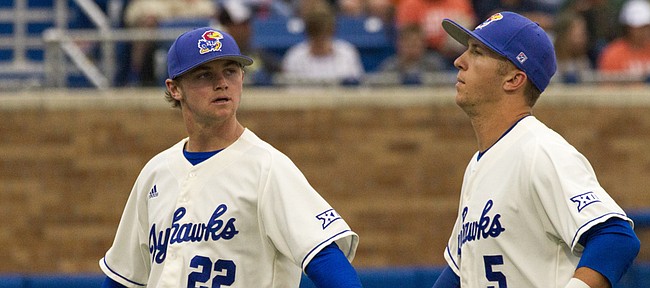 There are often times in baseball when the defense helps out the pitcher after a poorly located pitch or tough inning, but Kansas University left-hander Ben Krauth needed no such pick-me-ups Friday at Hoglund Ballpark.
Krauth tossed 7 1⁄3 scoreless innings to lead the Jayhawks to a 2-0 victory over Baylor in the first of three games against the Bears.
"I thought he (Krauth) was really special," KU coach Ritch Price said. "He did a really nice job of commanding his fastball in the zone, and he was able to throw his changeup for a strike and his breaking ball for a strike. When he's got all three pitches working, he can really keep you off balance."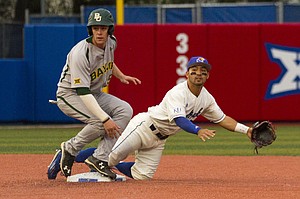 The KU southpaw worked out of a one-out, bases-loaded jam in the first, which marked the beginning of Krauth retiring 14 straight Baylor batters.
The Bears' next base-runner reached leading off the sixth, when Jordan Brown was safe at first after an error on KU third baseman Matt McLaughlin. Brown did not stay there for long, though. Krauth swiftly picked Brown off first for his team-leading seventh pickoff of the season.
"He obviously has the best pickoff move in the country, and the best I've seen in my career," Price said. "It's fun to watch. Every time we play somebody and they get to first base, you expect them to get picked off. That's how good his move was."
The Jayhawks scored each of their runs on RBI singles from Michael Tinsley in the first and Dakota Smith in the sixth, but they struggled to get their bats going against Baylor starter Drew Tolson for much of the night.
Tolson went the distance, allowing two runs off seven hits over eight innings. The Bears dazzled defensively behind Tolson to compound KU's offensive struggles. Smith and Tinsley hit back-to-back singles to spark Kansas in the fourth, but the inning came to a halt when Blair Beck grounded into a third-to-second-to-first triple play.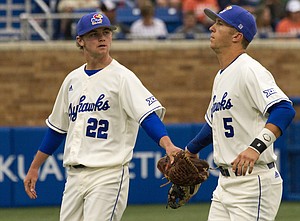 While momentum turned quickly in Baylor's direction, Krauth did not let it carry over for the Bears at the plate. Krauth coaxed a groundout from Darryn Sheppard and a fly out from Hayden Ross and struck out Steven McLean to retire the Bears down in order.
"I kind of got into a rhythm out there," Krauth said. "Tinsley, he's a stud back there. He was blocking everything."
Krauth was forced to exit with one on and one out in the eighth after throwing 105 pitches, and the Kansas bullpen took it from there.
After Sam Gilbert walked the only batter he faced, KU closer Stephen Villines struck out West Tunnell and Aaron Dodson to end the eighth. That was only the beginning of Villines' dominance, though. He struck out the Bears in order in the ninth to earn his 12th save of the season. The 13 combined strikeouts from Krauth and Villines helped contribute to a fast-paced, 2-hour-and-10-minute game.
"As I've said it before, we have the best closer in the country," Krauth said of Villines. "I love throwing in front of that guy."
Kansas (20-26, 7-9) and Baylor (17-28, 6-13) will meet again at 2 p.m. today, and the Jayhawks hope they can begin an end-of-the-season run like they did in 2014, when they swept Baylor, Texas Tech and West Virginia to conclude the Big 12 regular season.
"We have all the confidence in the world in the locker room," Villines said. "We're swinging it. We're throwing good. Our defense is unreal, so we're ready to take on the rest of the season."
Baylor 000 000 000 — 0 4 0
Kansas 100 001 000 — 2 7 2
W — Ben Krauth, 7-3. L — Drew Tolson, 3-7. Sv — Stephen Villines, 12.
2B — Joven Afenir, Connor McKay, KU; Duncan Wendel, Logan Brown, BU.
Kansas highlights — Ben Krauth 71⁄3 IP, 4 H, 8K, 2 BB; Stephen Villines 12⁄3 IP, 5 K; Dakota Smith 2-for-4, RBI; Michael Tinsley 2-for-4, RBI; Connor McKay 1-for-3, 2 R.