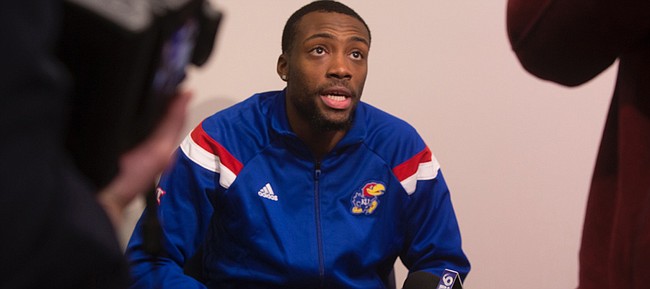 For college track-and-field athletes, it's all about building toward the big meets at the end of the season. March and April training is designed for building the strength that will come in handy for conference, regional and national meets. Those are the meets they tend to perform at their best because training sessions are scaled back so that their refreshed bodies come alive. Personal records tumble.
That's what made Kansas University senior Michael Stigler's 400-meter hurdles performance in the Texas Relays finals Friday in Austin, Texas, so stunning. He posted a personal-record 48.44, best time in the world in 2015 and the best time for anybody in any college meet since 2011. Researchers are in the midst of trying to find a faster March time in a college meet. So far, nothing. Stigler's previous best of 49.19 came in his sophomore year in the NCAA Championships, his first of back-to-back second-place finishes. He ran a 49.90 as runner-up last spring.
Had Stigler run a 48.44 in 2014, it would have been the second-best time by an American all year, behind only Michael Tinsley, and would have ranked fourth in the world.
"It's my last year, so why not go put it all out there on the line?" Stigler said Monday, after a grueling workout, running at Rock Chalk Park and lifting weights on campus. "Not that I didn't do that in previous years, it's just that this year is all or nothing."
So far, it's been an all-world.
"I feel like the way training has been going, we haven't backed off anything. We trained through Texas Relays, so that's the best part for me, knowing we haven't tapered off," said Stigler, KU's Male Athlete of the Year the past two years. "I feel like my time will drop even more."
The 400-meter hurdles race requires clearing 10 3-foot-high hurdles stationed 35 meters apart. Stigler said he twice last season was on pace for a time in the low 48-seconds range but "stuttered" at the last hurdle.
"I knew it was there," he said. "I just had to put it all together, and I put it all together at Texas Relays. For me to do that, it shows the coaching's working, and the hard work is paying off."
Elisha Brewer, in her 10th season on Stanley Redwine's staff, coaches sprints and hurdles.
"She's a motivator," Stigler said. "She's a tough cookie. She doesn't give you light workouts at all, stays on top of me, pushing me every day. Say I stutter a hurdle, I could probably have pushups, or she'll get on me: 'We can't settle for less.' That's where she's at now. It's working for me. I'm not complaining at all. The more she pushes me, the better I'll become."
Stigler said he likes to spend much of race day by himself. Friday, for example, his day started with a shakeout, an easy jog of 10 minutes or so and a stretch.
"Usually do that before breakfast, just so you don't lay in the bed all day, get your legs under you," he said.
He had breakfast — two scrambled eggs, bacon, breakfast potatoes and fruit cup — delivered to his room.
"I like to stay away from people a little bit," on race day, he said. "I like to stay focused, not get sidetracked by other things going on. Not that I'm so focused on my race, just to stay in my element. You don't want negative energy coming your way."
For lunch, somewhere between noon and 1, he had half of a submarine sandwich. A coach picked him up in time for him to arrive at the track at 5 p.m., two hours before his race. He had the other half of the sub sandwich stuffed in his bag, "just so I have something to snack on, so I can have some energy I can burn off."
After arriving at the meet, he underwent a rubdown and massage, did a series of stretching drills and sprint drills, then summoned Brewer to watch him scale some hurdles under her watchful eye.
Stigler, measured at 5-foot-10 with shoes on, weighs 155 pounds. Not eating much in advance of a night race doesn't bother him.
The gun sounded, he blew away the field and knocked 0.75 seconds off of his PR.
How did he do it?
"It was just strength we've been working on all year and being more consistent between the hurdles," he said. "Last year, I was just running. This year, I'm focusing on my run being more smooth and quick, and it's made a huge difference."
How does he make it smoother?
"Basically, just the rhythm between the hurdles," he said. "The more consistent I got between each hurdle (repeating the same touch-down time), say I go 3.9 (seconds) between hurdles 1 and 2, just carry that out through, say, the first five hurdles of the race, that means I'm being more consistent. And I'm not chopping up my rhythm and not over-striding."
Some hurdlers count their steps between hurdles.
"We never count the steps," Stigler said. "I feel like that's too much to think about in a race. Some people count steps, but that's not the way we do it here. Mainly, it's touch-down time between the hurdles."
Stigler's mind and body were perfectly synched Friday, getting his senior year off to an amazing start.