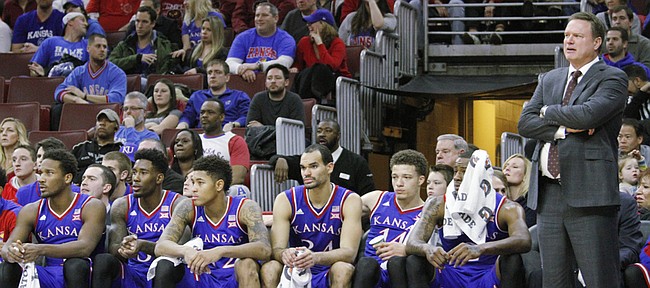 Kansas University basketball coach Bill Self's Jayhawks played the toughest schedule in the country the past two seasons, according to strength-of-schedule ratings calculated by ESPN.com.
The Jayhawks, who went 27-9 this past season and 25-10 in 2013-14, winning the Big 12 title both years but losing its Round of 32 game in the NCAAs, will continue to play a difficult schedule in coming years, Self says.
Don't be surprised to see maybe one or two more breathers on the slate, however.
"I will not say 'lighten' is the right word. I don't know we need to do a whole bunch, (but) we need to soften it some," Self said last week.
"Those are not the hard games," he stated of marquee matchups such as the Champions Classic, in which KU plays Michigan State, Duke and Kentucky on a rotating basis. "The hard games are the ones which are guarantee games where you have to play the entire 40 minutes because they are the best team in their respective leagues.
"The last two years it's probably been too much for a really young team," added Self, who has found it difficult to work in his newcomers in many of the nonconference contests, denying them experience prior to conference play.
"Depending who returns, we could have more of a veteran team. Hopefully that could play to our favor a little bit (in handling a difficult schedule)," he said. "You stop and think about it ... Svi (Mykhailiuk) is a year older, Devonté (Graham) and Frank (Mason III) a year older and Wayne (Selden Jr.) a year older. If everybody stayed and would be a year older, that'd be a pretty experienced and talented team coming back. The reality of that happening is not great. We'll have to wait and see how it all plays out.
"I love the way Devonté played down the stretch, and I love Svi's potential. He's a year away, and next year will be the year. We do need to develop some low-post scoring, without question."
KU next season will meet Michigan State in the Champions Classic on Nov. 17 in Chicago and also travel to San Diego State. KU will compete in the Nov. 23-25 Maui Invitational as part of a field that includes UCLA, Indiana, St. John's, UNLV, Vanderbilt, Chaminade and former KU phenom Danny Manning's Wake Forest team.
Meanwhile, don't be surprised if KU's opponent in the Big 12/SEC Challenge turns out to be Kentucky. It has been rumored UK may visit Allen next season, with KU headed to Lexington the following year.
Malik puts up big numbers: Malik Newman, a 6-foot-3 senior shooting guard from Callaway High in Jackson, Mississippi, who is rated No. 3 in the Class of 2015 by Rivals.com, recently scored 27 points, dished six assists and grabbed six rebounds in Callaway's 66-43 Class 5A state title victory over Ridgeland.
Newman, who has no final list of schools but has mentioned KU, Kentucky, LSU Mississippi, Mississippi State, Ohio State and North Carolina State as possibilities, averaged 29.7 points a game for the 31-3, four-time defending state champs. He also averaged 5.7 rebounds, 4.2 assists and 1.3 steals per contest. Newman, who is nicknamed "The Machine," hit 50.3 percent of his shots, 40.2 percent of his threes (100 of 249).
"The thing about Malik is that he knows he's going to add a lot to whatever program he signs with," Callaway coach David Sanders, who played at Ole Miss, told Randy Rosetta of the New Orleans Times-Picayune. "He wants to play with other great players for a team that could go to the Final Four. Wherever he goes, the coaches need to put the ball in his hands because he's going to make everybody else better."
The Times-Picayune says Newman, whose dad played at Mississippi State, wants to play both point guard and 2-guard during his one season in college.
Rabb hasn't announced: Ivan Rabb, a 6-10, 220-pound senior forward from Bishop O'Dowd High in Oakland, California, did not announce his college choice after Saturday's state-title victory over Mater Dei as originally planned.
"It's not about me, it's not about where I'm going to school right now, it's about putting this ring on our fingers and bring a state title to my school," Rabb told the Oakland Tribune after scoring 19 points and grabbing 20 rebounds in O'Dowd's 65-64 overtime win over four-time defending state champ Mater Dei-Santa Ana in Cal's Haas Pavilion.
Rabb, the country's No. 8-rated player, who has narrowed his choices to Cal and Arizona after eliminating KU, Kentucky and UCLA, hit a free throw with 0.8 seconds left to account for the victory.
"The way the game ended, you couldn't have written a story better than this," said Rabb, who air-balled the first of two free throws, icing the second for the win. "It's not about me, it's about my teammates. They pushed me to get to this point, we pushed each other and I'm just thankful."