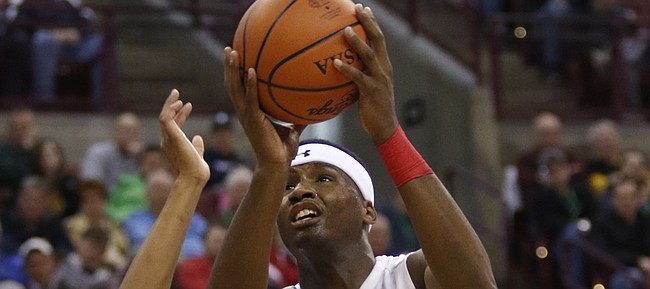 Future Kansas University basketball forward Carlton Bragg scored 12 points with five assists against no turnovers to help his Cleveland Villa Angela-St. Joseph team defeat Lima Central Catholic, 63-50, in the Ohio Div. III state high school championship game Saturday at Ohio State's Value City Arena in Columbus, Ohio.
It was a rematch of last year's title contest in which Lima Central edged Bragg's Vikings, 64-62.
Bragg, the 2015 AP Div. III All-Ohio Player of the Year, also was part of a state title team his sophomore season. Villa Angela-St. Joseph became one of three Ohio schools to win six state titles and the only school to win a state title in all four divisions.
"We reached our goals and we made history. The good part of it is nobody can take that from us. It (banner) will be up there for life," Bragg said at the postgame news conference available at highschoolsports.cleveland.com.
The 6-foot-9, 225-pound senior forward, who has orally committed to KU, played 17 minutes because of foul problems.
"Just won state, now on my way to Chicago for (McDonald's All-America game). Let's get it," Bragg, Rivals.com's No. 15-rated player in the country, wrote on Twitter.
Villa Angela-St. Joseph coach Babe Kwasniak was asked what he'd tell inquisitive KU fans about Bragg.
"I'd say they are getting a young man whose ceiling is the sky," Kwasniak said. "He can be so good. Carlton hasn't had one bad practice this year. He's brought it every single day. People tend to see, to look for his faults. They don't see where he's come from and how much he's done. I do because I was there when he started from the bottom. Now we're here."
Kwasniak, whose Vikings finished 23-4, added: "Phog Allen Fieldhouse is the cat's pajamas. It's maybe the best venue in college sports next to a football game at Army. I can't wait. I have a lot of friends there (KU), too."
Billy Thomas honored: The Missouri Basketball Coaches Association has named Barstow School coach/former Kansas University guard Billy Thomas as Missouri Class 3 coach of the year.
Barstow recently defeated Stafford, 61-46, in the Class 3 state title game.
Thomas' Knights placed second at state a year ago, falling to Cardinal Ritter, 57-48.
"Last year we were wide-eyed and bushy-tailed, just happy to be here," Thomas told ozarksportszone.com after the title-game victory. "The last four minutes of that championship showed our inexperience (getting outscored 14-3). We told ourselves that we've proven we're good enough to get here, so the offseason was spent becoming good enough to win it. Today is the culmination of a yearlong process to get back to this point."
Thomas' Barstow team went 29-2 this past season and 27-3 in 2013-14.
Transfer possibility: Jon Rothstein of CBSsports.com says Fordham freshman guard Eric Paschall, who is considering a transfer following the firing of head coach Tom Pecora, will visit Villanova and Providence. Rothstein says KU, Florida and UConn are "also in mix" for the 6-6, 205-pounder from Dobbs Ferry, New York. He was named Atlantic 10 rookie of the year after averaging 16.5 points a game this past season. He has received permission to contact other schools but insists he still could return to Fordham.
Thorne update: Charlotte junior Mike Thorne, a 6-11, 275-pound junior from Fayetteville, North Carolina, has told zagsblog.com he will visit Illinois April 17-19. He's also considering KU, Arizona, South Carolina, Pitt, North Carolina State and Virginia Tech. He was recruited by Tech coach Buzz Williams, when Williams was Marquette coach. Thorne averaged 10.1 points and 7.3 boards last season. As a graduate transfer, he will be immediately eligible next season.