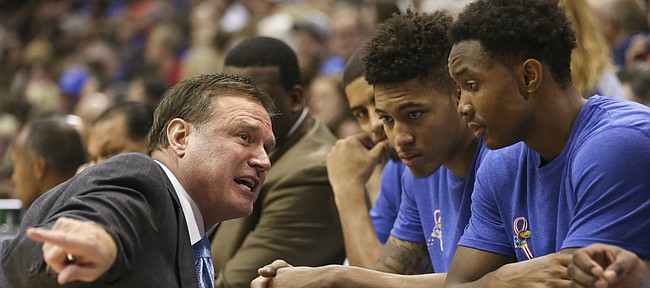 Bill Self woke up Monday morning feeling the same way about the NCAA Tournament's Midwest Regional as he did on Selection Sunday.
"There's no question it's a hard draw," Self, Kansas University's 12th-year coach, said Monday on 610 radio. He made the electronic-media rounds Monday and also spoke on the weekly Big 12 coaches teleconference about the monumentally tough task that's ahead.
"You look at potential first- and second-round games (they are actually called second- and third-round games now), and it's very, very difficult. If you are fortunate enough to win and see what potentially lies ahead, that would be the toughest anybody has to go through," Self added.
KU's regional includes top overall seed Kentucky, a squad that enters a perfect 34-0. Of course, as 2-seed, KU would not have to meet Kentucky until the Elite Eight.
"I've not studied them. I studied them before the second game of the season (a 72-40 KU loss Nov. 18 in Indianapolis)," Self said, asked specifically about the Wildcats on the Big 12 coaches call.
"They are a lot better now than then, and they were great then. I obviously think they should be the prohibitive favorite. I'd have to watch a lot more tape to try to figure a way to try to attack them on both ends differently than the first time.
"I really don't know (how to beat UK), other than the fact whoever plays them, you have to make some shots. You've got five potential pros out there no matter what combinations they use. That does make it difficult when you play against talent. More importantly than playing against talent, you are playing against talent that plays together. They appear to be a team … from the outside looking in they are a team on the same page."
First up for KU (26-8) is Friday's game against No. 15 seed New Mexico State (23-10), set for an 11:15 a.m. tipoff at CenturyLink Center in Omaha.
If KU wins, it would meet either No. 7-seed Wichita State or No. 10 Indiana on Sunday for the right possibly to meet No. 3 seed Notre Dame the following Thursday in Cleveland in the Sweet 16.
"I was shocked Wichita State was a 7. I thought they'd be higher than that," Self said, "maybe considerably higher than that. My initial thing (thought) was, 'How are they a 7?' I go through in my mind thinking of who are potential teams to be a 7, and they were not on my list at all.
"That was my initial thing. The next thing was, 'OK, Wichita State ... there will be so much banter if it plays to be the matchup.' I told myself, 'This is not going to become a distraction for me at all.' My focus has to be on our team and New Mexico State. We'll prepare for a four-team tournament over the weekend and not be hung up on who the matchup will be or what outside people are saying.
"We've had other games like that with Carolina (KU is 3-0 vs. Roy Williams teams). I know it'd be a big game if it plays out for our state, obviously because we have not played Wichita State in a long time and rightfully so. The bottom line is, you are not playing an in-state foe. You are playing a team that is really good, really sound, and you've got to figure a way to go against their players and not all the hoopla around it.
Self said of KU's status as one of the tourney's top eight teams ... "the reason we are a 2 seed is we played a monster schedule. Let's call it like it is. If our schedule wasn't like this, we probably wouldn't be.
"I thought all along it would be very difficult for us to jump Gonzaga," Self said of the 2 seed in the South that plays North Dakota State in the first round in Houston and would meet either Iowa or Davidson in the second round, with Iowa State the 3 seed.
"If we'd won the (Big 12) tournament, maybe we'd have given the committee at least something to think about. I think we probably got exactly what we deserved," Self added.
"I'm proud of our guys. They've fought hard. It's been a long grind. Now obviously our batteries have to get recharged. It's important to me to go and win a two-day tournament, just like it is all the other coaches."
Cliff status quo: Asked by ESPN's Andy Katz on Monday about the odds of freshman Cliff Alexander playing in the NCAA Tournament, Self said: "I think the same as it was last week and the week before and the week before that; not very good. We're certainly moving on with the likelihood he will not be available to us. If he is, of course that would be a big bonus, but at this time I don't think so."
Asked about the chances the NCAA and Alexander might actually meet this week to try to address the NCAA issue that has sidelined Alexander, Self said: "I don't think it has anything to do with what he wants to do or with what the NCAA wants to do. They just have to have all the parties on the same page. I'm not privy to that information so I don't know where all that is. I'm hopeful that's the case. I know that's what he (Alexander) wants. Certainly, I don't think we are at the point where that is going to transpire yet."
Twitter was abuzz with incorrect reports that Self said on Katz's show that Alexander definitely was ruled out for the postseason.
"I think I said nothing has changed (to Katz)," Self told the Journal-World while the frenzy was occurring. "So we're moving forward as we won't have him."
Legalese: Alexander's legal counsel, Paul Stafford, told Sports Illustrated: "Until we hear otherwise from the NCAA or the University of Kansas, the investigation is ongoing and we shall continue our efforts to cooperate with the NCAA and to get Cliff Alexander back on the basketball court."